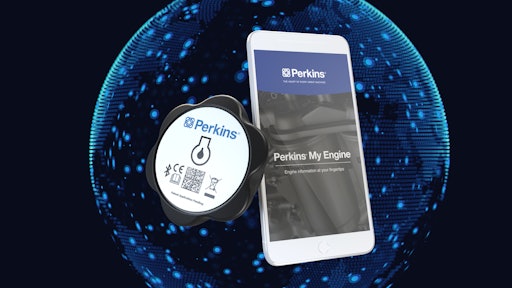 Perkins

To provide cost effective support to the agricultural sector, Perkins has launched the world's first low cost engine level connectivity device – the Perkins SmartCap, a 'smart' oil cap, which can be used on new and existing Perkins mechanical and electronic engines.
Designed to replace the oil filler cap, Perkins SmartCap is a low cost connectivity solution that allows end users to connect their mobile device to their engine via the free Perkins My Engine App on their smartphone.
The cap monitors the Perkins engine and sends data direct to the Perkins My Engine App. The free app can be downloaded from the Apple and Google stores.
When combined, the Perkins SmartCap and Perkins My Engine App will give Perkins customers truly useful engine information including:
Engine running hours
Engine location
Service reminders and service log
Start / stop data
Parts book and consumables information
The Perkins My Engine App and Perkins SmartCap are ideally suited to owners and operators of Perkins powered machines, providing easy access to engine specific information such as; running hours, start / stop data, build list, series, type, model, Perkins Platinum Protection indicator, parts book, OMM, a consumable list, up and coming services and a completed service log.
For more information on the Perkins SmartCap and for pre-orders, visit www.perkins.com/smartcap.
To learn more about the benefits of the free Perkins My Engine App visit www.perkins.com/myengine.
Request More Information
Fill out the form below to request more information about
Perkins SmartCap and Perkins My Engine App