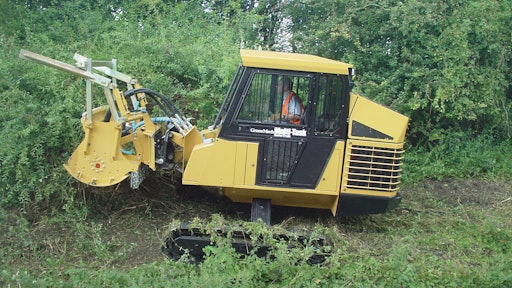 GreenMech, a manufacturer of woodchippers and green waste shredders, sourced the latest generation of hydraulic solutions from Parker Hannifin to produce one of its most versatile and intuitive machines yet.
The Multi-Task MT 120 has been developed to carry out a variety of operations, from mulching green waste to earth moving work, and in a variety of environments. It does this by using interchangeable tools and incorporating self-adjusting supports to ensure that the vehicle remains level regardless of the terrain. Based in Warwickshire, England, GreenMech Ltd. has been designing and manufacturing chippers and shredders since 1993.
The Multi-Task MT 120's hydraulic components and systems include Parker's IQAN control suite, offering multi-purpose functionality in demanding applications, ranging from building and excavation to vegetation work. Commenting on the development of the new machine, Tony Turner, chairman of GreenMech, says, "We knew that the hydraulic solution that we chose would be an integral element to the success of the MT 120. We required a method of driving the machine over difficult and steep terrain while carrying potentially heavy loads, and, secondly, of making the machine simple to control."
After a number of consultations with GreenMech and Parker's European systems team to pinpoint the company's requirements, Parker offered a suit of hydraulic components that would enable the Multi-Task MT 120 to offer high performance levels and ease of use.
Among the products supplied were the latest generation of mobile valves, D1VW valves and cartridge valves; a custom manifold specially designed for the MT 120; a hydraulic cooling fan system incorporating a gear pump and motors; various filtration components to ensure long service life; and a range of hoses and fittings. Combined, these components are used to drive the tracks of the vehicle and also control the attachment. The six-station D1VW valve is used to tilt the head left and right and to open and close the mulching head when used.
An important element in the success of the MT 120 is Parker's IQAN solution, which has been developed to make it simple to design and control complex hydraulic systems. IQAN enables the many functions of the vehicle to be selected and controlled using a joystick inside the cabin, allowing the MT 120 to be operated safely and effectively with minimum training. Additionally, the machine features a specially designed IQAN-based auto drive functionality, which acts as a type of cruise control, slowing down the machine if a higher load is sensed, or vice versa; again, resulting in less work for operators and more efficient performance.
Because it is designed specifically for mobile equipment, IQAN offered GreenMech a fast, ready-to-use solution to its control requirements, but one that allowed flexibility. Using IQAN, Parker was able to design a program for the MT 120, providing GreenMech with the ability to adapt and modify the control system of the machine as its functionality evolves.
The platform also enables GreenMech to carry out remote diagnostics, offering its customers immediate support wherever they are in the world.
"By combining flexible and reliable operation with a system that is simple to control and tailor, the MT 120 is simply the most versatile and intuitive product on the market," says Turner. "This has been confirmed by GreenMech being awarded the Queen's Award for Enterprise for the SAFE-Trak system featured in the design of the Multi-Task."