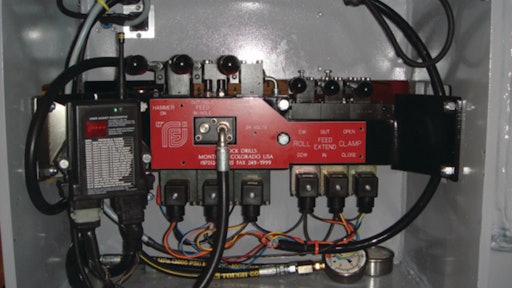 When it comes to drilling attachments, you might say TEI Rock Drills Inc. is as solid as a rock.
TEI is a manufacturer of drilling attachments for the construction, mining, fencing and geothermal industries, and produces limited-access drill rigs. Founded in 1980 to provide single-boom underground jumbos and consulting services for the mining sector, the company's manufacturing is done at its plant in Montrose, CO. Its products are shipped to every continent in the world. The company builds more than 100 drills per year in a 30,000 sq. ft. facility.
Hydraulics drive its drills. "We were using a basic valve combination when we started making our drilling attachments," says Sue Frank, president and CEO, who has been with TEI since 1988. "Sometimes, when the user touched the handle on the attachments that employed this set-up, all of the flow went to the drill at one time and caused it to move too fast, making it unsafe for the operator."
When the company began employing 360 degree positioning on the attachments, Frank knew they needed to find a proportional valve to control the flow of oil directed to the positioner. This would allow the operator to ease the attachment into position rather than slamming it.
In 2003, TEI executives were attending a trade show with the express goal of identifying a valve supplier that could meet the company's technical requirements as well as its stringent delivery needs. The ability to meet customers' delivery times is a critical ingredient for success in the drilling industry. One of TEI's competitive advantages is providing quick delivery to its customers (typical delivery time for TEI equipment is eight weeks or less). In order to maintain this reputation for punctuality, its valve supplier would have to be able to deliver just as promptly.
TEI discovered HAWE Hydraulik, a Munich, Germany-based company. Established in 1949 around the concept of providing hydraulic solutions based on steel and high pressures, HAWE today encompasses six production facilities and 11 subsidiaries from Finland to China.
TEI began purchasing HAWE valves from the company's Charlotte, NC, facility in 2004. The company uses a wide range of HAWE components, from the Size 2 to the Size 5 PSL valves, and purchases between 75 and 100 valves per year.
Most important was the fact that the HAWE valves would provide the stability that TEI's drilling attachments, as well as its limited access drills, required. Concerns about operator safety would become a thing of the past.
Frank says that since the company is installing its drilling attachments on another vendor's equipment, there is a limited amount of hydraulic flow at TEI's disposal. This makes it essential that the flow is used as efficiently as possible.
The size and shape of the HAWE valves are also crucial factors in the successful function of the drill attachment. "Because you can easily stack the different sizes, you can keep the valves compact," says Frank. "This is especially advantageous for an attachment because you are trying to save on weight wherever you can. Rather than having eight large valve sections, you can use two Size 5 valve sections and six Size 2 sections for your positioning functions. Because we can keep our valve sizes smaller, the various combinations will ultimately mean less oil consumed."
HAWE components are capable of abating leakage because of their internal steel construction. So, in the unlikely event that a drilling attachment is not properly manufactured, the HAWE valve can compensate for minor glitches.
The technical side of HAWE's operation has also helped. "We can send a schematic of what we have been doing as far as our valving, and tell the HAWE engineers what we'd like to accomplish," she says. "For instance, in our limited access drills, we needed to create a situation where if someone was tramming, the drilling functions would halt for safety reasons. We used to do that with a simple hydraulic ball valve, which worked but wasn't the optimal method. HAWE actually offered a way to do it on their valve bank."
And what about one of Frank's primary concerns – prompt delivery time?
"HAWE's deliveries typically arrive from Germany in about 12 weeks, although if we really need something in a pinch, they can generally provide it much sooner," says Frank. "We try to put in blanket orders so that we can have a sufficient number of valves on hand at our facility. We've actually got a pretty sizable inventory of HAWE Hydraulics.
"But if they don't have exactly what we need, the lead time is short. They are excellent problem solvers," Frank says. "If we call into their technical department and describe to them what we are trying to achieve, they will find an alternative valve that they feel will meet or exceed our needs for a particular application."
The feedback from the ultimate authorities, TEI's clients, is also positive. "We constantly hear that our drilling attachments offer much better control," Frank said. "Being a proportional valve, if you push on the handle, it only pushes out a certain amount of flow. That, along with the safety and delivery, have been the real advantages."
Companies in this article