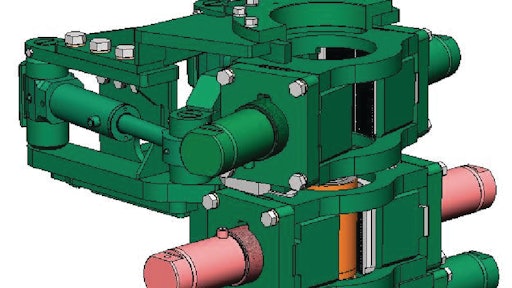 Founded in 1947, Canadian Tool & Die Ltd. (CTD), Winnipeg, MB, Canada, has been involved with hydraulic cylinder manufacturing for more than 30 years, producing heavy-duty welded cylinders for a variety of mobile equipment industries, including agriculture and mining.
A couple of years ago, a Winnipeg-based OEM, Cubex, was developing a new drill pipe breakout system. The prototype was tested on a Cubex QXR 1120 surface track drill (for drilling blast holes) at an open pit mine in Chile.
The drill pipe breakout system uses cylinders and jaws to clamp the drill pipe in order to break the connection between two drill pipes when removing the drill pipe from the hole. The lower pipe is held stationary and the upper pipe is rotated counter clockwise to break the threaded connection. The jaws are fastened directly to the cylinder's shaft. When the drill pipe is rotated counter clockwise to break the connection, the cylinder glands can be side-loaded.
From field-testing, Cubex identified an opportunity for improving the service life of the cylinder and entered into discussion with CTD for redesign of the cylinder gland where it fastens to the barrel.
The Cubex QXR has an automatic pipe loading system that can drill to 140 ft. "If you're going to be drilling at that extreme of a depth, you're not going to have one giant piece of drill pipe," says Shannon Penner, CTD product designer, cylinder design team at Canadian Tool & Die. The QXR's drill was comprised of 20-ft. sections of drill pipe connected together.
"The drill pipe breakout system is used to unfasten the drill pipes (called breakout), and it is also used for unscrewing the bit from the hammer," says Lawrence Ramsay, R&D engineering manager at Cubex. "The drill pipe is rotated at a high torque when drilling rock/ore and requires a drill pipe breakout system that can produce greater torque to breakout the drill pipe's threaded connections."
"The issue with the service life of the cylinder was discussed with the Cubex engineering team. Jointly CTD and Cubex agreed on a redesign to the breakout cylinders which would greatly increase service life by reducing the side loading of the hydraulic cylinders," explains Penner.
"Cubex's internal process in understanding the service life of components is to provide all external information from the file through our Post Sales Service team (PSS). This information is documented then we provide this feedback to our suppliers for their input. In the case of the breakout cylinders this information was shared with CTD, as they are the chosen supplier of this product. CTD brings experience to cylinder design and application that can assist Cubex in engineering a new design with requirements for optimum efficiency and component life," explains Ramsay.
"Cubex has engineers with cylinder experience, and that enabled the back and forth of design to be done quickly," says Penner. "By being a custom cylinder manufacturer, we're able to be flexible on designs and offer solutions."
Cubex's forte was knowing how and in what environment these cylinders were going to be used, so each solution was translated and sent from CTD to Cubex for analysis to see how the different cylinder designs held up on the QXR.
For the final cylinder design CTD provided a design solution that allowed the Cubex breakout application to provide optimum force to the area required and eliminated any possibility of high stress concentration, which may have reduced cylinder life.
"Since the engineering partnership on this cylinder solution, Cubex have delivered may of its QXR 920, 1120, 1320 drills around the world with great success, which is an indication that partnering on specific design applications can have quality outcomes as indicated in this case study," concludes Ramsay.
Suppliers
Aggressive Hydraulics
www.aggressivehydraulics.com
Bailey Intl. Corp.
www.baileynet.com
Bosch Rexroth
www.boschrexroth.com
Canadian Tool & Die Ltd.
www.canadiantool.com
Carlson Hydraulics
www.carlsonhyd.com
Cat OEM Solutions
www.cat.com
Cross Mfg. Inc.
www.crossmfg.com
Eaton Corp.
www.eaton.com
Helac Corp.
www.helac.com
Hyco Intl. Inc.
www.hycointernational.com
Parker Hannifin
www.parker.com
Pedro-Roquet
www.pedro-roquet.com
Polygon Co.
www.polygoncompany.com
Prince Mfg. Corp.
www.princehyd.com
RamRod Industries LLC
www.ramrodindustries.com

Companies in this article