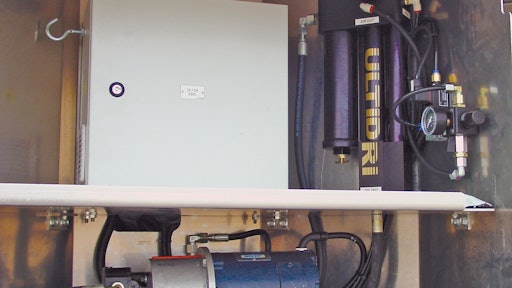 Much more is understood about hydraulic fluid than it was 30 years ago. Once a side note, it's now included as integral part of the system, capable of increasing vehicle efficiency when properly selected and maintained ... or bringing a job to a grinding halt when neglected.
In this issue, we look at a couple of ways construction equipment OEMs are working to ensure their hydraulic systems don't stumble because of bad oil.
Water removal for concrete pumpers
Edited by OEM Off-Highway
At World of Concrete in February, Putzmeister America, Inc., Sturtevant, WI, announced several standard and optional features for its truck-mounted concrete boom pumps, including a hydraulic oil dehydrator and filter.
As explained in Putzmeister's educational resources, water in hydraulic oil can be present as a result of ambient humidity, splashed water, or moisture that slips past seals on cylinders. Water in hydraulic oil promotes degradation and accelerates aging. Water in a hydraulic system will increase cavitation and foaming as well as reduce lubrication, resulting in costly component wear, maintenance and failure.
"Putzmeister's On-board Hydraulic Oil Dehydrator/Filter is specifically designed to efficiently remove water and keep the oil in optimum condition," says Bill Dwyer, vice president – sales and marketing, Putzmeister America. "It is integrated directly into the boom pump and operates continuously while the chassis is running if activated by a dedicated switch in the cab. Pumping operation maintains enough heat in the oil for proper dehydration."
Putzmeister's dehydrator/filter uses dry truck chassis air, as opposed to removable cartridges, to eliminate the negative effects of water in hydraulic oil. It is an optional feature for all Putzmeister truck-mounted concrete boom pumps.
Fluid analysis program
Edited by OEM Off-Highway
JLG Industries Inc. recently announced the introduction of a Fluid Analysis Program for customers of its telehandlers and aerial work platforms in North America.
Designed to complement JLG's existing Ground Support™ efforts, fluid analysis is a preventive maintenance activity under the recently launched JLG Extended Warranty Program. The lab can also be utilized independently.
"Our customers are continuing to focus on reducing operating costs and maximizing uptime," says Chris Mellott, vice president - Ground Support, JLG. "This testing procedure allows equipment owners to evaluate the status of their equipment and thus proactively schedule service or replace components prior to their failure."
JLG test packages are available for engine oils and coolants, non-engine oils and hydraulic systems.
JLG uses laboratories in Houston, TX; Edmonton Alberta; Indianapolis, IN; and Salt Lake City, UT, to help expedite the testing process.
Suppliers
Evonic RohMax Additives GmbH
www.rohmax.com
Harvard Corp.
www.harvardcorp.com
HYDAC Technology Corp.
www.hydacusa.com
Polaris Laboratories LLC
www.polarislabs.com
Shell Lubricants US
www.shell.com