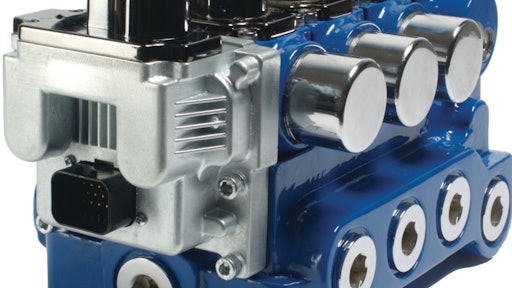 Hydraulic fluid may have the power to efficiently — and literally — move mountains, but it is really not very smart. Especially when it's under pressure.
Pushed by the pump (OEM, February) and with only hoses and tubes (May) for direction, the fluid cannot be expected to make good decisions as it travels through a machine. It will pick the easiest route, going where it gets the least resistance — like it or not. When directional control valves are placed in the system, the operator can finally manage the fluid and have it function as needed.
Directional control valves are critical and they come in many forms. A valve's flow-directing elements may be spools, poppets or plungers. Designs for the valve operators, which produce the force to move the valve, are migrating from manual systems to electrohydraulic systems. The latter allows the operator to interface with the hydraulic system at a distance. If still more room is required for improved safety or efficiency, directional control valves are operated via radio control.
Trends for directionals
Anthony J. Welter is product manager, global lead for mobile valves at Eaton's Hydraulics Operations in Eden Prairie, MN. He sees four major trends in directional controls:
Electrohydraulic control: Customers are going from manual or hydraulic pilot control to electrohydraulics. CAN bus control is also a high priority for many of our customers as it reduces the amount of wiring and provides a communication channel for diagnostics. The electrohydraulic migration has enabled enhanced functionality improving control and productivity, while reducing operator fatigue.
Reduced parasitic losses: The wider adoption and advancement of closed-center load sense systems has improved the efficiency of the hydraulic system which results in reduced fuel consumption. In addition, better analytic tools like computational fluid dynamics (CFD) and control modeling tools have enabled engineers to develop more efficient solutions that reduce throttling losses around meter surfaces and provide for better overall control.
Increased performance: Whether it's increased response, fine implement control, or overall stability, vehicle manufactures are demanding these features to help differentiate their vehicles over their competition.
Flexibility: Manufacturers are developing more customized machines focused on specific markets and are launching new products faster. These factors require greater flexibility to tune performance or quickly apply the valves into customized solutions.
Better control, functionality
There has been a steady improvement in directional spool control valve technology. Flow accuracy with electrohydraulic valves has improved significantly. "This has been enabled by a myriad of electronic spool position control technologies which include stepper motors, pressure reducing valves and full closed-loop controls using LVDT (linear variable differential transformer) position sensors," says Joe Pfaff, director of INCOVA programs, HUSCO Intl., Waukesha, WI. "Spool control has also advanced by improvements in the pressure compensation mechanisms to provide smoother operation. Additionally, flow regeneration is increasingly being added to spool controls to improve efficiency."
Application-specific valves have become more popular. These solutions often integrate hardware into the control valve to optimize machine performance and reduce cost, plumbing and installation time. For example, Parker has a monobloc valve designed specifically for wheel loaders.
"Also, it's quite common for Parker to integrate a manifold with cartridges and/or industrial type directional control valves into a standard sectional control valve," says Ed Moore, mobile market manager, Parker Hannifin. "We have the expertise to design and supply these types of systems. This capability offers excellent potential for cost reduction."
Bosch Rexroth offers a mobile valve family to meet the varied requirements of customers and keep costs down. A broad variety of elements with various flow and pressure capabilities within a single valve stack allows the system designer to easily create a simple configuration while having the ability to replace it with a highly technical system in the same compact space.
Saving fuel
According to Moore, the pace of the transition from open-center valves to pressure-compensated load-sense (PCLS) valves has picked-up considerably over the past several years.
PCLS valves offers load independent multi-function operation. The operator can select the speed of two or more functions and not worry about pressure changes altering function speed. Other benefits, says Moore, include reduced fuel consumption.
In a PCLS system, the pump will provide only the flow that is requested by the operator — and at a pressure slightly higher than the actual load pressure. In comparison, pump flow in an open-center hydraulic system will always be at full displacement and load pressure. Un-used oil goes back to tank as wasted horsepower. Parker's customers have shown significant fuel savings.
HUSCO's INCOVA independent metering system provides fuel efficiency improvements, as well. "The challenge for the industry is removing the waste heat from the hydraulic control system without loosing controllability," says Pfaff. "This is creating a need for a fundamentally deeper understanding of how hydraulics deliver and control power on off-highway equipment. Through this understanding, a variety of solutions will emerge that improve efficiency, performance and reliability. INCOVA enables a step forward in this direction and could be cost-neutral from a system perspective."
Suppliers
Argo-Hytos Inc.
www.argo-hytos.com
Brand Hydraulics
www.brand-hyd.com
Bondioli & Pavesi Inc.
www.bondioli-pavesi.com
Bosch Rexroth Corp.
www.boschrexroth.com
Bucher Hydraulics
www.bucherhydraulics.com
Hawe Hydraulics
www.hawe.de
HydroControl Inc.
www.hydrocontrol-inc.com
Parker Hannifin Corp.
www.parker.com
Poclain Hydraulics
www.poclain-hydraulics.com
Prince Hydraulics Inc.
www.princehyd.com
Walvoil Fluid Power
www.walvoilfluidpower.com
Companies in this article