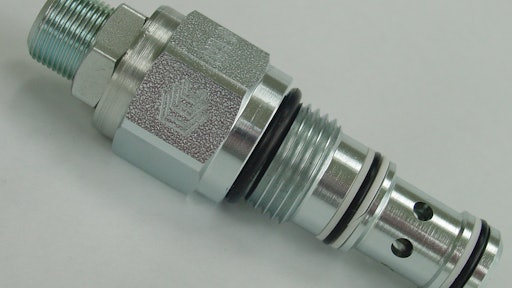 Brought to you by
Command Controls founder Connie Kosarzecki remembers when the cartridge valve was introduced in the 1950s. At the time, two companies were making special-purpose hydraulic cartridge valves.
"Each cartridge valve was designed to perform a specific function, and then a valve cavity was designed to encompass the valve," says James Incledon, Jr., marketing manager, Command Controls Corp., Elgin, IL. "Most of the valves during that time were designed with many differing cavities."
In the late 1960s and 1970s, a new approach to cartridge valve design emerged in which the cavities were designed on the existing technologies of the SAE straight thread O-ring port designs, allowing a great deal of interchangeability.
In recent years, cartridge valves have responded to the market's needs through the development of new products, expansion of functionality and improvements in core specifications, says Michael G. Guhde, division marketing manager, Hydraulic Cartridge Systems Div., Parker Hannifin. New proportional valves controlling direction, flow and pressure are now taking over many applications once thought to be reserved exclusively for sectional valves. Cartridge valves are also performing multiple jobs in a single cartridge, such as flow controls with integral relief functions, or directional valves with built-in compensators.
"Cartridge valves have seen improvements in core performance areas, as well," says Guhde. "Leakage rates have decreased by as much as 75% in some cases, pressure ratings are extending up to 350 bar for standard products and 700 bar for some specialized applications, and power curves are now wider and offer greater responsiveness."
Customers today are more concerned about leakage and cleanliness. Beyond the obvious environmental and safety issues, leaks indicate the system is not completely sealed, which means contaminants can get in and could lead to the premature failure of a hydraulic system. "This is also the same reason customers are more concerned about cleanliness," says Incledon. "Command Controls uses an oversized spot face which gives additional seating area, thereby reducing the possibility of a cartridge valve backing out and allowing leakage or contaminants."
Thelma Gutierrez-Anderson, product manager at Eaton's Hydraulics Operations, Eden Prairie, MN, says some of the trends they are seeing "include use of more proportional valves. We also see more customers moving to higher pressures on mobile applications."
Paul Spratt, marketing manager for HydraForce, Lincolnshire, IL, says the company's customers are looking for design flexibility and performance optimization. Logic elements provide the designer with many options for system configuration, sizing, pricing and function. "The customer is able to develop and execute purpose-designed circuit concepts using a combination of standardized components to achieve customized performance benefits. This configuration flexibility allows customers to design vehicle specific solutions for a wide variety of applications, even for lower volume machine options or for special application conditions. These needs increase as vehicle performance, efficiency, safety and convenience requirements advance in a highly competitive global environment."
Logic valves are available in many different configurations with an expanded range of features and sizes enabling use in flow, pressure and directional control circuits. By using smaller piloting elements to control larger logic valves, circuits are more efficient and more cost effective. Changes include the addition of multi-function features within a single cavity which reduces complexity, reduces size, lowers weight and improves reliability.
Parker recently introduced a new catalog that includes products from the recent Sterling Hydraulics acquisition, as well as several new developments from the Winners Circle product line, representing a broad offering of cartridge valves. "Parker's development of patented proportional technology has fed significant growth in this area and will offer opportunities for new growth and new applications for the future," says Guhde.
Guhde sees three trends in the cartridge valve industry that are driving development:
Flow Rates are increasing: Customers are using cartridge valves to replace sectional valves in many applications and need flow rates that exceed 20 gpm and are pushing into the 50 gpm-plus rate, particularly in directional valves, which is new territory for cartridge valves.
Environmental drivers: Regulatory and customer driven demands are driving development in both solenoid coils and coatings for the valves. The single largest driver in this area is the RoHS Directive-driven elimination of chromium-6, although customers are most likely to experience the benefits of coil improvements that will increase service life, particularly in tough applications.
Proportional valves: Customers are demanding increased levels of control along with increased reliability from their machines. Proportional cartridge valves offer an inexpensive way to optimize responsiveness and include productivity increasing automation in many applications. The smoothness of operation and enhanced functionality can extend mechanical and electrical life of the final application.
Incledon says that while most engineers are aware of cartridge valves, many of the benefits they can bring to a hydraulic system are not well-known. Those include cost reduction, weight reduction, size reduction, leak point reduction, ease of valve replacement, installation time savings, fitting reduction and reduced pressure drop.
To view all images in this article, click here to view PDF version.
Companies in this article