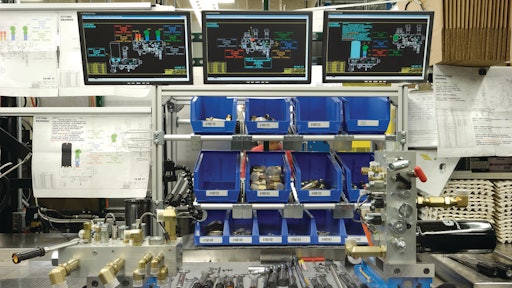 Brought to you by
Standing in stark contrast to the mass produced, one-size-fits-most approach of the automobile industry, the equipment in the mobile off-highway sector puts the end-user's work requirements first and foremost, resulting in specialized machines that are custom designed and built for a specific purpose.
Manifolds distribute pressurized hydraulic fluid via valves mounted in them. Tubes return low pressure oil to the manifold where it is consolidated and returned to the reservoir to be be re-circulated through the system. Like the machines themselves, hydraulic valve manifolds are increasingly custom-designed for the application.
Engineers are finding more creative ways to incorporate pumps, cylinders, motors, and the structural part of a power unit into manifolds. "As a result, the market is moving toward custom designs," says Larry Davis, president, Daman Products Co. Inc., Mishawaka, IN. "And with the development of more sophisticated manifold specific design software, we find more complete manifold drawings and more people designing manifolds."
The traditional process for Daman's designers is to work from a customer's bill of materials and hydraulic circuit. "Even though we are often supplied with finished drawings, we put the design through our engineering process," says Davis. "It is our experience that 75% of the construction drawings supplied to us by part-time manifold designers contain a design error, and 50% of all drawings contain an error that would result in field failure. In the spirit of helping our customers be successful, we cannot build from other's designs without testing the integrity of the design."
Over at HydraForce, Lincolnshire, IL, Tony Casale (who will assume the position of vice president-sales and marketing, on Jan. 1) says the first thing that must be decided when developing a manifold is the type of material it is made from. "Material selection is driven by the maximum operating pressure. If the operating pressure is less than 250 bar, then aluminum is the material of choice. If the pressure exceeds 250 bar we would use continuous cast gray iron bar.
"The size of the manifold is dictated by the complexity of the circuit," says Casale. "Obviously, the more complex the circuit, is the larger the manifold will be. The location of the ports and placement of the valves is up to the customer. Every manifold we build is custom for the application and OEM."
For HydraForce, the initial phase of custom manifold design begins with a bill of materials, hydraulic circuit, port sizes and a material recommendation supplied by our distributors.
"Without more information, we will design based on commonly accepted design practices in our industry," says Casale. "A simple one is that all cylinder ports are generally located on the same face for ease of plumbing. After completing the design, we send an approval drawing to which changes can be made if necessary.
"However, our preference is to have more information at the time of quotation. Understanding the application can save time and ensure a streamlined design process. Often there are physical space limitation and specific port locations. This information is used to determine the proper material size and type."
The format of communication used throughout the process is the key to doing a project quickly and correctly. HydraForce's i-Design hydraulic system design software allows engineers to create custom integrated manifolds during the early design stages.
"With i-Design, we design a schematic and give the customer a price for the manifold on the spot," says Casale. "We can mix and match valves such that we can have four different solutions for the same function. The customer can then choose the solution that gives the machine the personality they desire at a known price. From there that same information flows into our design group. If there are any changes or discrepancies, the information flows back to the customer in the same format. The ability to communicate back and forth to the customer with one tool is seamless."
A manifold design from HydraForce can go from idea to a shipped prototype in as little as two weeks — although six is typical.
Manifold trends
"Most mobile hydraulic manifolds are built from one of the following materials: aluminum, ductile iron, or steel," says Davis. "Aluminum manifolds are predominately built from 6061 alloy bar or plate. This is the most economical aluminum and will support most 3,000 psi applications. This material is on the low end of machinability, but with proper tools and knowledge is the appropriate value choice."
Approximately 12 years ago, Daman switched from mild steel to ductile iron as the high pressure material of choice. Today most manifold manufacturers offer it as an option, if not their lead material. Ductile iron D654512 is more machineable, and less prone to defects and inclusions.
The Daman team has noticed an increase in requests for ductile iron versus aluminum as a result of higher pressure requirements. Other factors may dictate a ductile manifold is the best choice, as well. "Systems with significant shock, heavy cycle duty, expected system life, and operating conditions may in a variety of combinations require a prudent customer to specify higher strength material. When based solely on average system pressure, an application engineer might ask for aluminum. However, many a failed system has been blamed on a manifold that was incorrectly specified by the customer to be aluminum," says Davis.
Manifold suppliers are also providing more value-added services. "Historically, we have designed and manufactured manifolds and shipped them as loose items," says Davis. "Now, more often we are being asked to populate the manifolds with valves.
Continuous improvement concepts at Daman have allowed the company to respond faster and provide creative responses to industry needs. Advanced inventory systems provide repetitive custom and standard inventory to the market on a demand basis. Daman's Trigger system is a proprietary inventory system that minimizes the majority of the market's inventory and substantially reduces what we carry on hand, while improving the on-time delivery.
"Today manifolds themselves are more complex as the market requires smaller, more efficient, and economical solutions," says Davis. "Cartridge valve technology and improvements have provided a tool to meet the market's need to minimize size and weight considerations. Virtually every custom manifold we design has a cartridge cavity and the vast majority are exclusively machined for cartridge cavities. The market is requiring efficient designs that are just not possible using conventional surface mounted components. Design software creates the opportunity to develop solutions that squeeze componentry and circuitry into very small, light weight, and efficient packages."
Manifold destiny
Daman recognized as a Company to Watch.
Daman Products Co., Mishawaka, IN, recently became one of 50 companies to earn recognition as part of the Indiana Companies to Watch awards program.
The recognition went to a diverse group of companies that make a significant economic impact as measured in jobs and dollars of revenue. There were more than 420 nominations for the awards. Given by the Edward Lowe Foundation, the Indiana Economic Development Corp., its Small Business Development Centers network and Purdue University.
After receiving a number of requests for his company's products from outside the United States, most notably from Brazil, Daman President Larry Davis has doubled his efforts to explore foreign markets. "We're always looking ahead to expand sales within our state and within the United States, but it makes sense to proactively investigate a number of international markets to lay the groundwork for potential new business," he says.
Having his company receive recognition as a Company to Watch is validation of Daman's team quest for performance excellence that started with a transformation of how his company does business. Known as the "Daman culture," the company expects its employees to exhibit personal responsibility, follow-through, articulation and resourcefulness. "It's a methodical, evolving process and it allows us to grow from within with people who understand our history, culture and, most important, our passion for helping our customers to be successful," said Davis.
Davis also has a passion for reforming K-12 education that has led him to speak and become part of high school and university forums with the goal of providing business and education links that will have long-lasting effects on the quality of education in this country.
Founded in 1976, Daman actively practices advanced manufacturing and marketing concepts to provide value and service to its markets. It is primarily engaged in the design and manufacture of hydraulic valve manifolds and related products.
Suppliers
Argo-Hytos Inc.
www.argo-hytos.com
Bosch Rexroth
www.boschrexroth.com
Daman Products Co.
www.damanifolds.com
Diedrichs & Associates (design)
www.diedrichsandassociates.com
Eaton Corp.
www.eaton.com
Hydac
www.hydacusa.com
HydraForce
www.hydraforce.com
Lynch Group of Companies
www.lynch.ca
M&W Manufacturing
www.mandwmfg.com
Parker Hannifin
www.parker.com
Positech Corp.
www.positechmanifolds.com
Sauer-Danfoss
www.sauerdanfoss.com
Vest Inc. (design software)
www.vestusa.com
Companies in this article