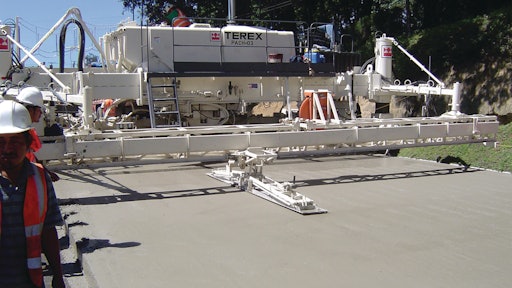 All of the components in a properly functioning mobile hydraulic system work as a team. Take one of the players away and the machine will cease to function, or limp off to the sideline for some expensive time off. Until recently, an important member of the team really hasn't received the attention it deserves. Hydraulic oil has been the water boy of sorts, an afterthought in the overall layout of the system. But without hydraulic oil, the machine would not move at all.
Published by Sperry Vickers in 1967, Mobile Hydraulics Manual M-2990-A puts coverage of the oil in the back of the book as Appendix A. The manual, for its time, is comprehensive in its coverage of a mobile off-highway machine's hydraulic system. The introductory paragraph on fluid says, "The oil in a hydraulic system serves as the power transmission medium. It is also the system's lubricant and coolant. Selection of the proper oil is a requirement for satisfactory system performance and life."
Following that the hydraulic oil gets covered through a relatively quick look at viscosity and cold-weather conditions. The industry has evolved in the 40 years since the manual was published, while some basics of the hydraulic system hold true.
From the high-horsepower engines in road building equipment to the tight tolerances in the hydraulic system of a cotton harvester present machines are much less tolerant to dust and other contaminants. Today, hydraulic fluid deserves more than a mention in an appendix. Machine performance can be increased by fine-tuning the oil through careful base oil and additive selection. Like the more expensive parts in the fluid system, the condition of the fluid is more significant now than ever, and it's driving improvements in filter design. Plus, it's more critical than ever to anticipate machine problems by monitoring engine and hydraulic oils.
Laboratories can read the fluid to determine machine health, information that end-users can utilize to better plan preventative maintenance schedules. Engineers at OEMs can make use of this information, too, in order to better understand how a machine is performing in the field.
End-users and OEMs are realizing the importance of including a fluid analysis program in their preventative maintenance routines. Recently, Terex Roadbuilding, Oklahoma City, announced its Managed Maintenance Fluid Analysis Program.
Working with Polaris Laboratories, headquartered in Indianapolis, the program covers equipment from the manufacturer's mobile concrete and asphalt lines, including slipform pavers, asphalt pavers and material transfer vehicles.
"Terex focuses on producing quality capital equipment that delivers productivity, return on investment and cost effectiveness that today's value-conscious customer expects," says Larry Meyer, Terex Roadbuilding senior director - customer service and support. "We believe the services Polaris can provide will be of tremendous support in continuing that focus."
Specifically, the new Terex Managed Maintenance Fluid Analysis program gives Terex customers a one-stop shop for receiving accurate, repeatable and traceable results. Fluid testing is performed in one of Polaris' ISO 17025 A2LA-accredited labs located in Indianapolis, Houston or Salt Lake City. The results provide a picture of fluid contamination as well as the internal condition of a component or system, so minor issues can be found and corrected before they become a major problem.
"There are literally hundreds of indicators that the fluid analysis program can use to detect potential problems," says Meyer. "High silica, for instance, indicates a filtering inlet issue, and iron particles in the fluid can be a gauge of bearing or gear wear."
For Terex, tracking the results can be done through the company's website. Customers log into the Terex Horizon Reports to obtain analysis results. The reporting software helps customers get the most from the information by offering the ability to build an archive of previously run analyses in order to track trends that can help diagnose small issues before they turn into more expensive service items.
Regularly scheduled fluid sampling will help customers obtain maximum uptime with their Terex Roadbuilding concrete and asphalt equipment. For the operator, the service offers a number of benefits including the ability to extend oil drain intervals, lengthen equipment service life, identify minor issues before they turn into major problems, maximize asset reliability and increase machine resale value.
Brett Minges, Polaris vice president, sales, feels the partnership with Terex will further the customer service and reliability goals both companies pursue. "We both work toward providing the customer with something more than the products we sell," Minges says. "Value-added services, like fluid analysis, demonstrate our commitment to their success. And the key to successful fluid analysis is utilizing the data to enhance machine uptime, improve reliability and increase profitability."
No longer an afterthought
Fluid analysis by a certified lab is part of an important shift in thinking where the oil is no longer an afterthought, a product to be dumped in the reservoir as needed. Oil is a component in the system, one that can be fine-tuned for an application and one that, given attention through its working life, will enhance performance and lengthen machine reliability.
"When you are talking about hydraulic systems," says Walt Silveira, U.S. technical services manager, Shell Lubricants, Houston, TX, "the off-highway segment is the most severe environment Shell Lubricants encounters." Heat and an increased threat of contaminant ingestion can decrease the lubricating properties of the oil and its protective qualities. When oil gets hot, it can lose its viscosity protection."
End-users of off-highway machines have used a number of different products in their hydraulic systems over the years, from straight crankcase oil to axle fluid to hydraulic fluid designed to stand up to severe environments.
Engine oil has been given the attention it deserves for a long time, and that is one of the main products customers buy from companies such as Shell. But there has been a change in the customer's mind: they know hydraulic oil is also vital.
"When we are designing a new product we are looking for specific qualities, not just the basic lubrication properties of oil, but a product that will perform well in a given application," says Silveira. "Having specific products that will perform in the tough off-highway environment is critical." For Shell, that means starting with high-quality base oils and continuing with proper additive selection to ensure high thermal and oxidative stability.
Changes in machine design, where real estate is always at a premium, is affecting fluid life, as well. Smaller reservoirs means the oil spends more time working: "With smaller reservoirs," says Silveira, "we are finding that the oil doesn't get a chance to cool off and relax, to recover. Oil can get stressed, making the selection of oil ingredients even more critical." Shell's high-end Tellus and Tellus Premium products are designed for tough applications, to extend the life of lubricants and the equipment.
"We look at oil analyses as a good proactive measure, especially in the off-highway segment because of the contamination issues. Just taking regular samples can prevent significant downtime." Silveira also recommends good breathers to prevent moisture in the tank and training for equipment users. Clean oil is very important, and making sure anything that comes in contact with the oil is clean, too, such as the bulk tank.
"We have seen some great improvements over the years," says Silveira. "More folks are educating our customers about the importance of a quality lubricant and keeping the oil in good condition. More people understand that fluid is a critical piece of the reliability program. Many of the OEMs are doing a good job educating their customers on fluid cleanliness and conditioning."
While heat can reduce fluid life, dirt ingestion causes the condition of the oil to deteriorate. Preventing contaminants from entering the system is the first job, but does not detract from the need to install filters.
"Fluid contamination becomes a determining factor in needing to change or filter it," says Silveira. "Protecting the inside of the equipment means keeping it clean."
Filter it
New hydraulic system demands, such as increased flows and pressures and precision components, have placed more emphasis on improved filtration, says Matt Stein, product manager, mobile hydraulics, Donaldson Co., Minneapolis. "OEM customers need to better protect hydraulic systems and achieve required service life of their filters."
Donaldson's OEM customers are requesting advancements in filter efficiency and capacity. It is responding with the introduction of Synteq XP media to its Duramax line. "This new media technology allows OE customers to better protect hydraulic systems and achieve required service life of their filters," says Stein.
In the last decade HYDAC Technology Corp., Bethlehem, PA, has seen a shift from traditional paper media (coarse filtration) to fiberglass or synthetic fiber media because the cleanliness requirements of modern hydraulic systems cannot be reached with paper filter technology.
"The OEM's design engineers are also better educated in filtration and understand the need of high performance filtration," says Joël Daub, group product manager - filtration, HYDAC. For on-board filters, the trend is to use finer filtration (5 or 10 micron at a Beta 1000 - HYDAC Betamicron® 4 technology) to reach the specified cleanliness requirements. The demands we get from customers are more specific than some years ago. The goal is to decrease life cycle costs of the machines."
Ensuring system cleanliness from birth has become more important. An OEM's cleanliness levels are now more stringent, while at the same time are seeking a way to increase maintenance intervals.
Parker Hannifin has seen a growing number of customers that "request cleaner fluids and components based on a cleanliness correlation to a specified ISO standard," Al Zingaro, Hydraulic Fluid Div. marketing manager.
The OEMs are conscious that they have to specify and check the cleanliness of the components that go into the system, as well. "We are seeing component cleanliness requests from OEMs," says Daub. "In the future all component manufacturers will have to improve, check and monitor the cleanliness of their components."
"Cleanliness is the most important condition to monitor in a hydraulic system," says Minges, "so much so that OEMs all have their own target ISO cleanliness codes. Our recommended targets are closely aligned with industry standards. A system that operates at 4,000-5,000 psi turns very small particles into a bullets. In today's high-pressure common-rail fuel injection systems, ISO clean standards are also becoming increasingly important — so much so that OEMS have established cleanliness codes for diesel fuel storage tanks."
Daub says on most of the machines HYDAC supplies, the filtration of the return line flow is still the most common. "We see a shift from inline filters (typically spin-on types) to tank top or filters inside the reservoir. These types of filters save labor and cost and help with optimizing space on the machine.
"We also see more requirements for additional pressure filters to protect specific components like manifolds with very sensitive valves. Due to the Tier 4 emission standards all of the machines are being redesigned and we will see even more of these types of demands."
At large OEMs, the trend goes to customized designs with additional functions. On the other hand, another trend for filter manufacturers is to find fine filtration media with very low pressure drop. Mobile equipment works in various temperatures and sees a lot of cold starts. During cold weather the viscosity of the oil rises dramatically and if the filter element pressure drop is too high, part of the flow may bypass the element. During this phase all the contaminants will remain trapped in the fluid and increase the wear of components and risk of failure.
To that end, HYDAC has developed its Mobilemicron media which has a filtration rating of 10 micron at Beta 200 and is working on developing new solutions.
With all of the changes and technical advancements in the name of the environment, it should not be a surprise that the filter itself is becoming more "green."
YDAC has developed its ECOmicron® technology which features a fiberglass element in Polyamide hardware. The element can be squeezed and incinerated after use and its weight is up to 30% lower than a traditional element with metal components.
In the end, once all steps have been taken to make sure the hydraulic oil is comfortable, it's still about the team. Shell continually calls on the major OEMs to work with them to make sure they understand the new fluid technology and to ensure Shell is helping to meet those new machine requirements. "It is important to have that contact with the major OEMs," says Silveira. "We have found over the years that more people rely on our technology group to help them with making the right fluid choice for an application."
To view PDF version of the Suppliers List, click here.
Companies in this article