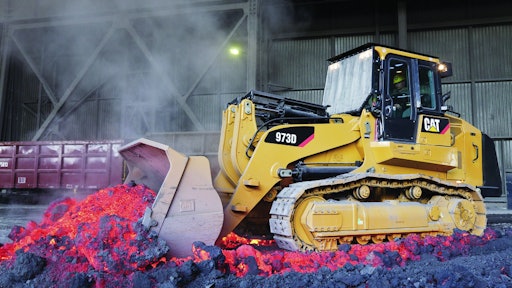 Hydraulic fluid use has increased over time, as have the pressures they must work under. At the same time, there has been an increase in the use of fire-resistant hydraulic fluids due, in part, to increasing regulations for safer working conditions.
Fire-resistant (FR) hydraulic fluids can be found in demanding off-road applications ranging from the slag industry to forest firefighting equipment to underground tunnel boring machines. For many industries, this standard of hydraulic fluid is required. The term fire-resistant does not refer to a fluid being non-flammable. All commercial hydraulic fluids will ignite and burn if exposed to a high enough temperature.
American Chemical Technologies, Inc. of Fowlerville, MI has been dedicated to serving the lubrication industry for over 35 years. The two main products for mobile equipment offered by the company are EcoSafe FR fluids – fully synthetic, non-aqueous hydraulic fluids that are FM (Factory Mutual) approved industrial fluids – and UCON Trident, a Dow Chemicals brand exclusively distributed in North America by American Chemical Technologies (ACT).
Both fluids are polyglycols at the core of their chemical foundation. In the case of EcoSafe, the fluid is an oil-like, water-insoluble fluid with a lower density than water, so it floats and has a sheen like oil. UCON Trident is also a polyglycol but is completely water soluble and is denser than water. "Both products meet the readily biodegradable classification and are FM approved as less hazardous hydraulic fluid," says Kevin Kovanda, president of American Chemical Technologies, Inc.
Two major advantages of polyglycols are their resistance to hydrolyze (react with water and undergo a chemical decomposition) and they don't create their own sludge and varnish, making them ideal fluid chemistries for mobile equipment.
"You tend to have very small reservoirs in mobile equipment, so they run hot and there is always condensation forming after the machine cools down," says Kovanda. The system is running at such an elevated temperature, the fluid oxidizes faster keeping the system clean and non-acidic allowing for reduced drain intervals.
Polyglycols in the field
Common to the slag industry, fire-resistant hydraulic fluids allow equipment to work in the molten impurities being moved in steel mills. Caterpillar's 973C track loader (an upgraded version, the 973D, released to the industry in January of 2010) uses ACT's EcoSafe fluid as its standard factory fill.
Caterpillar's Steel-Mill Package allows the track loader to work safely and reliably when handling hot slag. Beyond the fire-resistant hydraulic fluid, the machine features a sealed undercarriage, heat shields for the fuel tank and hydraulic system, a heat resistant windshield and remote parking brake release to keep the operator and equipment protected against the elements.
In the tunnel boring industry, everything that is mined must be brought to the surface. During the mining process, water and other liquids leak into the tunnel shaft, which are stored in holding ponds to be inspected and taken away as waste or passed to a receiving body of water.
During a 2008 tunnel boring project in Oak Creek, WI, the project's engineers selected Dow brand UCON Trident AW 46 hydraulic fluid to power the cylinders that propel the boring machine and rotate the cutter head. Kenny Construction Co. of Northbrook, IL, was in charge of excavating a 1.75-mile long tunnel, 27 feet in diameter approximately 200 feet below Lake Michigan.
Because Lake Michigan is a source of drinking water for millions of Americans, the project was carefully assessed for its environmental impact. The UCON Trident fluid met the requirements of the U.S. Fish and Wildlife Service as "relatively harmless" or "practically non-toxic" to fish and wildlife, as well as being classified as readily biodegradable.
Using an environmentally safe hydraulic fluid means leaks and spills have lower impact and simpler water treatment needs. Kenny Construction's use of UCON Trident, for example, which dissolves in water, can reduce the need for centrifuge and other wastewater treatment operations while still delivering the necessary load carrying, heat and wear performance critical to tunnel boring operations, Kovanda says.
As the importance of environmental and operator safety, and the harshness of the off-road industry environments continue to increase, fire-resistant hydraulic fluids continue to provide an accessible solution for OEMs to employ.
Companies in this article