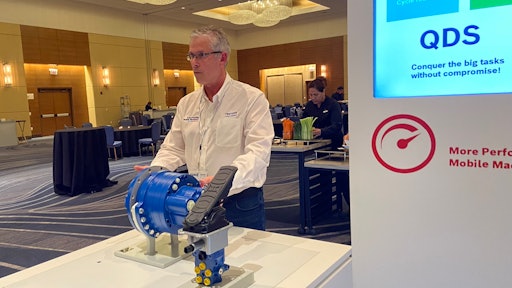 The Bosch Rexroth Electrified Mobile Product & Application Conference (EMPAC) 2022 buzzed with energy and excitement around its software and electrification portfolios. On June 13, 2022, the team welcomed members of the trade media and its customers and distributors to Schaumburg, Illinois, for this event, which included educational presentations and exhibits of all the new technology. The company plans new products with the focus on its true north—all about people. The team talks with its customers, learns and then develops solutions. Every component on display and discussed during this event are possible solutions for off-highway OEMs.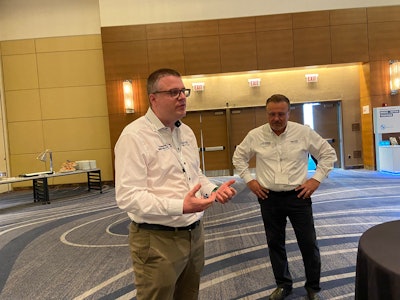 Why Electrification?
While Bosch Rexroth focuses on fluid power, the need to reduce emissions and expectations for components to be integrated, automated and electrified have inspired these new product portfolios. Another benefit of these products is added component efficiency and scalability. Each product portfolio is built to be robust, scalable and safe. The safety aspect involves the functional safety of the equipment and the electric safety.
What does a fully electric vehicle need? The Bosch Rexroth team developed an electric telehandler. They used their extended electronic portfolio on the machine. This included:
Connected motors
Extended power
DC/DC converter
Onboard charger for the battery
High-voltage cables
Power distribution
Battery (purchased from an OEM)
Other than the battery, Bosch Rexroth manufactured all the other components. The team has taken advantage of its years of expertise in industrial drives to provide electrified solutions to solve OEM use cases. These involve full electrification of the vehicle, electrification of the hydraulic systems and hybrid applications.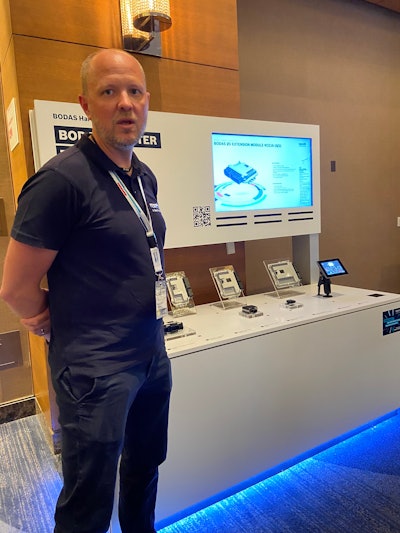 The eLion Platform: Motor-Generators, Inverters & Gearboxes
During the presentation for the eLion electrification platform, Matthias Kielbassa, vice president, Electrification of Mobile Machines, Bosch Rexroth Mobile, discussed the components and the difficulty of integrating them in a vehicle. Components included in the eLion platform are motor-generators, inverters, gearboxes and software. The Bosch Rexroth team did not simply modify an existing portfolio. From the ground up, they built components that withstand the rigors of off-highway conditions (heat, dust and vibration). For example, the inverter for the system has a high temperature range (-40°C and 85°C) and shock/vibration resistance. This robust inverter also meets IP6K9K ingress protection requirements.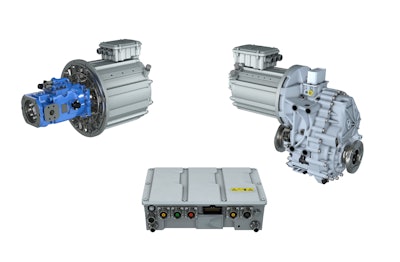 The platform's modular design allows the system to be scalable. The electric 700-volt eLION motor-generators from Bosch Rexroth cover a nominal power range from 20 to 200 kW (peak power up to 400 kW) and deliver nominal torques of up to 1050 Nm and maximum torque of up to 2400 Nm. They are available in four sizes with different lengths and winding configurations. Depending on the design, they are available in a fast or standard-speed version. Over 80 configurations are possible, which means maximum design freedom for manufacturers when electrifying existing and new vehicle architectures.
To accompany the range of motors, eLION also offers inverters in different power classes with up to 300 amps of continuous current and high overload capacity. The inverters support DC bus voltages from 400 volts to 850 volts.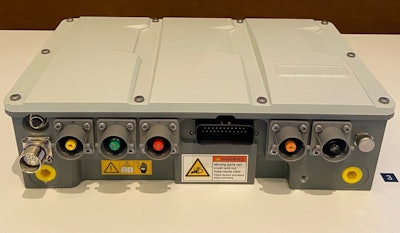 During Kielbassa's presentation, when he began discussing gearboxes, he introduced Dr. Christof Lamparski, vice president, Development & Sales, Gearboxes Business Unit, Bosch Rexroth Mobile Components. Lamparski covered the diversity and options of gearboxes (eGFT and eGFZ) in the eLion portfolio.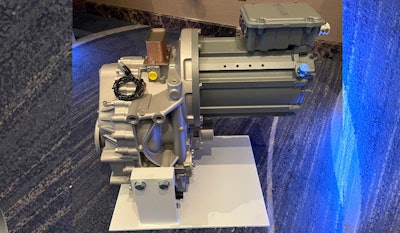 To support and drive the electrification of off-highway machines, Bosch Rexroth developed the first two-axle drives designed especially for electric motors. The one and two-speed gearboxes are installed in the central section of the vehicle and pool the energy to drive up to two axles with just one motor.
Both gearbox options enable high power densities to be achieved while simultaneously ensuring noise optimization for high-speed electric motors. While designed to function with eLion motors, they also operate well with other manufacturers' motors with similar power.
Specifically, one installed two-speed gearbox has the following benefits:
High efficiency up to 90% when combined with a

Bosch Rexroth

motor
Shift control for smooth shifting
NVH (noise/vibration/harshness) optimized
Functionally safe (ISO13849)
Kielbassa is excited about the benefits of the eLION platform. "The aim is to use our technology to create a future with higher efficiency, lower noise emissions and less air pollution. We have the right products at the right time and we're also helping our customers to strengthen their market position with future-viable mobile working machines."
For more, watch the video conversation from the event with Kielbassa and Lamparski.
Pumps
Manufacturers of mobile machines must decide whether to control their pumps using pressure, torque or the swivel angle – and must compromise as a result. The same applies to numerous other parameters which are defined once for the hardware and continue throughout the machine's service life. The new electrohydraulic solution from Bosch Rexroth solves this problem by moving control functions from the hydromechanical controller to the software. This makes machines more versatile and flexible. In addition, machines benefit from increased productivity and lower energy consumption.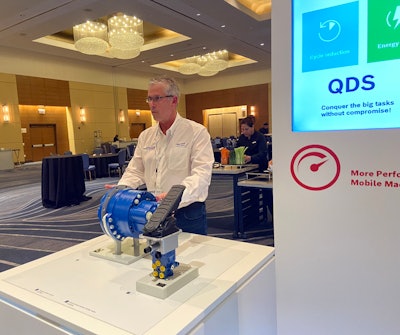 Electrohydraulic eOC Pump
The electrohydraulic eOC pump with swivel angle sensor and pressure sensors is the central component in the eOC architecture. It ensures the proper control of the necessary setpoint values for torque, pressure or flow. The pump provides dynamic control with millisecond accuracy to modulate the pressure. In combination with the eOC CAN-interface software, characteristics such as dynamics and power control can be set, changed and combined.
The eOC architecture not only opens new possibilities for working hydraulics. It also allows a new approach for the travel drive systems of compact machines. The eOC functions in accordance with the secondary control concept, combining the functionality of a closed-circuit travel drive with the physical layout of an open-circuit drive, which only requires one pump for travel and working functions. As a result, all travel and working hydraulic functions in compact machines can be combined into one hydraulic circuit—all rotating consumers are connected directly to the pressure line.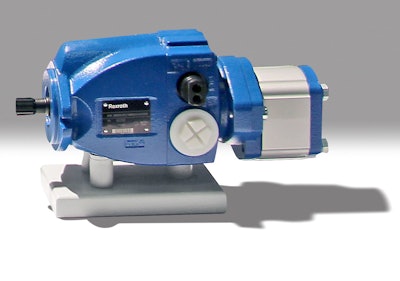 Piston-Gear Pump
A new piston-gear pump assembly with common suction port is designed to provide a compact, fully engineered tandem pump configuration for mobile machines that use both types of hydraulic pumps to power implements and other equipment.
The new tandem configuration combines two proven hydraulic pump series: the A1VO/A10VO axial piston pumps and the AZPF/AZPW external gear pumps. The piston-gear pump assembly incorporates a common suction port, eliminating the need for separate hydraulic lines to each pump and reducing potential points of failure or leakage. This component also reduces the costs associated with hydraulic feed lines.
Motors
During the event, the team presented on electric motors, including a new radial piston motor, the MCR-S. This motor delivers more compact solution with the parking brake repositioned to the body of the motor. The design team also integrated the two-speed shifting spool within the motor distributor and optimized the main port locations. The result is a durable motor which is up to 33% shorter, 41% lighter and optimized for simplified installation with enhanced efficiency.
The MCR8T, another radial piston motor, is for compact tracked loaders (CTLs) and other tracked vehicles. Developed for direct-drive CTL track motors, it uses an innovative rotary group design to deliver power density and durability. The new rotary group design offers up to a 55% increase in maximum torque, enhanced durability and a 20% increase in flow capability when compared to existing and dimensionally similar frame Size 6.
MCR-T radial piston motors are designed for continuous high rotational speeds, in the toughest track drive applications, so that compact tracked loaders can also cover longer distances. In high-speed mode the motor runs with a standard reduced displacement of 66%, which is also configurable on request, reducing oil flow in the circuit and improving system efficiency.
Valves & Systems
The Bosch Rexroth team presented several new valves and modular valve systems.
Load-Sensing Valves
The RM10-MPP and RM15-MPP valves for a medium pressure platform (MPP) are compact, general purpose, multiapplication load-sense, directional control valves. The product integrates into modern, energy-efficient systems and features flexible assembly with no transition plate needed between the two distinct sizes.
The valve line provides optimum flexibility for machines that demand varying flow rates and functions but have limited space because of industry regulations. The valves are equipped with common industry work ports and load-sense relief cartridges. They have low leakage demands at pump pressures of 280 bar and working port pressures at 320 bar.
Applications for these valves include:
CTL/skid steer loader
AWP
Refuse and municipal vehicles
Work truck cranes
Forklift trucks
Telehandlers
Compact construction equipment
Pre-Compensated Proportional Directional Valves
The EDG series for smaller hydraulic implement systems. In these systems compactness, robustness and high-performance are needed. Examples are:
Mobile elevated working platforms
Truck mounted cranes
Compact construction
Agricultural and municipal vehicles
The EDG proportional directional valves are available in two versions: compact and high-body. Compact versions can also be equipped with secondary relief and anti-cavitation valves and/or LS cut-off valves for individual, independent pressure setting on A and B ports. Both versions are rated for 350 bar (5,000 psi) and 40 liters per min (10.5 gallons per minute) with internally optimized low-pressure drop.
Bosch Rexroth also developed a new dedicated, manual-lever override option. The high-body version can be equipped with integrated counterbalance or pilot-operated check valves for maximum compactness and light-weight assemblies.
Compact, Programmable Performance Valve
Perfectly suited for 12- to 40-ton excavators, the E-valve provides low pressure drop with improved controllability in a standardized, compact package. Additional benefits include quicker work cycle times, the removal of the external hydraulic pilot line and significant fuel savings.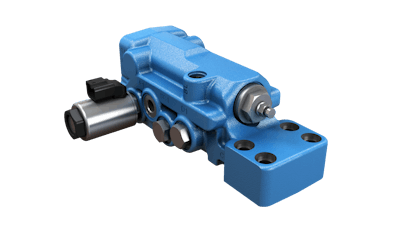 Electrohydraulic-controlled excavators are sophisticated machines. This new valve can handle the high-flow metering and speed control of the main stage on load lowering as well as the fine control needed for precise actuator movements. Operated via joystick signal and software algorithms, the E-valve acts as a watchdog in the background ready to take over and close the valve when a hose burst event is detected.
Packaged in a 420-bar (6,000-psi) cast housing, the E-valve is 21% lighter with 46% lower pressure drop. It is available in three cylinder connection sizes: ½ inch, ¾ inch and 1 inch SAE code 62 flanges.
Digital Application Solutions
The BODAS digital application solution from Bosch Rexroth is the glue that binds all the solutions discussed in this report together. It gives OEMs a way to develop Internet of Things (IoT) connected vehicles with either preprogrammed controllers and other components or with an open, extensible system. BODAS includes IoT solutions, software and electronic hardware for the off-highway industry.
The system can be an all-in-one solution, or OEM teams can select the components they need based on their requirements. This solution also offers:
Functional safety: Up to PL_d according to ISO 13849 and ISO 19014, as well as AgPL_d according to ISO 25119.
Cybersecurity: Addresses all relevant layers to reach a secure mobile machine control and is robust against cyberattacks
Readiness for automation: Enabling advanced assistance functions by combining automotive proven surround sensing components with matching software features
Connect: IoT Solutions
They BODAS system examines the whole data stream: from the source of the data to turning it into actionable data. The connectivity devices are Linux-based gateways. They provide safe, secure, configurable and scalable connectivity hardware plus a comprehensive and user-friendly device
management service.
The IT infrastructure is open and modular. Device management and data management are separate. Apps are available so that OEMs and end users can view data the way they need to. These apps include:
Fleet management
Vehicle health
Remote R&D services
Vehicle operation workflows
OEMs can also integrate their data analyzing algorithms on the edge or in the cloud.
Software: Portfolio & Tools
The BODAS software solutions cover a wide range to optimize machines:
Standard, configurable, off-the-shelf application solutions for machine functions
Software libraries and modules
An integrated software development architecture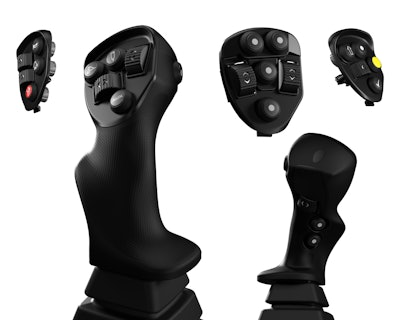 The software includes tools for the programming, parameterization and diagnosis of BODAS hardware and systems. Complementing Rexroth hydraulics, BODAS Software enables ideal machine control. The Portfolio and tools in more detail are:
Standard application software—Off-the-shelf modules for different functions that can be embedded into OEM applications
Software architecture—Based on Mobile Application Software Architecture (MASAR), the integrated development environment supports OEMs in management, reusability and integration of model-based software development
Tools—For machine updates with configuration, calibration, diagnostics, and efficient and user friendly programming
Hardware: From Controllers to Surround Sensing
The BODAS mobile electronics platform is open, scalable and freely accessible. It covers control units, connectivity devices, sensors and human-machine interfaces (HMIs) for mobile machines. BODAS hardware is either freely programmable or comes with a holistic control software.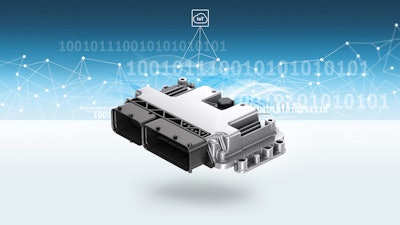 The portfolio components are:
Controllers—These are automotive-technology-based, scalable and pin-for-pin compatible controller platforms, ready to be programmed with the OEM application solution
Sensors—A comprehensive sensor family, offering an innovative portfolio with the highest accuracy over the lifetime of the machine and ready to be used in different safety applications; some sensors include ultrasonic, radar and inertia
HMIs—The portfolio includes displays, EH-joysticks and pedals
Telematic control unit—OEMs can connect their machines to the Bosch (or any other) IoT infrastructure; they are based on a microprocessor technology with a Linux operating system
Surround sensing—Gives OEMs sensor-supported control of the environment for assisted vehicle movement and operations