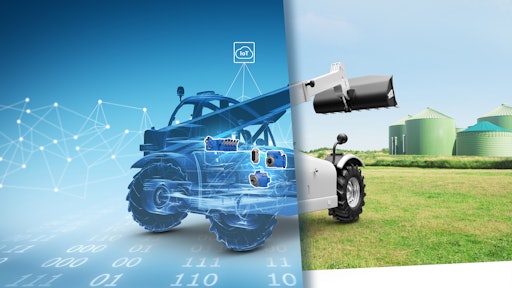 Bosch Rexroth Corporation
When building mobile machines, original equipment manufacturers (OEMs) face conflicting pressures and demands that impact hydraulic system design. Often, they must make difficult choices between streamlined architecture or more functionality, types of controls, or whether to provide maximum performance over smooth operation.
With traditional hydraulics, the only way out of this dilemma is to make either-or decisions—compromising one benefit for another. Once the choice is solidified in the hardware, those features are set to stay the same throughout a mobile machine's service life.
The emergence of digitalization—the movement to complement hydraulics with electronic systems and controls—in the mobile machine market may help overcome some of these challenges in certain applications, as hydraulic systems will continue to play a crucial role in mobile machines well into the future. Hydraulics deliver the power density, reliability and controllability that many operators need in the field. As hydraulic technology evolves alongside other technologies, OEMs are finding new ways to maximize the advantages with fewer drawbacks.
In fact, advancements in software and digital technology are opening a new world of possibilities for mobile hydraulic systems. Digitalized hydraulic solutions are solving the either-or dilemmas by transferring hydraulic and mechanical control functions and interfaces into software. As a result, machine builders and end users alike are realizing a new range of operational and business benefits that will shape the future of mobile hydraulics.
Advanced Software Simplifies Hydraulic Hardware
In standard implement hydraulics today, a pump has a specific configuration of control devices to deliver a desired functionality, along with a hose that is connected to a main control valve that delivers load-sensing pressure to control the pump displacement. The digitalization of these hydraulic systems allows manufacturers to simplify machines and eliminate complex mechanical devices, hoses, fittings and even external manifolds.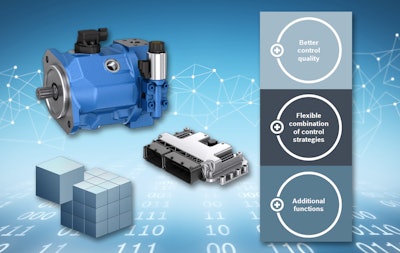 These parts are replaced with standardized components, electronic devices and advanced physics-based software that allow engineers to tune physical parameters digitally. This also allows OEMs to make fundamental changes to controls, completely transforming the human-machine interface in the machine's cab.
By streamlining the mechanical architecture, manufacturers can save considerable costs not just in components but also in logistics, production, assembly and service. These adjustments can help end users reduce their costs as well. Having fewer mechanical components reduces maintenance. This also improves performance and leads to reductions in hysteresis and improvement of dynamic behavior. The advanced software additionally offers performance benefits, like more precise control and the ability to manipulate the system behavior, ultimately leading to higher machine performance and higher energy efficiency.
More Flexible, More Functional Mobile
Hydraulics
The versatility of digitalized hydraulic systems also adds functionality. Whether a machine is used for construction, agriculture or material handling, OEMs can implement digital controls for the entire vehicle. This allows OEMs to standardize and consolidate components for a streamlined way to achieve different functions.

Take for instance an OEM whose implement applications require either power control, electronic proportional control or other pressure-limited controls. With a standard hydraulic system, each control would require different pumps with unique part numbers and configurations. More interestingly, even in pumps with the same control devices, an application could require different configuration settings, leading to additional part numbers. In contrast, a digitalized electrohydraulic solution uses digital controls that achieve the same functions through a single pump with a single standardized control device and advanced parametrized software.
The ability to replace mechanical hardware with software does not just create more flexibility for the OEM. It also gives end users improved versatility. Standard hydraulic systems lock end users into limited characteristics and do not typically offer the ability to switch modes for different applications. With digital controls, everything is changeable through software. This gives end users the ability to switch between different operating modes at the flip of the switch.
New algorithms for additional machine functions can even be enabled or downloaded to the machine via the cloud. This opens a wide range of opportunities for new applications and new business models. Enabled or downloaded functions can be offered as a one-time purchase for a single job, or they could be provided as a premium service via a subscription, similar to business models used in today's consumer vehicles.
New Mobile Machines Will Be Easier to Scale
With simplified hydraulic components and a much broader range of functionality, machine manufacturers have far greater abilities to develop new machines and scale them for market. From design and development to assembly and deployment, OEMs can reduce complexity and costs to get to market faster.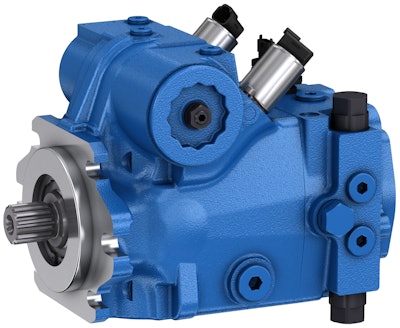 The next generation of digitalized hydraulics makes machine functionality dependent on software, not on hardware. This makes it far easier to apply functions with a single program across the entire range of vehicles and parametrized values that allow the same functionality to be used for different machine weight classes.
In turn, manufacturers can take a much more modular approach to building new machines, using fewer parts that are more standardized across their product portfolio. It also streamlines logistics, with less hardware variance in purchases and inventory.
This scalable approach to machine building could set in motion a new wave of innovation in the mobile machine market. With digitally driven functionalities, it takes less engineering and design effort to implement a new vehicle feature or create entirely new machines.
Where Mobile
Hydraulics

Are Going Next

As more OEMs adopt a software-driven approach to mobile machine design, they will find new ways to use digital technology to reduce mechanical complexity and improve functionality. They will also discover new ways to use the abundance of data produced by these systems.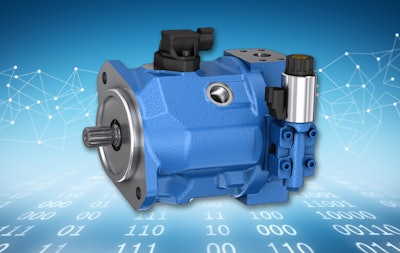 The digitalization of hydraulic components requires built-in sensors that gather important data like load sensing pressure, implement speeds and temperature, which can be used to unlock new capabilities via connected devices. That data can be used to:
Gather important predictive maintenance insights
Optimize machine performance and precision
Improve energy efficiency
These capabilities will unlock new business opportunities for OEMs as well. Machines can be upgraded with premium functions at any time via new software, or they can come packaged with subscription services.
Where mobile hydraulics go next will be up to the OEMs who take advantage of these digital solutions. With more flexibility and functionality that's easier to scale, machine builders have the power to decide the future of mobile machines.
Enrique Busquets is director, product area mobile electronics and electrification, with Bosch Rexroth Corporation.