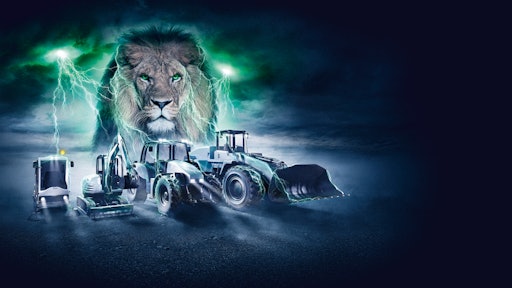 Bosch Rexroth Corporation
Bosch Rexroth will demonstrate its solutions for electric drivetrains, electronically controllable working hydraulics, future-proof telematics and step-by-step off-highway automation at booth S80215 during CONEXPO-CON/AGG (CONEXPO). Notable booth features include the eLION electrification platform, expanded BODAS capabilities and CytroBox hydraulic power unit.
Through working technology demos, exhibits and mobile machine technology experts, booth visitors can learn about the range of advanced systems, solutions, and products that Bosch Rexroth and Hägglunds offers the construction and off-highway equipment industries.
The booth will showcase how Rexroth technology continues to transform mobile machines. Visitors will get to see how Rexroth technology platforms are integrate and work with each other, allowing manufacturers of different sizes and in different development stages to find solutions using drive and working functions and digital business models.
In addition, visitors will have the opportunity to learn about new mobile machine solutions.
eLION Electrification Platform
This high-voltage portfolio includes modular systems for the electrification of mobile machinery, including motor-generators, inverters, gearboxes, software and accessories. Developed for the challenging off-highway environment, the portfolio is scalable and supports driving and work functions in a power range from 20 kilowatts (kW) to 200 kW (peak power up to 400 kW) for applications in compact and heavy machines.
With a newly developed, single-phase onboard charger, Bosch Rexroth has made its eLION platform compatible with the North American charging infrastructure.
The eLION motor-generators and inverters are robust systems that comply with the IP6K9K ingress protection requirements and are engineered to operate across temperature ranges from -40°C to 85°C.
Expanded BODAS Capabilities
Booth visitors will be able to learn details about new capabilities recently added to Rexroth's BODAS digital portfolio of Internet of Things (IoT) solutions, software and electronic hardware. The new BODAS Connect module enables secure, over-the-air updates of control units. It supports all Rexroth controllers, and in the future, it will also work with third-party devices from partners.
The myBODAS platform offers original equipment manufacturers (OEMs) of off-highway machines free access to the entire standard portfolio of BODAS software for controlling mobile machines. This open access means OEMs can download validated software packages for a range of applications free-of-charge, to test them and adapt them to suit the unique requirements of their machines.
New Experience Automation Exhibit
Bosch Rexroth will present an integrated portfolio for the needs-based automation of off-highway machines. The advanced assistance functions for excavators, wheeled loaders and telehandlers include modern sensor systems and intuitive operating devices. These include driver assistance functions for more efficient working virtual walls and critical operating parameter indications for greater work safety. Ready-to-use software modules help reduce the integration time into existing and future vehicle architectures which speed up market launch.
CytroBox Hydraulic Power Unit
The modular, energy-efficient CytroBox hydraulic power unit is for medium-power applications up to 30 kW. It features a compact design and intelligent IoT capabilities, such as open communication interfaces and integrated sensors that provide information regarding the current filter, oil or drive condition.
Learn more from this Bosch Rexroth press release.
Hägglunds Quantum Motors
In addition, the new Hägglunds Quantum motor range will debut during the show. These new motor developments reduce size and weight while expanding capabilities in harsh and unpredictable mining applications.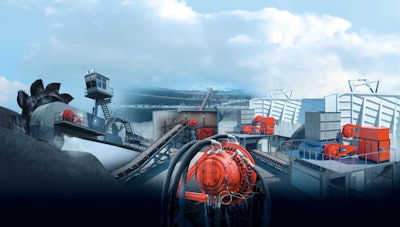 "In March, Hägglunds will open the door to a truly exceptional domain – the Quantum domain," says Wolfram Ulrich, vice president of sales, Hägglunds. "Customers will discover key advantages that have been hidden in plain sight. But they will also find new possibilities to bend the laws of size, strength and speed. Those can mean a sharper edge for mining operations."
Hägglunds hydraulic drive systems are familiar in the mining and mineral processing industries. Compact and gearless, they offer advantages when compared to electromechanical counterparts. In many ways, mining applications showcase hydraulic drives' strengths. Few other industries expose drive systems to such harsh and unpredictable conditions. Hägglunds drive systems withstand both challenges, allowing mines to secure equipment uptime and boost their productivity.
Protected from dust and grit by their closed design, Hägglunds drive systems also tolerate shock loads without over dimensioning. Their built-in pressure limiting mitigates unexpected torque peaks, which reduces maintenance burden and prolongs the life of bearings, belts and chains. At the same time, the drives can supply and sustain an unprecedented amount of output torque for their size, giving operators full-torque capabilities from zero to maximum speed.
In practice, this means Hägglunds drives can start up, hold or reverse in loaded condition without the risk of overheating. Since no gears are involved, they provide instant response and an infinite number of speeds to work with throughout their range. These features let miners adapt to ore characteristics, optimize feed rates or inch equipment along for inspection.
The Hägglunds Quantum motor range will be revealed on March 14 at CONEXPO, Booth S80215.
Learn more from this press release.