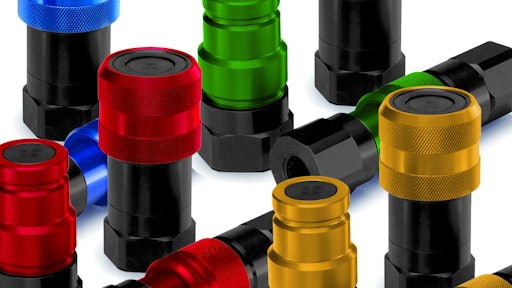 FA Series couplings from the Quick Coupling Division of Parker Hannifin Corporation are designed to use the best features of Parker's non-spill FS and FEM Series couplings combined with a lightweight, corrosion resistant aluminum construction that's up to 60% lighter than comparable steel couplings.
Push-to-connect operation is quick and saves time when mating fluid lines
Non-spill feature eliminates fluid spillage and minimizes air inclusion when connecting or disconnecting
Modular two-piece design allows for a wide variety of end configurations
Flush face valving and smooth flow path with low pressure drop
Suitable for both pressure and vacuum applications
Operating pressure rating up to 1,000 psi
3 to 50 gpm rated flows
Hard coat, anodized finish provides scratch- and wear-resistant surface
Color coding options visually identify fluid lines to prevent cross connection
Flat face and sealed sleeve cavity prevents dirt from interfering with coupling operation
Body sizes range from 1/4 in. to 1 in.
Request More Information
Fill out the form below to request more information about
FA Series Aluminum Couplings