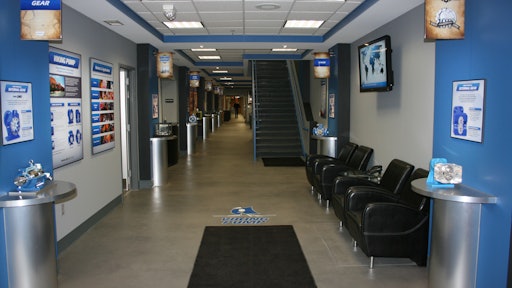 In honor of their 100 year anniversary, Viking Pump has created a historical museum highlighting the unique innovations on which the company was founded.
The museum allows visitors to travel with Viking Pump through the last 100 years. The Museum starts with the Granddad pump, the original created 100 years ago, and flows through to our current applications, literature and pumping innovations. Complete with artifacts through the years and interactive displays, this museum is designed to engage all visitors with a mixture of history and current technology.
An idler display highlights the range of idler sizes that are created and machined by Viking Pump. Their size ranges from ¾ inch to almost 1½ feet. The smallest idlers weigh approximately 0.25 lbs. and are used on pumps that weigh around 5 lbs., while the largest idler weighs approximately 250 lbs. and is utilized on a pump that weighs approximately 2,700 lbs.
Down the hall of the museum, a production process display highlights the pump creation process from beginning to end. A pump begins at Viking's foundries as basic raw material. Throughout the melt, mold, shakeout, machining, assembly and paint processes, a complete pump is created. This display uses panels and a visual display to articulate the process behind pump creation.