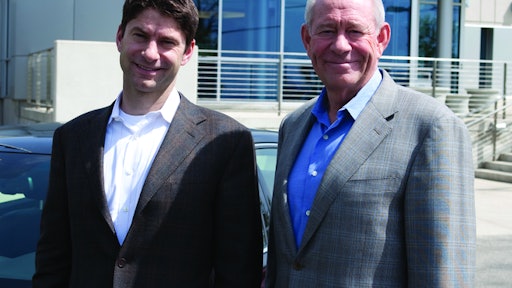 Agustin A. Ramirez, HUSCO's Executive Chairman and its CEO for the last 25 years, announces that Austin Ramirez will assume the role of President and CEO effective immediately. Austin Ramirez will have direct responsibility for Global Human Resources, Engineering, Marketing, and will oversee all HUSCO operations globally. Ramirez's primary responsibility will be providing executive leadership for the global HUSCO enterprise with a focus on driving growth and the commercialization of new products and technologies. 
Austin Ramirez was an All-American swimmer at the University of Virginia, as well as a USA Swimming National Champion and FINA World Championships gold medalist. At UVa, Austin was awarded the Ralph Sampson Leadership Award, the Gus Tebell Award for the graduating male athlete with the highest grade point average and was named the ACC Male Scholar Athlete of the year in 2001. After graduating from Virginia with degrees in Engineering and Economics, Ramirez worked at McKinsey and Company and HUSCO prior to going to Stanford where he attended as a Goldman Sachs Fellow. In 2006 Austin received his MBA and was named an Arjay Miller Scholar for graduating with high honors. Ramirez returned to HUSCO in 2006 as a Director of Planning in Business Development. 
At HUSCO, Ramirez has worked in the following functions and roles: Project Management, New Product and Business Development, Strategic Planning. He has been the CEO of HUSCO Automotive since 2008. 
Ramirez is a member of the Greater Milwaukee Committee, the Milwaukee YMCA Board of Directors, the Boys and Girls Club Board, the United Performing Arts Board and the Young Presidents Organization. Ramirez is married to Heather Van Vugt Ramirez who is Executive Director of Centro Legal, and his sister, Abby Ramirez, is the Executive Director of Schools That Can Milwaukee, an organization established in 2010 to increase the number of excellent schools in Milwaukee.
HUSCO also announces that Bob Mortensen will assume the role of Chief Operating Officer of HUSCO's Off-Highway business. In this role, Mortensen will be responsible for global manufacturing, quality, and purchasing for the Off-Highway Equipment business. Mortensen will also provide executive leadership for HUSCO's operations in China, India, Europe, Brazil and North America. 
Todd Zakreski will continue as President of HUSCO Automotive with global responsibility for the high growth automotive controls business. Jason Schuetz has been appointed the new Vice President of Automotive operations and will have direct manufacturing responsibility for automotive manufacturing facilities in Whitewater, WI, Waukesha, WI, and China. Todd Hoytink will continue as HUSCO's Chief Financial Officer reporting jointly to Austin and Gus Ramirez.
Gus Ramirez indicated that the organizational changes noted above are part of a transition process which has been ongoing for five years. HUSCO's accelerated business growth and the retirement of key executives created the ideal timing for the changes being announced according to Ramirez. Gus Ramirez will continue as an Executive Chairman with responsibility for financial risk management, bank relationships and oversight of strategic initiatives worldwide.