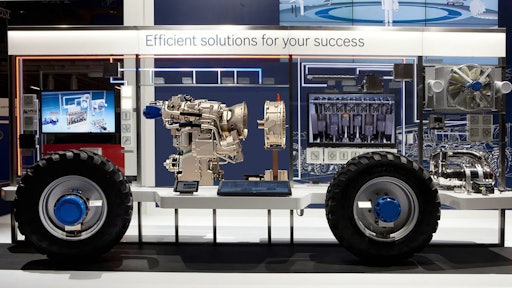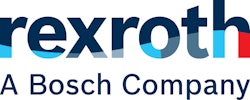 At CONEXPO 2014, Bosch Rexroth displayed a functional model in its booth demonstrating how its engineers are responding to the complex challenges faced by mobile machine manufacturers seeking to comply with strict emissions standards, lower operating costs, and maintain working performance.
In order to manage these challenges, manufacturers must understand the complex interaction between all the individual components and systems within a mobile machine. Rexroth's functional installation model clearly demonstrated the relationship and interplay between a broad range of these components and systems, including systems integrated from other Bosch divisions.
The functional display offered the visualization of nine "technologies." With the touch of a button, the "intelligence" of the chosen technology is highlighted to show how the various electronic control units, sensors, actuators, components and systems work together.
Highlights of the functional model included:
Power split gear Hydromechanical Variable Transmission (HVT)
The Hydromechanical Variable Transmission (HVT) combines the advantages of the mechanical transmission with those of the hydrostatic travel drive and combines the best features of both technologies. Dana Rexroth Transmission Systems presented the new HVT R2.
Hydrostatic travel drive
Combined with the Rexroth electronic controller, proper application of hydrostatic drives with high-pressure pumps and motors can significantly increase the efficiency of the travel drive. This clears the way for potential diesel engine size reduction or lowering of fuel consumption via reduced engine speed while design performance is maintained.
Diesel fuel injection
Economical, clean and powerful: Common Rail Systems are state-of-the-art diesel technology. Commercial vehicle systems achieve high efficiency by combining injectors with the high-pressure rail, the high-pressure pump and the electronic control unit.
Implement hydraulics
Bosch Rexroth provides smart components specially configured for the implement hydraulics such as the main control block, electronic joystick and electronic foot pedal.
Individual solutions for exhaust-gas aftertreatment
Bosch Emission Systems (BESG) is a manufacturer for complete exhaust gas treatment systems for on- and off-highway applications worldwide. As a TIER1 supplier, BESG offers services from system layout, integration and application, to validation and manufacturing as a one-stop shop.
Hydraulic hybrids: HFW and HSS
The Rexroth hydraulic fly-wheel system (HFW) is the basis of the innovative hydraulic start-stop function (HSS). Together with hydrostatic drives and hybrid solutions, the system makes it possible to smoothen engine loads, thus reduce engine sizes and meet emission standards. At the same time, the ease of operation and work efficiency is increased.
Electric hybrid IMG
Bosch is working on future powertrain solutions and is developing hybrid drives for medium and heavy commercial vehicles. The electric machine supports the internal combustion engine, which leads to the reduction of fuel consumption and CO2 emissions.
A1VO pump for variable fan drive systems
Small, strong and efficient: the A1VO axial variable displacement pump offers an attractive opportunity to switch to a variable fan drive system in construction machines.
Electrical Energy Management
With Bosch Electrical Energy Management, customers are able to optimize and reduce electrical power generation and consumption, which leads to fuel reduction, improved reliability and improved availability of electrical consumers through intelligent load balancing.
The functional model represents Bosch Rexroth's ability to serve as an engineering partner that can provide the most reliable performance-optimized components to help offset the emissions, fuel efficiency and machine performance challenges manufacturers face today.