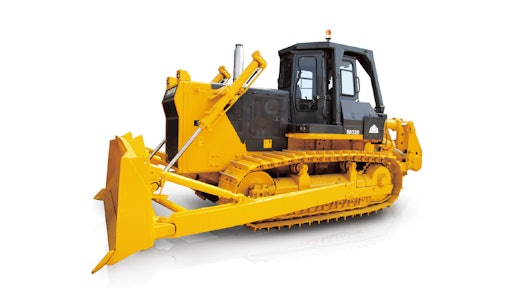 At the INTERMAT exhibition in Paris, France from April 20 to 25, Shantui displayed its newest high-tech products to demonstrate its new capacity for competing in developed markets. In support of its aim to increase its competitiveness in the developed markets of Europe and North America, Shantui has released the hydrostatic SD10YE and SD13YS bulldozers, as well as the modified SD16CE bulldozer. These bulldozers were on display at Shantui's INTERMAT booth, as well as the desert-modified SD32D and a wide variety of parts and accessories.
These high-tech dozers represent a new direction for Shantui, developing technological capacity so as to compete in more developed markets. Traditionally the turf of more established brands, these markets possess stiff barriers to entry, including discerning consumers and high emissions standards. Already a value leader and established name in developing markets, Shantui saw an opportunity to bring its value proposition to new customers. Through the efforts of Shantui's R&D Center and the import of internationally-renowned components, the SD10YE and SD13YS were rolled out and put on the market in 2014. They have already won acclaim with many customers, and have achieved sales in Eastern Europe, the USA and the Baltic countries.
The hydrostatic SD10YE and SD13YS can stand toe-to-toe with big name competitive machines, and boast a higher working efficiency and lower fuel consumption. Featuring a fully hydraulic drive from Rexroth, the dozers utilize a low-emission and fuel-efficient Cummins engine, 103 hp for the SD10YE and 132 hp for the SD13YS. Designed with emissions regulations in mind, the SD10YE meets Euro Stage IIIB and US Tier 4 Interim standards, while the SD13YS meets Euro Stage IIIA and USA Tier 3 standards. Both machines also are equipped with a PAT blade to provide unparalleled functionality and versatility. To further satisfy customer demands, the operator cabins have also been fully redesigned, and now feature improved noise reduction, an ergonomically designed chair and operator interface, an air filter and AC unit, and a digital instrument display, all to increase the operator's comfort and efficiency.
Further proof of Shantui's focus on the demands of end users and its ability to tailor products to those demands can be found in the SD16CE. A modification of Shantui's most popular bulldozer model, the 160 hp SD16, the SD16CE is tailored to meet the stringent demands of Europe's regulations and the high expectations of Europe's consumers. Incorporating a Tier 3/Stage III Cummins engine, the SD16CE also features a redesigned operator cabin. This machine's value is popular with Shantu's new customers, and has already been sold in the UK, Germany, Spain, Eastern Europe, Norway, and many EU member states.
While the focus of the show was on Shantui's new frontiers, Shantui's INTERMAT booth had something for everyone, including customers from more arid climates. Included in the display was the desert-modified SD32D, a variant of the 320 hp SD32 bulldozer. Retooled for hot, dry and harsh environments such as the Middle East and Africa, the SD32D is capable of performing hard work in places that would put most machines out of business. Featuring heat-resistant hydraulics, a robust coolant system, air intake filters, a sealed undercarriage, and a sealed and air-conditioned operator cabin, the SD32D is already a popular model among users in the Middle East and North Africa.
To complement the set of machinery on display, Shantui also exhibited its range of parts and accessories. Shantui is in a unique position in the industry, as it manufactures many of its parts in-house, as well as parts for leading competitors, so Shantui can back up its value proposition with cheap and timely spare parts supply. Blades, buckets, hydraulics and undercarriage parts are all available to keep downtime limited and profits high.
Shantui does not rest on its laurels. Not satisfied with being the number one producer of bulldozers globally, or with its strong presence in emerging markets, the company is now seeking to expand into more established regions. As can be seen with the SD10YE, SD13YS, and SD16CE, Shantui now has the capacity to tailor its value-driven products to customers all over the world, no matter the market requirements.