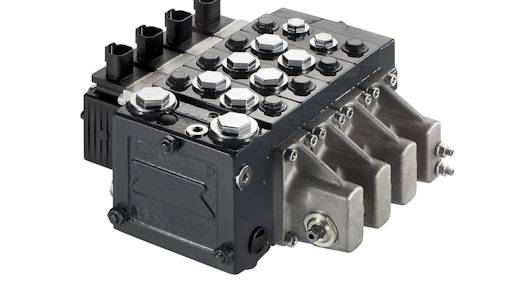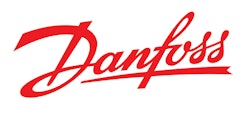 In an effort to meet new emissions and functional safety standards, system designers are turning to electrohydraulic solutions that offer more durable, efficient and reliable control. The PVG 16 is the first Danfoss low-flow load-sensing valve with electrohydraulic actuator technology — the PVE Series 6.
Incorporating a microcontroller for closed loop spool position control, the PVE Series 6 actuator delivers total spool controllability and built-in fault monitoring.
The Danfoss PVE platform is well recognized in the industry and based on more than 40 years of experience. The PVG 16 and PVE Series 6 combination is available as on/off, proportional and proportional with float actuator. Compared to competitive solutions, the overall PVE technology enhances controllability of the PVG 16 for seamless integration in advanced electrohydraulic systems.
The PVG 16 is rated for a flow of up to 65 l/min (17.2 gpm) and work-port pressure of up to 400 bar (5,800 psi), and it is based on proven PVG technology and high-quality components. The valve is also designed with a high tolerance toward temperature variations, which ensures robust, reliable valve performance in all conditions.
Key applications that benefit from implementation of the PVG 16 include a broad range of low-flow mobile machinery. The implementation of PVG 16 increases productivity, lowers total system costs, and makes it easier to meet emissions and safety regulations.
Lower total machine costs
"It is part of our PVG 16 product strategy to continuously upgrade the product setup with new valuable features," says Boris Bretzer, PVG Sales Development Manager for Danfoss Power Solutions.
With this update come compensated valve sections, each of which includes an optional adjustable LS pressure limitation that allows advanced control of all functions requiring load independence. In addition, the LS pressure limitation reduces energy losses and provides additional adjustment flexibility to the application, streamlining application development, and simplifies service activities in the field. Because the force of each function can be adjusted individually, using one valve stack can optimize productivity, minimize the number of external valves and thus reduce the complexity of the hose system.
"The end result is lower total machine costs," says Bretzer.
Simplified machine wiring from CAN connectivity
The PVE Series 6 actuators for PVG 16 are now also available with CAN interface — called PVE-CI. This technology optimizes the price-to-performance ratio by streamlining wiring and accelerates time to market by simplifying setup and configuration.
The CANbus bidirectional communication continually provides valuable valve performance data such as fault monitoring and actual spool position. This makes for easy serviceability and reduced downtime.
Additionally, by offering both on/off and proportional actuators with the standardized CAN protocols SAE J1939 (ISO bus) and CANOpen allows optimal system integration.
"All this can be used by our customers to differentiate in the market by adding unique machine features," says Bretzer. "While CAN technology becomes the preferred solution in several of the Danfoss core markets, we see an increasing demand for CAN controlled valves. Several OEM manufacturers, who already use CAN for the diesel engine communication, see the adaption of this technology also to the hydraulic system as a natural next step."
Advanced controllability of cylinder functions
Several mobile applications need to control differential cylinders. This often leads to a mismatch of the movement speed in both directions, which is unacceptable for the machine users. To address this issue Danfoss has developed an asymmetrical spool setup compliant at several cylinder ratios. This further increases the flexibility of the machine manufacturer to specify a PVG valve solution including the scope from simple to advanced hydraulic functions.
Part of an industry-proven concept
The Danfoss modular PVG design toolbox also includes the PVG 32, PVG 100 and PVG 120, which provide flow up to 240 l/min (63.4 gal/min). As PVG 16 is part of the Danfoss-proven PVG valve concept, it can be combined easily with all products to create one valve solution to effectively address all application demands. "The cost of building electrohydraulic systems to customer specifications can be a challenge, but the multitude of functionality options and modular design of the PVG lineup make it easier and more cost-efficient than ever," says Bretzer.