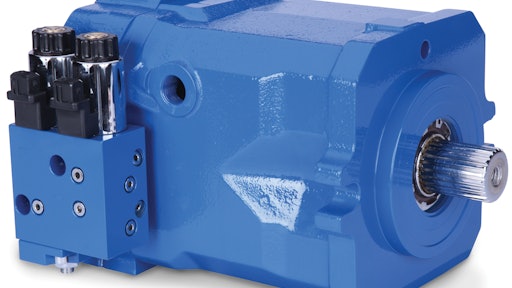 Power management company Eaton announces that its DuraForce HPV pumps and HMV motors are helping Kalmar's new RT022 Light Capacity Rough-Terrain Telescopic Forklifts operate reliably and maneuver precisely through difficult terrain. Featuring an automotive drive control, or DuraForce CA control, the pumps and motors enable smooth and repeatable vehicle motion, making ground speed predictable and highly reproducible, independent of external factors such as vehicle load and system operating temperatures.
Built to exacting specifications, the forklifts are used for loading and unloading ISO containers, which carry supplies and ammunition for expeditionary operations. The machines are small enough to drive directly into a container, robust enough to lift up to 5,000 lbs., and designed to perform over a life cycle of at least 15 years.
"Eaton's DuraForce solution has been fantastic, with the best cost for performance in the market," says Randy Wingenroth, Vice President, Product Development, Kalmar. "The performance of the RT022 has met the demanding needs of the application, and this success has been due, in part, to the DuraForce product and the support we've received from Eaton."
DuraForce products are designed for dependability. The robust design begins with an innovative rotating kit that replaces the traditional bronze piston slipper with a steel version. In so doing, the DuraForce product strengthens a traditional weak link of piston product design. Other design features such as the rigid housing and hydrostatic bearing insure a highly reliable product with the ability to handle extreme duty cycles with peak operating pressures of up to 500 bar.
"The experts at Kalmar have been developing innovative material handling solutions for decades, and knew they would need a powerful combination of performance and life characteristics for the demanding RT022 application," says Vince Duray, Product Manager, Eaton. "Eaton's DuraForce products have been installed on more than 1,000 machines so far, with no issues in the field."