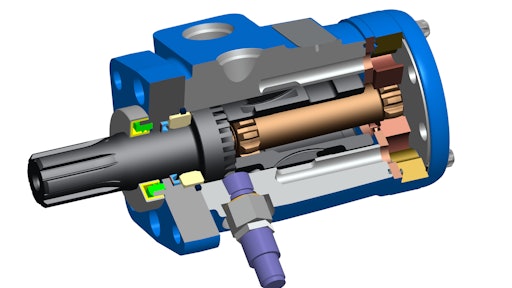 Power management company Eaton has announced that the Extreme Duty Seal Guard, an exclusion seal that offers the highest level of motor protection, is now available on the company's full line of hydraulic Gerotor and Geroler motor products. The advanced seal helps protect equipment working in harsh conditions, such as cement augers, dredgers, fertilizer and salt spreaders, tillers and other machines that require power wash-downs.
The two piece seal features two channels, one stationary and one that rotates with the motor shaft. In between the channels is a greased cavity to reduce friction. Compared to the current industry standard slinger seal guard, the Extreme Duty Seal Guard adds three barriers to protect motors from contamination.
"Eaton's Extreme Duty Seal Guard is a great step forward in exclusion seal technology, taking the hydraulics industry's slinger seal solution to the next level," says Todd Degler, Product Manager, Geroler Motors, Eaton. "Owners of equipment operating in sandy, salty, dusty or otherwise tough environments must plan for regular motor repair or replacement – sometimes as frequently as every three months. Our testing has demonstrated that the new seal is helping extend motor life in these harsh conditions by as much as four times."
Seals are critical motor components, and failure can lead to oil leakage, causing the machine to be down until the motor can be repaired or replaced. The extended motor life allowed by the Extreme Duty Seal Guard helps improve machine productivity by reducing both planned and unplanned downtime.
The Extreme Duty Seal Guard is now available on all Eaton Geroler motors, including models H, S, T, T-brake, 2k, 4kc, 4k, Delta, 6k and HP30.