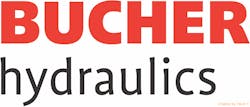 In the same scenic Bernese Oberland where others enjoy their holidays, Bucher Hydraulics makes an impact with in-depth know-how and state-of-the-art production. Within Bucher Hydraulics, the Frutigen facility is the Competence Center for control blocks (subsystems) and cartridge technology in Europe and employs more than 300 people in manufacturing, development and sales on a production area of around 20,000 sq. m (215,000 sq. ft.)
The Mobile Systems department specializes in the project-planning, design and production of customer-specific system control blocks. Highly qualified employees develop the customer's initial idea through to volume manufacturing and commissioning. The range of applications for system technology includes mobile equipment for the construction, agricultural and municipal machine sectors. There are also applications in the industrial sector, which includes renewable energies such as wind and solar power plants. Common to all applications is the trend towards improving the hydraulic system. While major customers usually design and optimize their own systems in-house, medium-sized and smaller companies expect extensive expertise and services from their hydraulic partners, and this requires close cooperation. Bucher Hydraulics meets these constantly growing demands by offering decades of product and application experience, and the company combines this knowledge with extensive know-how in the area of production techniques for system solutions.
 A competitive lead from automation and precision
In general, control blocks are as varied as the applications in which they are used, the result being that there are many different possible combinations. As well as outstanding functional reliability and long service life, features such as robustness, compactness, low weight and cost efficiency are required for virtually all applications. In the mobile hydraulics sector, the demands are increasing even more due to the often adverse environmental and weather conditions. Manufacturing medium- and high-volume product ranges cost-effectively despite the large number of variants is challenging, and from the early project-planning stage of new control blocks, the project leaders at Bucher Hydraulics weigh up which manufacturing processes can be used most productively.
Accuracy, reliability, flexibility and safety are not simply characteristics of the control blocks themselves, they are also decisive factors for manufacturing them cost-effectively. This is where precision work secures the lead in the market. That precision is the result of continuous investment in the automation of manufacturing and assembly, and in the expansion of the in-house infrastructure that Bucher Hydraulics operates 24/7 around the globe.
The Swiss company is thus setting new standards in terms of the compactness and low weight of hydraulic system control blocks. These characteristic features are based on sophisticated manufacturing and assembly strategies. Thanks to modern manufacturing cells that include industrial robots, 3D oblique drilling of the control blocks can be performed in just one work step without any re-clamping, which can significantly reduce production times.
Focusing on throughput times and batch sizes
Bucher Hydraulics uses state-of-the-art precision machining centers that accomplish multi-face machining in shorter production times and with the greatest precision. Fully automatic magazines feed raw-material blanks into the machining centers and unload the machined workpieces, which again significantly reduces set-up times.
Intelligent industrial robots ensure short clamp-to-clamp cycle times, and they also minimize the set-up times: even for small batches, tool changes are organised in the same way as they are for mass-production runs. The optimized manufacturing processes thus enable significantly higher productivity and flexibility, and result in shorter throughput times.
In addition, Bucher Hydraulics uses an extremely wide range of dedicated high-performance tooling, which is loaded into the machines for specific orders fully automatically. The cutting speeds in the machining process are several times higher than normal, and the high-quality control blocks are therefore manufactured economically.
In order to fully exploit the advantages of the individual production machines, Bucher Hydraulics designs, optimizes and precisely coordinates all the processes in its own production engineering department. The same applies to all clamping fixtures, tools and grippers. The project leaders who design the system control blocks can also draw on the required production know-how so that they can make use of it right from the early design stage of new solutions. 'Smart products smartly produced' is therefore an approach that also pays off for users right from the start.
Making control blocks the Lego way in the age of Industry 4.0
The Mobile System department in the facility has overall European responsibility for planning and producing system control blocks. An editor from Bucher Hydraulics talked with Peter Schmid (Sales & Project Manager) and Bernhard Zbären (Sales & Project Engineer).
Editor: Mr. Schmid, Mr. Zbären, together you manage the Mobile Systems department in Bucher Hydraulics in Frutigen. What jobs does the department have, and what makes it special?
Peter Schmid: The way we build systems here is like building with Lego bricks: using standard components that are manufactured either on site or in other Bucher Hydraulics plants, we create customer-specific system control blocks that the end-user puts to work in hydraulic systems. Frutigen is the European Competence Center for control blocks and cartridge technology within Bucher Hydraulics. We have a great deal of product knowledge and application experience to draw on, and we can always develop and manufacture new control blocks or system solutions.
Editor: How do you approach new tasks with the aim of meeting customer demands for speed and capability along with an increasing number of variants and decreasing batch sizes?
Peter Schmid: We have a very close relationship with our customers and direct access to our production facilities, which minimizes delays and increases efficiency. Each project engineer, with the involvement of Sales, controls and organizes all the tasks that have to be done from the initial customer idea to the prototype or series start-up. Of course, this means that when preparing quotations, we have to draw on our knowledge of the application areas, and also take into account the various manufacturing possibilities. In our area, we try hard to work very precisely and painstakingly right from the design stage, because most decisions concerning possible manufacturing processes cannot be revised at a later date. From the very beginning, therefore, the whole team is expected to use modern software tools and to plan innovative tooling that will optimize costs.
Bernhard Zbären: For us, being close to our customers as well as working closely with them as their partner is an important factor for success. This also means that the customer gets a prototype of the requested product as quickly as possible, and it can then be used in realistic tests. For this reason, we will be investing in additional modern production centres where CAD and tool data is transferred directly to the machine. In this way, the time span from customer idea to testable prototype will be considerably shortened.
Editor: The hydraulics industry is still growing. How does Bucher Hydraulics in Frutigen ensure that delivery times are as short as possible?
Bernhard Zbären: We have an extremely high level of automation in our production facilities. The machines used for series production run 24/7, 365 days a year. In the assembly and inspection areas, too, a high level of automation – sometimes using robots – is the obvious route for certain product lines in order to reduce throughput times further still. This enables us to provide our customers with the solutions they want even faster.
Peter Schmid: The way that customer orders are fulfilled has changed massively in recent years. We meet the demand for shorter delivery times thanks to ultra-modern, flexible manufacturing systems. They enable us to make smaller production batches, so over the same timespan we can supply significantly more customers than before. As well as that, direct and close cooperation with our customers is vitally important for precise planning and on-time delivery. After that, all relevant data such as quantities, delivery dates, etc. is recorded in our ERP system. As a result, we can ensure that the process for total value creation is an efficient one. But along with the ongoing investments in capacity expansions, people naturally continue to play an important, even central role. Our highly trained employees identify strongly with Bucher Hydraulics and therefore make their own contribution to customer satisfaction and, in turn, to our operational success.
Editor: Just as with the production equipment, fluid technology itself is also undergoing a significant shift towards greater flexibility and automation. Hydraulic systems must become ever more compact, lighter and efficient, and they must also be Industry 4.0-capable. How are you responding to these complex challenges?
Peter Schmid: Our compact control blocks, featuring the lowest possible weight and a high degree of effectiveness in terms of customer-specific functionality, have been winning markets for years and are constantly being enhanced and refined. When it comes to digitization, we don't want to just react; we want to act ahead of the game. We can therefore offer our data as the basis for implementing Industry 4.0. For example, this enables our customers to check and evaluate the test data that is relevant to predictive maintenance. It is often the case, however, that users are still unable to create any further added value if other suppliers have failed to provide additional data on their components. This shows that automation and the 'Internet of Things' are on everyone's lips, and their benefits and goals are undisputed, but that it will still take more time to implement them in practice, especially in the mobile sector.
Bernhard Zbären: Our products can be integrated into intelligent systems. The product-related data is available on a Bucher server so that the customer can retrieve it from there. But this data processing is one of the greatest challenges with regard to Industry 4.0, and in order to master it, qualified employees and sound knowledge are needed. This is the only way to ensure that the technological possibilities can finally be used to their full advantage.