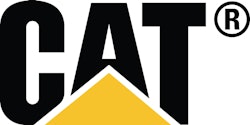 Caterpillar has designed and fabricated a prototype continuous hard-rock cutting system that uses a new concept in cutting technology. The patented, activated cutting head promises to revolutionize hard-rock mine development and selective mining of ore.
"We have been working on technology for continuous cutting of hard rock for some time, and we plan to begin trialing the technology in mines soon," says Dr. Ulrich Paschedag, General Manager, Underground Products, Caterpillar Global Mining. Technical details of the cutting technology are not being released yet due to ongoing development work, but Paschedag describes the technology as "similar to the success of percussive drilling as compared to conventional drilling."
Caterpillar engineers envision the new cutting technology will be used in a number of different types of hard rock mining systems. For example, a compact and versatile unit could cut and load hard rock in a continuous, automated process. Such a system would enable high-speed mine development and faster access to ore deposits. Guidance systems and automated cutting processes would ensure maximum cutting-path accuracy, and selective extraction of ore and waste would improve mine yield and cut disposal costs.
Additionally, the cutting system eliminates the need for the explosives used in conventional drill and blast work, and, as a result, simplifies logistics and reduces the number of people working at the face. The Cat hard-rock cutting technology is designed to deliver both safety and cost benefits.
A prototype cutting head was displayed to Caterpillar customers visiting the company's Mine Site @ Night events held in conjunction with MINExpo International 2012.