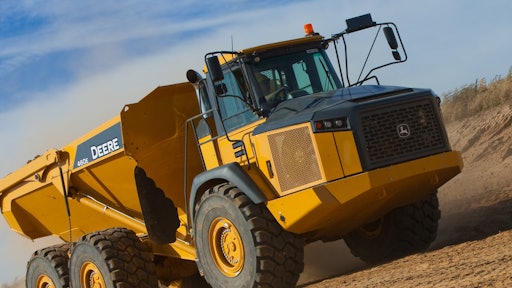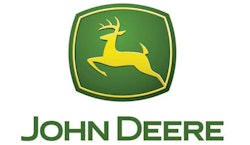 After a successful introduction at CONEXPO-CON/AGG 2011, the new John Deere 460E ADT joins the 370E and 410E as part of the cutting-edge E-Series. The 460E, the highlight of the three models, is Deere's largest, most operator friendly truck ever built. The 46-ton model is now John Deere's largest articulated dump truck (ADT) ever to hit the market.
"The E-Series ADT is a customer driven, ground up design to meet and exceed the durability, productivity and uptime needs of contractors," says Mark Oliver, ADT product marketing manager, John Deere Construction & Forestry. "We worked with road builders, site developers, and the mining, quarry and aggregate segments to develop three trucks that are purpose-built to reliably handle various payloads and move materials faster and more efficiently on any jobsite in the world."
Designed and built in Davenport, IA, the E-Series ADTs feature a John Deere PowerTech 13.5L Tier 4 Interim engine with three power levels based on the model – 422 net hp (370E), 443 net hp (410E), and 481 net hp (460E). A purpose built ZF transmission includes a high capacity retarder, eight forward gears and four reverse gears. In addition, the new John Deere hauler axles are designed for heavy-duty applications and include on-the-fly differential locks, outboard planetaries and each axle is independently pressure lubed and filtered. The E-Series axles use internal wet disc brakes that utilize independent cooling circuits. 
"This new truck design offers contractors some serious advantages in the market, including high power-to-weight ratios, gradability, and capacity," says Oliver. "One of the biggest customer inspired enhancements are the on the fly differential locks that can be applied at any speed, manually or automatically, for improved performance in poor conditions." 
Allowing the differential lock system to run in automatic mode will simplify operation for new operators by taking the guesswork out of using the differential locks. When ground conditions get soft and difficult, the system will automatically control the axle differential locks as well as the inter-axle differential lock all while the truck is still moving. An experienced operator can still choose to manually engage the traction controls.
The new ADTs incorporate high-strength materials to provide durable, long lasting structures while still keeping a strong focus on overall weight and distribution. This provides excellent power-to-weight ratios and hauling efficiencies.  A newly designed stay-tight oscillation joint, high-suspension travel on all axles, and balanced weight distribution also provide the agility and ability to navigate hostile terrain. To minimize the risk of rollover while unloading, the dump body can be restricted from rising when the rear chassis exceeds a predetermined slope angle.
Another new customer driven feature of the E-Series and a hallmark for John Deere is centralized, true ground level servicing to simplify daily maintenance and overall serviceability. All daily service can be completed from the ground. In addition, the all-new John Deere Adaptive Suspension Control System improves stability to increase productivity on the worksite. This new suspension system is standard on all E-Series ADTs. Hydraulically controlled fans with swing out cooling packages on both sides of the engine highlight the cool on demand system. For dusty environments, there is a reversible fan option available for simplified cooler cleanout.
The cab monitor provides an easy to read LCD screen with on-board diagnostics, analog/digital gauges, and vital system indicators. Two ergonomically positioned sealed switch modules simplify operation and convenience controls. The auto shutdown feature turns off the engine after an owner-determined period of inactivity to help save fuel while reducing emissions, idle time operation and subsequent wear on the powertrain and hydraulics.
An On-Board Weighing (OBW) system allows contractors to view the weight and the number of loads carried via JDLink, improving project management and equipment utilization. This OBW system not only allows the customer to track and optimize payload performance of an E-Series ADT, but will also aid in maximizing the life of the tires and chassis. The truck has mirror-mounted load indicator lights that illuminate for the loading operator as the truck approaches capacity (yellow), is at capacity (green), or overload (red).
An integrated tire pressure monitoring system helps maximize traction, tire life and fuel efficiency and access to JDLink Ultimate allows customers to check tire pressures remotely and receive alerts when the pressure gets too low or too high.
For those fleet managers, owners or operators looking to get the most out of their equipment, a standard three-year subscription of JDLink Ultimate continuously collects and transmits machine data for machine management. The system enables timely preventive maintenance and remote diagnostics, as well as the coordination of machines working on multiple jobsites to get the right machine to the right place at the right time.