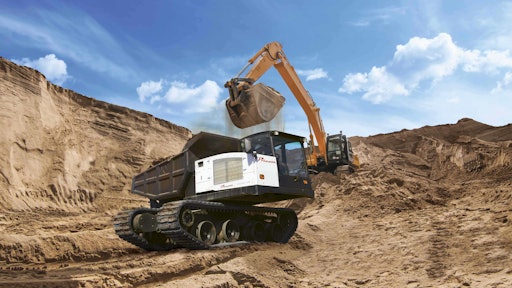 PRINOTH, one of the world's leading manufacturers in tracked vehicles, announces its participation in two major tradeshows for the beginning of this new calendar year, CONEXPO and PDAC.
PDAC
Running March 5-8 in Toronto, Canada, the Prospectors & Developers Association of Canada Tradeshow is a very strategic mining show crucial to PRINOTH's business development. "Throughout the years, we've made connections with many of our current clients at the PDAC and feel it is a key event in our tradeshow calendar," explains Alessandro Ferrari, Vice-president of Sales for the Tracked Vehicles' Business Unit at PRINOTH. "While it's true that many of our drill manufacturers' partners are present at the show, we also seek new exploration opportunities directly with mine owners and management teams." PDAC is a unique show format with its Investors Exchange section coupled with a more traditional exhibition floor, all pertaining to the mining industry worldwide. PRINOTH will be in booth 1343 ready to outline the many benefits of the PANTHER Series as well as the TROOPER used mainly for personnel transport.
CONEXPO
Another key tradeshow for PRINOTH's Tracked Carriers' team, running almost simultaneously with PDAC in 2017, is the major event known as CONEXPO/CON-AGG held in Las Vegas from March 7-11. Exhibiting at CONEXPO for the third consecutive time, the PRINOTH booth will have many exciting vehicles and mulchers on display. For the first time, PRINOTH will be exhibiting its newest model, the PANTHER T14R Rotating Dumper that offers the highest speed combined to the highest payload in its category. To continue, PRINOTH will be showing a PANTHER T6 equipped with a flatbed offering an increased payload, as previously announced by the company. A third PANTHER, a T8 model outfitted with a knuckle boom crane, will also be displayed, allowing show-goers an opportunity to see the ease of implement installation on a PRINOTH PANTHER. "There are obviously many reasons why we come to CONEXPO, but tracked vehicles remain a very specialized product and we are excited to show the construction industry all that they can and could do with our machines that maybe they haven't even considered yet!" explains Ferrari. With a versatile product such as the PANTHER Series, PRINOTH is always on the look-out for new applications for the vehicles, new ways to customize and utilize its tracked carriers.
PRINOTH's Vegetation Management Business Unit will also be on display at CONEXPO. While it manufactures its Tracked Utility Vehicles in Canada, the mulching carrier vehicles on the other hand are manufactured in Germany. The wide range of forestry, hydraulic and excavator mulchers can be used for a variety of applications. At CONEXPO, three mulch heads will be on display, namely the M450e-900 built for entry level mulcher for 6-12 ton excavators, the M450h-1900 which can be paired with a high-flow skid steer and the M550h-2410 designed for medium/heavy mulching applications with an output range of 100-300 hp from the carrier.
For a chance to see these products and find out more about the other products and lines designed, engineered and manufactured by PRINOTH, visit booth G-4023.