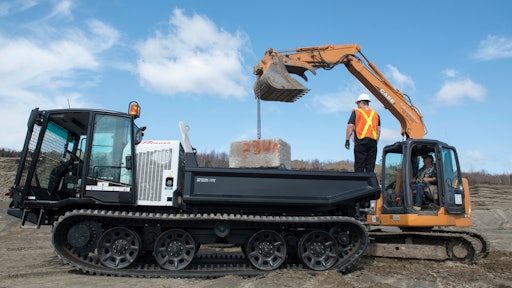 PRINOTH, one of the world's leading manufacturer in tracked utility vehicles, is innovating once again. The company announced an increase in payload for its PANTHER T6, T8 and T12 models in the dump box and flatbed configurations.
The increase, which will affect the bulk load capacity, will represent an increase of 20% for the PANTHER T6, an increase of 19% of the PANTHER T8 and an increase of 9% for the PANTHER T12. This establishes PRINOTH as the leader in the industry for payload capacity.
"We are always looking for ways to move further, to push boundaries and productivity is always at the center of our customers' needs," says PRINOTH's Tracked Utility Vehicles Product Manager, Jonathan Thibault. He went on to say, "Our customers' requests are crucial at PRINOTH and we always try to listen to their needs, to answer by providing simple yet efficient solutions with them and for them."
This change will provide customers with an even more efficient, more productive tool whether they purchase a PANTHER T6, a T8 or a T12.
The PANTHER Series
Whether in mud, gravel or snow, the PANTHER carriers are reliable tools for extreme use in extreme environments. Additional to their huge payload, these vehicles can be equipped with a multitude of specialized attachments. This makes them ideally suited for all types of operations in construction, mining, electric utility, oil and gas, and many more industries. With its one- or two-person cab, large deck space as well as ease of implement installation, the PANTHER is ready to perform without fail in all sectors.
All terrain reliability
While carrying the biggest payload in the industry, the PRINOTH PANTHER can reach work sites in any terrain: delicate grounds, rocks, steep hills, swamps or even deep mud. The overall design allows the PANTHER to reach fording depths of up to 1,397 mm (55 in). The PANTHER performs brilliantly at any angle and in any situation.
Largest payload capacity in its class: from 5,420 kg (12,000 lbs.) to 20,865 kg (46,000 lbs.);
Rubber track design features a zigzag pattern that increases traction and side-hill grip;
PRINOTH's exclusive large wheel tandem suspension undercarriage provides unparalleled off-road mobility and comfort;
Elevated engine position provides optimal fording depth of up to 1,397 mm (55 in.);
Pavement-friendly rubber tracks and remarkable speed make the PANTHER highly mobile.
NEW IN 2016: THE PANTHER T14R
PRINOTH recently introduced a new model in the PANTHER Series, the PANTHER T14R Rotating Dumper. Offering the highest speed (13 km/h [8.1 mph]) combined with the highest payload (13,200 k [29,100 lbs.]) in its class, the PANTHER T14R carrier sets new standards in productivity and mobility and presents a patent-pending innovation called direction reset. This vehicle allows the continuous rotation of the upper portion of the vehicle independent from the undercarriage, allowing the vehicle to work in tight, sensitive areas where other vehicles do not have access.