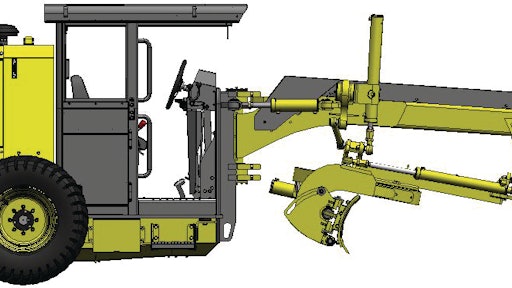 Over the past decade, the desire to improve mine safety and increase uptime, combined with market conditions such as tire shortages, have placed a greater emphasis on the design and management of mine roads. Above and below ground, more mines are employing graders to keep the surface smooth.
Miller Technology's customers were looking for a compact, low profile, basic grader that could be used to finish and maintain roads in underground hardrock mines. Founded by Ron Miller in 1979, the North Bay, Ontario, company supplies a variety of utility vehicles for underground mines, from its purpose-built Miller Truck to the Triple 4ce compact utility carrier, a JCB loader-backhoe heavily modified by Miller for underground use.
According to Miller General Manager Chad Miller, 20 years ago the company worked through a local dealer to sell two Champion graders to a mining customer. In 2006, with managers taking a closer look at road maintenance, Miller approached Champion directly.
"The Champion is a compact grader with a tight turning radius and an optional low-profile cab or canopy. It is simple and time-proven," says Chad Miller. "We order some special options from Champion but then we 'Millerize' the grader for underground use and to meet the customer's various needs."
Champion Motor Graders, Charlotte, NC, has specialized in the development of compact graders and attachments for 30 years. Bryan Abernathy, vice president, Champion, says Miller Technology is a valuable asset to the grader OEM's service capabilities.
Miller also handles the training, service and parts for the unique graders. The North Bay firm represents Champion equipment for mining applications in cooperation with Champion's regional Canadian dealers, which continue to service Champion's traditional customers in paving, construction and municipal markets.
The partnership ensures that a Champion grader arrives at a mine ready to go underground. "Because we don't specialize in mining, we're not close to the unique requirements of the customers," says Abernathy. "The rules and regulations in mining change from one location to another. Miller is in the ground all the time. Plus, because they understand the underground work environment, they can work effectively around mine staff and equipment as an experienced part of their team."
Mining wasn't completely new to Champion. The family-operated company prides itself on being able to provide unique solutions to its customers — nimbleness that has been good for business while its traditional customers weather the recession. Champion built two machines for mining in the early '90s, and a photo of the low-profile, compact machine hangs on the wall to this day.
"Now, mining has become a new market for us," says Abernathy, "and we are serious about it. We have finished a new grader that is much different from what we produce every day." A specific request from a Canadian potash mine, the new grader has a lower profile which will enable it to work in more mines.
The standard mining grader Champion builds for Miller is based on the C86 C compact grader, a tandem-axle, Cummins QSB4.5-powered, all-wheel-drive hydrostatic unit. In its stock configuration, it weighs 15,500 lbs. and is under 21 ft. long. The articulated frame gives it a turning radius of 19 ft.
Simplicity wins underground
"Our compact graders use a basic open center hydraulic system and straight-forward electrical components," says Jeff McKee, Champion's vice president of engineering. "We've maintained that approach because these compact machines are cost sensitive, and those same features are popular with mine operators. But there are some great opportunities in machine control if we were to go electronic, even for mining."
The conditions underground are tough. "We've seen parts break that we have never had fail in construction applications," says McKee. "We have upgraded our steering arms and changed some of the welds on the frame's front end as a result." Upgrades inspired by the mines are typically made across all of Champion's standard machines.
"Mine operators know when they've destroyed something that shouldn't break, so few complain," says Abernathy. "But many times, even if it is their fault, we will look at ways to make the grader better. We have to be careful, though. We can fix it so the part will never break again, but there has to be a weak link somewhere. If it's a $5 part that is breaking, we don't want to strengthen it if it's bolted to a $1,000 part that could fail under the same stress."
One of the first C86 C mining graders developed through the partnership was put to work at a gold and copper mine in Red Lake, Ontario. Operating a mile underground, it is used to improve the haul roads that run between the rock face and the crusher. Because of the haul road conditions, the mine was losing money through ore spillage and haul truck wear and tear.
"The mine was relying on a wheel loader to maintain the roads as well as it could — not really the right tool for the job," says Abernathy. "But conventional graders aren't a practical option for underground work, either."
While options can change from mine to mine, most of the Champion mining graders are supplied with a lowered ROPS/FOPS and a blade width reduced from 10 ft. to 8 ft. While Cummins is the engine of choice above ground, Champion offers various engine options to maximize parts commonality with the other equipment working in the customer's mine; the Red Lake mine opted for an air-cooled six-cylinder Deutz engine.
In North Bay, Miller upfits emissions controls, warning lights, a fire suppression system and other safety items required by the mine or government regulations. Mine-specific features that are easier to install during production, such as the hydraulic system and brakes, are added in Charlotte.
It starts with one
Miller approached Champion about the super-low-profile grader that would become M786 C. "A mine saw our grader and liked it, but they needed it to be 85 in. tall, down from the already low 103 in. mining grader," says Abernathy. "We came up with the solution, and our engineering department did the computer modeling. This grader design is dedicated to underground mining."
For Champion, building what the customer wants has been the business model for 30 years. "Every customer is unique," says Abernathy. "We have done on-off specials that might not have made much sense from a business standpoint, but in the end they are using our core product. We still provide parts to machines we built in the early 1980s.
"The special requests seem to be getting more complicated, but our ability to react to those requests comes down to experience. We didn't decide to start looking beyond the construction industry yesterday."
Part sales are fine, but repeat business is still the most satisfying. "We've taken on several projects that we thought would be a one-off, but then it takes us into a different field," says Abernathy. "It's fun to do one offs, but I have found it is more fun to do something that develops into a new market."
Companies in this article