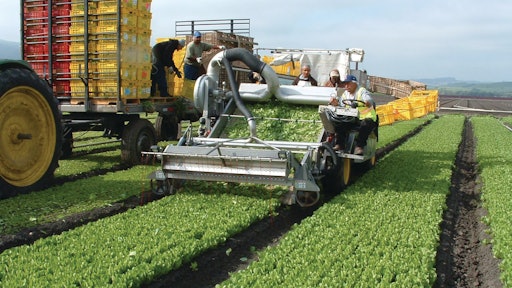 Diesel-engined machines have made a positive difference in the fresh vegetable and fruit industry, but it's the people on the ground that make for a successful harvest. In many speciality crops, automated systems can't replace an experienced picker who selects only the good, high-value produce as he or she works. Employers must maintain a good reputation among the field workers. If there is a shortage of help, it's the good operators who will get the workers, as shoddy contractors watch their crops rot in the field.
Much of that reputation is related to the quality of the equipment the workers are provided. "If the crew is confident in their machine, they are going to be happier and more productive," says John Inman, an agricultural engineering consultant in Salinas, CA. "If they are on a dicey machine, the workers are not going to produce nearly as much."
Based in Salinas, Valley Fabrication Inc. manufactures a full line of equipment that covers harvesting and hauling fresh vegetables. "Valley Fabrication has emphasized that growers need to look at an integrated system," says Peter de Groot, engineering manager, "rather than an individual machine. When buying from a single source, growers get commonality with parts and all pieces of the system work together smoothly."
When it comes to machine selection, comfort and safety are important, but there's a monetary aspect to it, as well. When operators make the task easier and their field workers more productive, the workers make more money. They'll be happier and more likely to stay on the job. "During the building boom the Salinas Valley was loosing a lot of good field workers," says Inman. "Some of them are now returning to agriculture. When provided with good equipment, they can increase their wages and will stick around."
Most Americans get their salad fixin's from Salinas Valley, in Monterey County, CA. In 2008 the county produced vegetables that were worth more than $2.5 billion. Among those crops were 43,218 acres (for a total of 330,000 tons) of fresh broccoli and 8,901 acres (95,500 tons) of fresh spinach.
Although it serves customers throughout the United States, Valley Fabrication is surrounded by expansive ranches that depend on its equipment. The firm's engineering team uses solid modeling software to create a new harvester or modify an existing one according to the grower's requirements. Many are engineered with much customer input, who use the harvesters as a competitive advantage.
"Our goal is to make it easier for people in the field," says de Groot. "Some of the repetitive harvesting tasks that can be taken over by the machine have resulted in a 50% labor reduction across the entire harvest." Some of the functions the machine may take over wouldn't normally have been performed in the field, rather, later that day in the packing shed.
De Groot works to ensure commonality throughout Valley Fabrication's machines, referring to components such as Cummins engines and specially designed, Italian-made planetary steer axles as building blocks from which the machines are assembled. "By using the same components, we are aware of problems that might come up, and there is a service commonality, so there is less demand on mechanics. We still believe in the KISS [keep it simple, stupid] method of engineering."
The conditions in which Valley Fabrication's harvesters and shuttles work pose more than a few challenges for de Groot's engineering department.
"In this industry, slow speeds are the killer," says de Groot. Valley Fabrication's self-propelled romaine heart machine moves 3 ft. per minute; the big wheels are turning at 0.25 rpm. "Most hydraulic equipment don't like to do less than a single rpm. The workers need a nice sustained, slow speed."
The machines must meet various Occupational Safety & Health Administration (OSHA) standards for controlling the harvesters. Emergency stops are provided that will shut every system down and apply the brakes.
Wet fields pose a challenge, too. Growers can't wait for it to dry out; they have customers waiting on the product. "With a 400:1 reduction from the hydraulic motor to the wheels and a very high tractive effort rating, when you are sunk down in sticky soil it will lift the vehicle out of the furrow," says de Groot. "They are picking a day-to-day commodity as far as price is concerned. When conditions are poor, guys with superior equipment can get to market at a higher price."
The machines work long hours. "Typically a lettuce or broccoli harvester will work 2,000 to 3,000 hours per year — eight to 10 hours per day, six days a week, year 'round," he says. "We have seen eight-year-old harvesters come back to our shop with over 20,000 hours on them."
Several years ago, Valley Fabrication was seeing the fabricated mild steel drive sprockets on its rubber-tracked shuttles get destroyed in less than a year. Switching to cast austempered ductile iron has produced a drive sprocket that is lasting years.
At one time, "we were getting less than 400 hours on a set of rubber tracks," says de Groot. "We made some refinements to the undercarriage and now we're getting 3,000 hours on the track. Guys here want 7,000 hours, but these machines are working pretty hard.
"We are always communicating with our suppliers, helping them understand the long hours and tough conditions these machines are under."