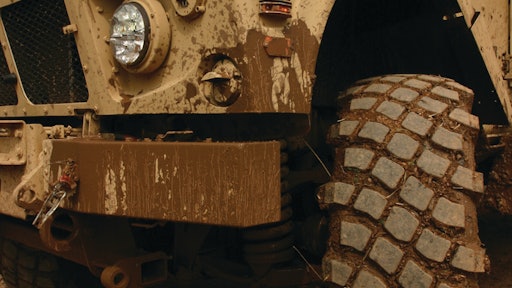 We all know staying on target in a new product development program means more than a few late nights, where at times you need to be reminded why you love this job. For the engineers at Oshkosh Corp., Oshkosh, WI, the development cycle of its latest vehicle went from customer request to prototype in under three months. For them, staying on target meant working around the clock, always remembering that their hard work would save lives.
To date, Oshkosh's Defense Div. has received three awards under a delivery order against a government contract from the U.S. Dept. of Defense (DoD) for the production of a new class of military vehicle. The awards total $2.3 billion for 4,296 M-ATVs (MRAP-ATV, mine-resistant ambush-protected all-terrain vehicle) to United States soldiers.
It was a fast turn-around. The selection process for the vehicle program started late last year. On Dec. 8, 2008 a Joint Urgent Operation Needs (JUONS) request (which originated with task forces in Afghanistan) was issued, giving companies 30 days to come up with a vehicle proposal. The requirement was to enhance the off-road capabilities of the military's MRAP fleet — key performance parameters included designing a machine that would spend 70% of its time off road, a weight of less than 25,000 lbs., and a five-passenger capacity. There were certain Tier 1 requirements the new vehicle had to meet, and Tier 2 requirements that were tradable.
The troops were finding that while MRAP vehicles worked well in Iraq where there is an extensive road infrastructure, Afghanistan was mostly rural land with a poor road network. Unstable mountain roads often crumbled under the heavy weight of the MRAP vehicle. Soldiers needed something lighter and more agile for the primitive road systems, while maintaining the MRAP level of protection.
The brevity of time called for a non-developmental item, explains Ken Juergens, program director, M-ATV Defense, Oshkosh Corp. There was no time to research and develop new technology from scratch. Oshkosh decided to pull from its tested and proven line of products that were already active in combat. Oshkosh submitted its vehicle proposal on Jan. 12, 2009, after which the company had 30 more days to come up with two vehicles that were representative of its proposal.
"We're fortunate that we have so many products in the defense area that we can variance off of; there's a lot of vertical integration that we can do," says Robert Bohn, chairman and CEO, Oshkosh Corp.
"Our concept was to submit a vehicle that was based on the MTVR," explains Juergens. The company has already produced 10,000 MTVRs (medium tactical vehicle replacements), which are successfully being used in Afghanistan. The feedback Oshkosh receives from Marines using the machine suggests that the 7-ton medium vehicle was performing very well off-road, in the worst conditions.
Oshkosh has received a fair share of fan mail. A senior Marine officer, on his third deployment with infantry units, two in Iraq and now in Afghanistan, wrote to Oshkosh about his experience with its MTVR vehicles: "Today, in our area of operations, an IED (improvised explosive device) went off, exploding under an MTVR. There were no injuries and only minor damage to the MTVR. It was an armored carrier version."
For the M-ATV design, Oshkosh engineers started with the chassis of an MTVR, and with the help of its teammate, Plasan-Sasa Ltd., HaGalil, Israel, developed and integrated a ballistics solution. "We had just introduced a bolt-on armor solution that we knew worked very well ballistically," says Juergens. "We were quickly able to configure a bolt-on armor solution and place it on top of our MTVR chassis with our TAK-4® independent suspension system. We powered it with a Caterpillar C7 370 hp diesel engine and an Allison automatic transmission system, and we basically had our vehicle."
In late February, Oshkosh delivered its two production-ready vehicles, which were then put through rigorous government testing for mobility and survivability in extreme temperatures and situations.
On April 30, 2009, Oshkosh received an indefinite order/indefinite quantity (IDIO) production order award from the government, and from that point was given another 30 days to make three more vehicles to run against another four vehicles from three competitive companies (one firm submitted two versions). More tests were done for off-road capabilities, cold-starts, HVAC systems and other standards.
Oshkosh Corp.'s first award, for $1.05 billion, was issued on June 30 to supply 2,244 M-ATVs. A month later Oshkosh received its second award worth $1.06 billion for an additional 1,700 M-ATVs, aftermarket parts and in-field service. A third award came on September 11. The order is to be completed by March, 2010, and Oshkosh says it is ahead of schedule.
Confident in its M-ATV solution, the company took a financial risk, investing its own money for testing and production, prior to being awarded the contract.
"We were that confident in our design and our capabilities," says Juergens. "Our basic philosophy was that we had to lean forward because of the aggressive production cycle, and the bottom line: It was for the soldiers out there. We took it as a corporate responsibility to say, 'We don't have a contract, but in order to meet and exceed the delivery schedule, we have to build them ahead of time.'
"By the end of September we'll be flying some of those vehicles into Afghanistan, and they're looking to start doing the fielding in October. That's an incredible thing to accomplish. From December to October, we'll have vehicles out there saving lives," says Juergens.
By December 2009, Oshkosh expects to be building 1,000 vehicles per month, and "we'll keep producing 1,000 per month until the government decides it doesn't want anymore," he says. Oshkosh hired 600 workers at its Wisconsin facilities, and reinstated nearly 500 of its JLG Industries workers in Pennsylvania. McNeilus Truck & Mfg., Dodge Center, MN, an Oshkosh Corp. company, was also called in to lend its expertise with composites and large-scale fabrication.
The M-ATVs will be built in Wisconsin and Pennsylvania on Oshkosh's flexible manufacturing line. "We build commercial and military vehicles on the same line," says Bohn.
Strength from the ground up
The MTVR's proven chassis and suspension systems are the foundation for the M-ATV. Oshkosh uses its TAK-4 independent suspension system on over 10,000 MTVRs and more than 2,000 MRAP vehicles to ensure maximum mobility off-road. According to Chris Yakes, director of Advanced Products, Oshkosh Corp., "the independent suspension we have on the M-ATV gives 16 inches of wheel travel. It's ready to run high-speed off-road, and it crawls along the trails well, too.
"The chassis can actually handle a lot more weight than the current M-ATV is configured to handle," he says Yakes. "You can physically add more armor and you're not overloading the vehicle. We can handle the EFP (explosively formed projectiles) armor, which is the heaviest armor out there today. That really lowers the risk to the war fighter. He knows that the vehicle can be fielded for a long time and be upgraded without a significant issue with vehicle performance and mobility issues."
The Oshkosh M-ATV sits on four Michelin 395/85r20 xzl run-flat tires, which allow it to travel up to 50 miles at 30 mph after two tires are damaged. The tires are equipped with an internal central tire inflation system (CTIS) that allows a soldier, while safely inside the cab, to adjust tire pressure to receive optimum performance depending on the outside conditions.
The Allison 3500SP automatic transmission and Cat C7 engine sit on top of the chassis and suspension frame, which is then topped with a bolt-on armored cab. The M-ATV was designed with the tires at the extreme edges of the chassis with the cab in the middle. In a blast event, the energy goes around the cab.
The armor is a series of panels that are screwed into place. Should a panel be damaged in a blast event, a mechanic in the field only has to unscrew a few bolts and switch out the damaged panels. The fast turn-around time keeps more trucks in the field with less down time. It also makes updates easy when armor composite technology evolves.
"On the inside of the vehicles we wanted to give them more room than previous equipment," says Yakes. "Many of the vehicles are hard to get in and out of. You have to go through a small door in the back or through the top, so we gave the M-ATV large doors to get in and out of and met the soldier's access and egress requirements. They have to get in and out with 100 lbs. of battle gear within seconds and be ready to fight.
"We have GFE (government furnished equipment) equipment integrated in a nice fashion so they can have easy access to their radios, GPS information and other systems," he continues.
To ensure ease of operation and fast operator training and familiarity, Oshkosh used its proprietary control panel in the M-ATV. The panel is already in many of its military vehicles currently in theater.
Oshkosh is also utilizing various shock-mitigation technologies integrated into the cab to reduce the loads of a blast event on the passengers.
Borrowing an idea from helicopters, the seats are attached to the ceiling and floor with tightened belts. If a blast occurs, the force is basically pushing a rope, so no forces are imposed from the underside into the seat and rider. The straps are designed to stretch and then fail at a certain period of time such that it limits the energy that goes to the occupant.
The cab's powerful Red Dot-supplied HVAC system can easily handle 130 F ambient conditions with all of the electrical gear turned on, and keep the vehicle warm in the mountains.
"The M-ATV program [allows us] to show what our patented independent suspension TAK-4 and the design of the vehicle can do in rough terrain. ... and we get to give the survivability and mobility to the troops in Afghanistan," says Bohn.
---
Staying busy
Many of Oshkosh's divisions benefit from its recent military contracts.
As Oshkosh Corp. ramps up production to fulfill the multi-billion dollar M-ATV contract, it is calling hundreds of people back to work throughout the corporation, as well as at its suppliers. The M-ATV is a high-profile program, but it wasn't the only bid won by the truck specialist this summer. The news from Oshkosh, WI, provided a positive contrast to radio and newspaper reports of slow sales, idled factories and lay-offs in other areas of the state.
Just before this issue went to press, the Oshkosh Defense division announced it had been awarded an order from the U.S. Army Tank-automotive and Armaments Command Life Cycle Management Command (TACOM LCMC) for more than 45 Heavy Expanded Mobility Tactical Truck (HEMTT) A4s.
Under the delivery order, valued at more than $23 million, Oshkosh Defense will manufacture and deliver more than 45 HEMTT M984 A4 wreckers. Production will begin in March 2010 and is expected to be completed by May 2010.
The Oshkosh HEMTT's 13-ton payload and off-road capabilities have made it the backbone for the U.S. Army's logistics fleet. Since its introduction in 1985, the HEMTT has helped keep the Army on the move during major conflicts. The HEMTT's recent improvements to create the new A4 include: a fully air-conditioned and armor-ready cab; more powerful drivetrain; improved suspension; and other structural changes to make installation of add-on-armor in the field quicker and easier.
Other Oshkosh divisions are benefiting from government contracts, as well. In early September, the Oshkosh Airport Products Group announced an order from the U.S. Air Force for eight Striker 3000 and seven Striker 1500 Aircraft Rescue and Fire Fighting (ARFF) vehicles (shown), and 21 Oshkosh H-Series snow blower vehicles. The 36 trucks will be deployed at U.S. Air Force bases throughout the world beginning in January 2010.
The Oshkosh Striker offers an all-wheel-drive axle configuration and proprietary technologies such as TAK-4 independent suspension for enhanced maneuverability and reliability.
The Oshkosh high-speed blower features a 470 hp chassis engine and a 700 hp dedicated blower engine that can throw as much as 5,000 tons of snow per hour.
In August, the corporation announced that its defense division had been awarded an important contract by TACOM LCMC for the U.S. Army's Family of Medium Tactical Vehicles (FMTV) rebuy program. The FMTV is a series of up to 23 variant and 17 different models ranging from 2.5 ton to 5 ton payloads.
The FMTV rebuy program is a five-year contract for the production of up to 23,000 vehicles and trailers, as well as support services and engineering. The contract's first delivery order is valued at $280.9 million for the production and delivery of 2,568 trucks and trailers. Initial test vehicle deliveries are reportedly planned for mid-2010, followed by full production by 2011.
At press time, protests filed by Navistar Intl. and BAE Systems with the U.S. Government Accountability Office (GAO), has resulted in a stop-work order while the agency reviews the contract decision. Formerly Stewart & Stevenson, U.K.-based BAE Systems has produced more than 56,000 FMTV trucks at its facilities in the U.S.
"Oshkosh believes TACOM conducted the MFTV procurement in a fair and highly professional manner. Oshkosh won this contract because its proposal represents the best value to the Army, its soliders and the nation's taxpayers. We are confident the protest process will bear this out," says Robert Bohn, Oshkosh Corp.'s CEO and chairman.