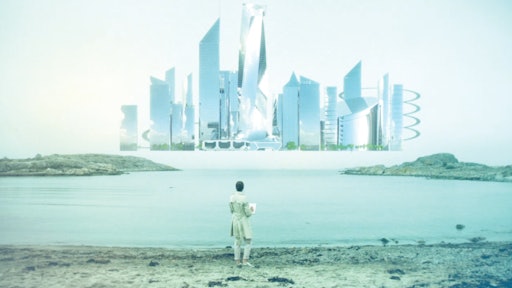 Tell us a little bit about Tech World.
In the last few years, the Volvo Group Tech Show has showcased hundreds of innovations from our skilled engineers. The event aims to spread knowledge of on-going research among employees as well as share projects with the media, students, customers and politicians. Visitors are given a glimpse of the technical solutions under development today to meet society's needs tomorrow.
Recently it was decided to share more of our ideas with students and research institutions. This allows us to inspire talented people and benefit from their input when creating future solutions. And now we are spreading the word even further with the creation of Tech World – a website dedicated to showcasing some of the exciting research projects underway at the Volvo Group. Most of the ideas focus on how to make products safer and more energy efficient. Interesting developments include autonomous machines and equipment that is aware of an operator's workload and can adapt accordingly. After seeing the exciting projects Volvo works on, we hope that talented students and engineers will be inspired to look for job opportunities at our company.
To find out more visit http://techworld.volvogroup.com.
What opportunities lay within emerging technologies for OEMs?
Looking at electrification, machine-to-machine communication and automatization, I can see a paradigm shift in construction equipment technology. It is likely that an autonomous vehicle can perform a repetitive task more efficiently and precisely than a human operator. Because the machine will be operated in the most efficient way, customers will benefit from improved performance, productivity, fuel efficiency and durability.
The electrification of construction equipment will produce cleaner, quieter and more efficient machines. It represents the future of our industry. At Volvo Construction Equipment (Volvo CE) we are considering the electrification of the entire system. Once you can do that, it's possible to simplify the design and modularize in a more sophisticated way than is currently done with traditional components. It's not only propulsion that needs to be electrified, you also need to consider a number of other functions – how you lift the bucket for example.
Regarding machine communication, the Volvo CareTrack telematics system offers fleet owners complete control of their equipment. The system provides detailed information such as location, productivity, reports on how the machine is used and fuel consumption. Telematics also helps the dealer when servicing the equipment and us at Volvo CE by providing data which is useful in the product development process.
Another interesting area Volvo CE engineers are investigating is machine-to-machine communication. Volvo has set itself the target of reducing accidents relating to its equipment to zero. Machine-to-machine technology will play a major part in achieving this ambition. In the future, we will see machines 'talking' to one another and to a central control point. This will help to avoid collisions and facilitate an efficient flow of equipment.
I don't see any major obstacles [for successful full-vehicle implementation of automation systems and machine-to-machine communication]. Generally speaking, as the equipment gets more sophisticated, the technology will become more complicated. However, from the operator's point of view, the machine needs to be simple to operate; and from the customer's point of view, it must be reliable and durable. In the future, these types of technologies will increase machine uptime, improve efficiency and make using our equipment safer and easier to operate.
Is there a need for communication and design platform global standardization?
Standardization is driven both inside Volvo CE and inside the Volvo Group. By coordinating research and development (R&D) initiatives, as well as general processes and tools across the company, substantial economies of scale are created and our customers benefit from increased quality and lower costs. For example, Volvo CE's Technology function is busy testing solutions to ensure the company's machines meet the demanding new Tier 4 Final engine emission regulations, which are set to become effective on January 1, 2014. Although the technology we are using to meet the Tier 4f legislation is still relatively new to Volvo CE, we are lucky to have the strength of the Volvo Group behind us and all the benefits of shared technology. We have capitalized on the experience and the many hours of testing already carried out by our Volvo Group colleagues. This information is helping us to adapt the technology for construction equipment and make it function in all the applications, climates and environments our customers operate in.
From a product development perspective, standardized systems and components speed up the development process and increase quality because components are used and tested in different applications. However, it is not a case of 'one size fits all'. At Volvo CE we believe in standardized global sub-systems, not standardized global products. This enables us to customize our equipment to suit the needs of various markets. We have different products tailored and adapted for different markets to ensure we satisfy all our customers' needs.
Is Volvo involved in workforce development?
At Volvo CE we encourage all our employees to be innovative each and every day. In our Technology function we have a global footprint of engineering and design sites that provide our engineers with the opportunity of working in different countries. Through on-the-job development opportunities in different markets, our employees broaden their competency levels, gain knowledge from their colleagues and generate fresh ideas.
Volvo is keen to attract talent outside the traditional hiring markets of Europe and North America. To achieve this, Volvo CE is building technology centers in emerging markets such as the Volvo Construction Equipment Jinan Technology Center in China. With several large universities and technical colleges, Jinan is an area of engineering and design talent. The 200 engineers we are hiring here can help us take advantage of the opportunities we see in China.
Volvo CE works together with universities across the globe on research projects and many PhD students spend months working with us in order to complete their degree. We are always looking for passionate and talented engineers, and many of the students that work with us often become full-time Volvo employees.
Companies in this article