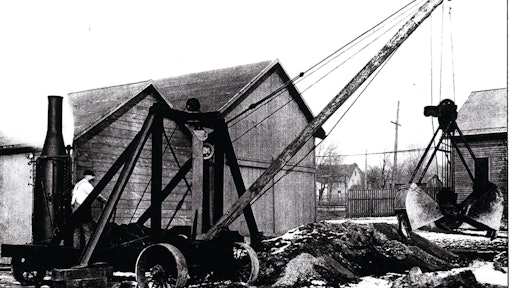 Until the early 1900s, cranes were either stationary or confined to steel rails, thus greatly limiting their flexibility. Either the crane had to be erected within safe range of its work, or railroad track had to be laid to reach the job. This problem was solved by the development of free-traveling cranes that moved directly on the ground, not needing rails for support or guidance.
The earliest known American example of such a crane was the No. 328 Traveling Excavator, built by The John F. Byers Machine Company of Ravenna, OH. Offered as early as 1909, it was a half-swing machine that could be set up as a clamshell crane or mobile derrick car. But for all of its improved mobility, it had to be moved by teams using a tongue and doubletrees provided for the purpose.
The breakthrough to the modern self-propelled truck crane came as a result of World War I. The tremendous amount of cargo crossing the docks of France required mobile cranes to expedite handling of the freight. Although a fleet of cranes on traction wheels met the immediate need, the market for a more mobile, truck-mounted crane was now apparent.
F. A. Smythe, President of Thew Shovel Company in Lorain, OH, took the initiative, and in late 1918 the world's first crane designed specifically for mounting on a truck was built. Mounted on a Mack AC, it was sold to the Cleveland Interurban Railway in 1919, and Smythe and other Thew principals formed the International Crane Company in Lorain to produce the machines. In 1920, International Crane incorporated as the Universal Crane Company in nearby Elyria, and it operated as a subsidiary of Thew until it was merged into Thew in 1939. Thew, in the meantime, began using the Lorain trade name, and thousands of Lorain cranes were sold worldwide.
The Historical Construction Equipment Association (HCEA) is a 501(c)3 non-profit organization dedicated to preserving the history of the construction, dredging and surface mining equipment industries. With over 4,000 members in twenty-five countries, our activities include publication of a quarterly educational magazine, Equipment Echoes, from which this article is adapated; operation of National Construction Equipment Museum and archives in Bowling Green, Ohio; and hosting an annual working exhibition of restored construction equipment. Individual memberships are $32.00 within the USA and Canada, and $40.00 US elsewhere. We seek to develop relationships in the equipment manufacturing industry, and we offer a college scholarship for engineering students. Information is available at www.hcea.net, or by calling 419-352-5616 or e-mailing info@hcea.net.