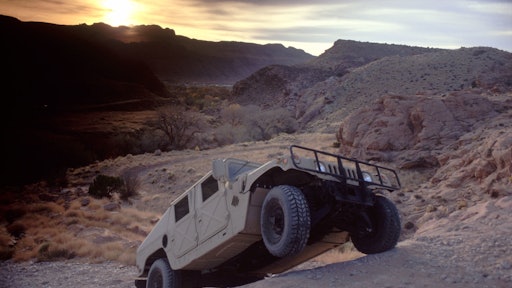 The recent AUSA Annual Meeting & Exposition 2015 (AUSA 2015), held in Washington D.C., brought together more than 26,000 visitors from 70 countries.
Several OEMs exhibited their latest vehicles and technologies to address the mounting wartime challenges faced by soldiers. One of the most notable was Oshkosh Defense's recent contract winning* Joint Light Tactical Vehicle (JLTV).
*The Wisconsin-based Oshkosh Corporation was awarded the JLTV contract at the end of August, but rival competitor Lockheed Martin was quick to launch a protest of the selection on September 9.
Oshkosh is unable to carry out any work related to the contract for the duration of the Government Accountability Office's (GAO's) review period, though Army spokesperson Michael Clow has said that the Army remains confident that Oshkosh's platform would provide an affordable and substantial capability improvement to Marines and Soldiers.
Oshkosh

Defense LLC

On August 25, the U.S. Army awarded Oshkosh Defense, LLC, an Oshkosh Corp. company, a $6.7 billion firm fixed price production contract to manufacture its JLTV product, the Light Combat Tactical All-Terrain Vehicle (L-ATV). The JLTV program has been ongoing since 2006 as a joint endeavor with the United States Marine Corps and Army to fill a performance gap related to withstanding IED attacks that was left unmet with the High Mobility Multipurpose Wheeled Vehicles (HMMWV, or Humvee).

The initial contract for the JLTV program calls for low-rate production of 16,901 L-ATVs for the Army and Marines over the next three years. Following this, there will be an option for the armed forces to purchase additional units at full-rate production, with expected totals of 49,100 for the Army and 5,500 for the Marines in operation by 2040. The contract is expected to be worth over $30 billion in total.

Read more on the JLTV program in the article, The best of the best, and nothing less.

The JLTV Family of Vehicles is comprised of two variants, a two seat and a four seat variant, as well as a companion trailer (JLTV-T). The two seat variant has one base vehicle platform, the Utility (JLTV-UTL). The four seat variant has two base vehicle platforms, the General Purpose (JLTV-GP) and the Close Combat Weapons Carrier (JLTV-CCWC).

The Oshkosh L-ATV combines the latest in automotive technologies, the Oshkosh Core1080 crew protection system, and the Oshkosh TAK-4i intelligent independent suspension system to provide the world's fastest, most protected light military vehicle. The TAK-4i system provides Warfighters with unprecedented maneuverability and ride quality to reduce fatigue when traveling the world's toughest terrains.

The Core1080 Crew Protection System is an occupant-centric, comprehensive survivability approach that protects the crew while maximizing all-around vehicle performance. The multi-faceted, fully-integrated system applies advanced components, materials and engineering to optimize whole system survivability. The L-ATV's digitally-controlled engine contributes to survivability by providing the acceleration and speed that Soldiers and Marines need in high-threat environments. The vehicle's power-to-weight ratio is optimized to provide superior power, mobility and speed-on-grade capability.

The L-ATV's net-ready systems integration brings critical network and computing capabilities to a broader range of ground missions. The L-ATV's advantage is based on a unique combination of vehicle OEM expertise and extensive in-house C4 and systems capabilities. The L-ATV was designed from day one as a "tactical vehicle system" that enhances the user experience and ergonomics while maximizing overall system performance.

Meritor Inc. will supply Oshkosh's L-ATVs with its bevel gear hub wheel-ends to help optimize the vehicle's payload capability and mobility.

Dana will supply its Spicer central tire inflation system (CTIS), which is designed to enhance defense vehicles that require high performance all-wheel-drive and off-road mobility. The main function of Spicer CTIS is improved traction and mobility enhancement. All four tires on the vehicle can inflate or deflate quickly to the appropriate tire pressure depending on the terrain – increasing traction and enhancing the safety of troops operating the vehicle.

The performance of Spicer CTIS is optimized with a mechatronic control unit (MCU), which identifies and reacts to tire-inflation issues more effectively by enabling individual wheel control. The MCU is an integrated unit that includes mechanical, electronic, and advanced computing capabilities for delivering improved reliability, a smaller footprint, reduced weight and less wiring complexity.

Spicer CTIS is also useful for vehicle transport. When vehicles are being packed into a military transport aircraft with a low ceiling, the tires can easily be deflated to lower vehicle height and fit them into the aircraft.

Additionally, Dana will supply the thermal bypass valve, a device that is critical to engine performance. It prevents cold or partially warmed oils from leaving powertrain components such as the transmission. Internal circulation of vehicle oils keeps thermal energy from dissipating to improve efficiency.

"The Oshkosh JLTV will revolutionize how our Soldiers and Marines get to the fight," says U.S. Army Major General (Retired) John Urias, Executive Vice President of Oshkosh Corporation and President of Oshkosh Defense. "It has been extensively tested and is proven to provide the ballistic protection of a light tank, the underbody protection of an MRAP-class vehicle, the network capability of a mobile command center and the off-road mobility of a Baja racer. Looking beyond today's requirements, our JLTV was designed with room for future requirements as operating environments may rapidly evolve."

The JLTV is 1/3 smaller and lighter than the Oshkosh M-ATV and can reach off-road speeds 70% faster. It is fully transportable by sea or air.

Along with its JLTV offering, Oshkosh Defense unveiled its MRAP All-Terrain Vehicle (M-ATV) 6x6 Technology Demonstrator which builds upon the proven protection and performance while providing more interior space for up to 15 soldiers, as well as greater payload capacity and all-wheel steer for maneuverability.

Oshkosh also introduced the Advanced Driver Assist Systems (ADAS) kits for any vehicle platform to help troops operate their vehicles safely in harsh conditions and difficult terrain. The Oshkosh ADAS kits use intelligent technologies to help increase driver control and response – during both peacetime and combat operations. The Oshkosh ADAS has three levels of performance:
ADAS Tier 1: A camera-based technology that allows the vehicle to see where drivers cannot. Active alerts enhance driver awareness to mitigate collisions.
ADAS Tier 2: Electronic Stability Control kit and radar-based technologies assist drivers with an additional layer of active safety. Tier 2 includes Adaptive Cruise Control (ACC) to maintain a following gap with a lead vehicle and Collision Mitigation Braking (CMB) to help slow the vehicle if a crash is imminent.
ADAS Tier 3: Equips drivers with comprehensive technologies for accident avoidance. Tier 3 combines all of the technologies from Tier 1 and Tier 2, making it

Oshkosh's

most comprehensive safety solution.
While Oshkosh was able to demonstrate a wide range of vehicles and technologies available to the U.S. military at AUSA 2015, due to a protest on the JLTV contract award by Lockheed Martin, it was unable to showcase all of the L-ATV's on-board technologies and features.
For the first time, at AUSA 2015, Navistar Defense displayed its latest MaxxPro MRAP vehicle featuring an enhanced level of blast protection and electronic stability control (ESC). The company also had on display the General Troop Transport (GTT) variant of its 7000 MV Medium Tactical Vehicle line which is similar to what will be delivered to Afghanistan under a recent $369 million order.
"The MaxxPro on display incorporates two very significant steps forward in improving safety and mission performance for our country's warfighters," says Kevin Thomas, President, Navistar Defense. "First, it is a Reset vehicle which brings a MaxxPro that previously deployed in support of combat operations and has now returned for an extensive refurbishment effort to restore it to like new condition while also being upgraded to the latest configuration. The second is that we have added electronic stability control which further improves safety and performance. As a result of this Reset effort, all MaxxPro vehicles in the U.S. Army inventory will be at the same level of configuration."
These newly Reset and upgraded MaxxPro vehicles are re-entering service in Afghanistan. A total of 785 MaxxPro vehicles, in two variants, are being Reset under a $75 million contract.
The Medium Tactical Vehicles (MTVs) on display at AUSA 2015 demonstrated Navistar Defense's state-of-the-art technology for taking its commercial Series 7000 WorkStar truck platform and making it tactically viable and flexible. "The baseline MTV platform has been configured in 17 different variants ranging from the GTT to water and fuel tankers and recovery vehicles. This provides tremendous flexibility, commonality and supportability for the Afghan and Iraqi forces operating them," says Thomas.
In late August 2015, the U.S. Army Contracting Command awarded Navistar Defense a $369 million contract to provide 2,293 MTVs to build upon the already existing Afghanistan National Security Force's (ANSF) MTV Fleet. Production will commence immediately, with deliveries starting in January 2016 and concluding in 2019. A total of 17,000 MTVs are in service in both Afghanistan and Iraq.
General Dynamics
Two major platforms were showcased at AUSA 2015 by General Dynamics Land Systems: its most technologically advanced digital tank, the Abrams M1A2 SEP V3, and the Stryker DVH. The M1A2 SEP V3 digital tank includes upgrades to power generation, increased survivability, fuel savings and network improvements.
The Stryker Double V-Hull (DVH) Engineering Change Proposal (ECP) Vehicle, slated for production starting in 2017, showcased its upgrades in power generation, smart display and an optimized driveline for increased mobility. A 450 hp engine supports a larger alternator and features improved power pack thermal management.
Also on display was its recently unveiled AJAX armored fighting vehicle prototype. Until recently, the AJAX program was originally known as the SCOUT Specialist Vehicle (SV) program and aims to provide a step-change in the Armored Fighting Vehicle capability being delivered to the British Army.
Watch a video of the AJAX vehicle animation.
AJAX will be the medium weight core of the British Army's deployable Intelligence, Surveillance, Target Acquisition and Reconnaissance (ISTAR) capability. It enables the soldier to be at the point of collection of accurate all-weather commander information within a network-enabled digitized platform.
The AJAX program includes six variants (AJAX, ARES, APOLLO, ATHENA, ATLAS and ARGUS) all of which are developed on an adaptable Ground Mounted Manned Reconnaissance (GMMR) platform to maximize commonality in mobility, electronic architecture and survivability.
Each AJAX platform variant has extensive capabilities, including acoustic detectors, a laser warning system, a local situational awareness system, an electronic countermeasure system, a route marking system, an advanced electronic architecture and a high performance power pack. The electronic architecture makes it General Dynamics' first fully-digitized land platform able to integrate both current and future open system ISTAR and communication products.
With an upper design limit of 42 tons of driveline capability, scalable and open electronic architecture and a modular armor system, it has enormous potential to combat future threats and incorporate new technology throughout the lifespan of the platform.
In September 2014, General Dynamics UK was awarded £3.5 billion to deliver 589 AJAX platforms to the British Army. In July 2015, it was awarded a further £390 million contract to provide in-service support for the AJAX fleet until 2024.
On the opening day of AUSA 2015, AM General announced it had been awarded new HMMWV contracts and modifications to existing domestic and international contracts for vehicles and parts for Iraq, Afghanistan, Tunisia, Israel, Turkey, Kenya, Lebanon and the United States totaling more than $42 million.
On display at the show, AM General demonstrated its diverse product portfolio of light tactical military vehicles and technologies including its Modernized Light Tactical Vehicle which exemplifies the evolution of the HMMWV based on customer input, experiences in the field and technological innovations.
There are approximately 230,000 HMMWVs currently in vehicle fleets around the world. Around 160,000 are currently in service as part of the U.S. Army, Marine Corps, Reserves and National Guard fleets with the remaining 70,000 vehicles belonging to international fleets.
"AM General continues to grow our backlog of new production HMMWVs while developing comprehensive modernization and maintenance programs for domestic and international customers," says Chris Vanslager, Executive Vice President, Defense Programs. "The HMMWV continues to be the vehicle of choice around the globe for more than 60 partner nations, evolving over the years with significantly increased mobility, protection, reliability and durability in order to meet changing military missions and threats."
AM General was also recently awarded over $428 million for new M997A3 HMMWV Ambulance Chassis Vehicles to support domestic disaster relief efforts by the Army National Guard, Army Reserve and Army. These contract awards demonstrate the ongoing critical operational need for HMMWV modernization and maintenance for the light tactical fleets of the United States and around the world, regardless of the replacement efforts of the JLTV program.
Adding to the continued efforts to keep the thousands of existing HMMWVs around the world viable and safe options for soldiers, Textron Systems unveiled its Survivable Combat Tactical Vehicle (SCTV) upgrades to extend the vehicle's life. The SCTV upgrades incorporate angles and a v-shaped blast deflection under-body plate for improved survivability.
The modifications come in five modular, primary kits which the customer can pick from for their specific vehicle model and application, however all five kits have to be installed in order to be considered a proper SCTV. The process begins with the Government furnished HMMWV and strips it down to a complete reset refurbishment state (reusing approximately 70% of the existing vehicle). A new crew capsule is produced, upgraded components such as the suspension, tires and brakes are procured and the entire vehicle is reassembled. Acceptance testing is completed with the formal delivery of the upgraded vehicle, now an SCTV.
The amount of vehicle launches and technology announcements at AUSA 2015 easily demonstrated the recent increase in global military vehicle budgets (see pg. 12 for more information) as the demand for lighter and more agile military vehicles continues to rise. In the years to come, according to the U.S. Army's new combat vehicle modernization strategy, mostly unmanned, autonomous systems will carry out security and reconnaissance missions. The strategy outlines the diverse portfolio of products that will be needed to meet this goals, recognizing that there is no single vehicle that can address all of the needs of the combat field. But, for now, as new, lighter vehicles are in development, there is a significant need for existing vehicles to be modified to keep soldiers safe in the interim.