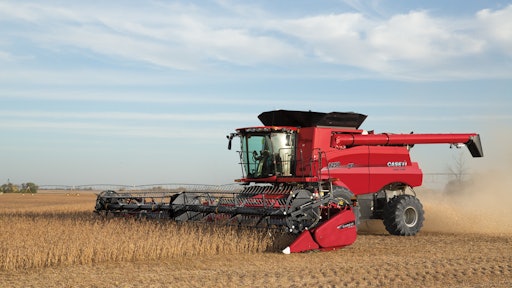 Case IH
Fact.MR has released a new report which estimates the global combine harvester market will grow over 3% between 2020 and 2026. The research company says the trend for harvesting equipment is rising owing to a reduction in workforce and the need for quick harvesting operations. Thus, combine harvesters are witnessing heightened demand, underpinned by the ongoing expansion in the agriculture sector.
Furthermore, various governments worldwide have introduced many convenient policies with regard to farm mechanization, thereby creating growth avenues for the combine harvester market. Farmers have also begun upgrading their machinery and tools to keep up with the surging demand for agricultural products.
Key takeaways of the market include:
The hydraulic mechanism segment is foreseen to witness 1.2 times more revenue than those with hybrid mechanisms through 2026.
In grain the tank size category, 250-350 Bushel (bu) combine harvesters are expected to attract a large consumer base due to their higher efficiency and cost-effective superiority, resulting in a contribution of 40% of the global revenues.
In the power type segment, below 150 hp combine harvesters are growing at a rapid pace and are anticipated to surpass the US$ 5 billion mark by the end of the forecast period.
The United States and Canada are the early adopters of combine harvesters as the U.S. is focused on manpower reduction in the agricultural field. On this premise, North America will lead in the global combine harvesters market and will contribute half of the revenue shares.
"Intelligent combine harvesters are competent in monitoring grain flow rate and yield loss in real time. As a result, grain growers are making a seismic shift to intelligent combine harvesters over conventional combine harvesters," says one study analyst.
Exorbitant Cost and Paucity of Skilled Workers to Hinder Market Growth
Requirements of harvesting equipment from the consumer standpoint is changing rapidly in terms of design or technicalities of product offerings. Thus, key manufacturers are investing significantly in research and development to meet the necessities of the purchaser as per the ongoing trend, which often makes finished products expensive.
In spite of the farmer's point of view, product efficiency is important and so is its pricing. Meanwhile, exorbitant cost remains one of the major factors that hampers the global combine harvester sales. Moreover, the lack of skilled laborers in the field of agriculture has diminished the adoption of combine harvesters.