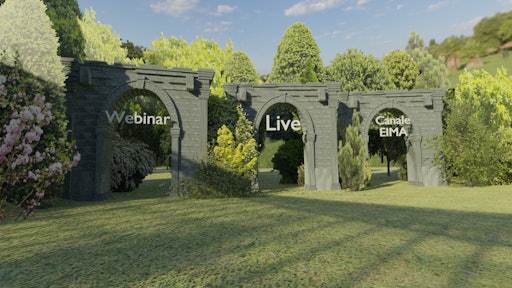 FederUnacoma
The registration procedures continue for the EIMA Digital Preview of EIMA International, the world exhibition of agricultural machinery, to be held from November 11-15, 2020, in its virtual version and from February 3-7, 2021, in its physical version at the Bologna exhibition center.
In just 3 days from opening registration, more than 1,000 businesspeople from all over the world have signed up on the platform, a number that will definitely grow exponentially in the coming weeks. Also, more than 400 exhibiting companies, out of the 1,600 reserved, have already finished setting up their virtual rooms.
The EIMA exhibition event was the central topic of the General Meeting of FederUnacoma, the Italian association of agricultural machinery manufacturers and direct organizer of the exhibition, which recently took place in Bologna. "The global exhibition is the first event in the industry after the lockdown last spring, an event that," explains the general manager of FederUnacoma, Simona Rapastella, "has the task of revitalizing the market, of once again connecting the demand for agricultural technologies, which is emerging globally, with the technologies produced by the manufacturing companies."
It will do this by experimenting with an innovative formula - as reiterated during the General Meeting - which provides a virtual reality preview, and the traditional edition, giving businesspeople a very long period of time to work and interact, combining the advantages offered by digital ecosystems with the direct experience made possible by physical review. Divided into 15 "commodity planets", representing the 14 sectors of specialization of EIMA International, with the addition of the one dedicated to services, the Digital Preview platform provides ample space to present new products and conference rooms for Business to Business meetings.
"Thanks to the EIMA Digital Preview," concluded Rapastella "exhibiting industries have the opportunity not only to capture the demand for agricultural technologies from all over the world, but also to select and rationalize business contacts, thereby optimally preparing for the physical event in February. The latter event will take place on the dates set in the calendar, where businesspeople will be offered safety standards that are the highest in the entire international exhibition landscape."