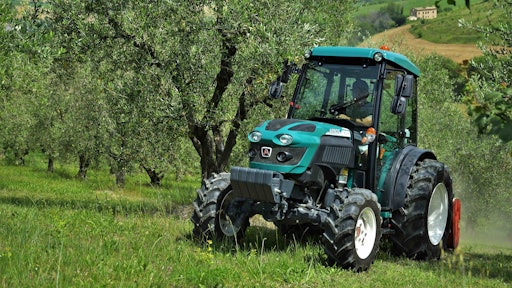 ARBOS
The Global Agriculture and Farm Machinery Market is expected to be valued at U.S. $342.8 billion by 2027, exhibiting a CAGR of 8.8% during the forecast period (2020-2027), as highlighted in a report published by Coherent Market Insights.
Technological advancements expected to drive growth
Growing awareness regarding the importance of technology in agriculture has led to technological innovation. This is owing to rising adoption of farm tractors and other agricultural machinery, which yields high productivity gains. Integration of advanced technologies such as telematics systems and GPS in farm tractors is expected to boost adoption of farm machineries. The autopilot system is a major technological advancement in the field of agricultural machinery. In this system, tractors, sprayers, and combines are mounted with GPS kits and they can accurately drive themselves through fields. The tracking system is tied with the steering of tractors, freeing the operator from driving through the field. Therefore, these factors are expected to propel the global agriculture and farm machinery market growth over the forecast period
Market Opportunity
Advent of novel technologies can present lucrative growth opportunities. Many manufacturers are incorporating advanced technologies such as Internet of Things (IoT), big data, artificial intelligence, and machine learning. These technologies can automate tractors and harvesters and when combined with GPS, they provide better performance with fewer mistakes. Besides, the adoption of these technologies can reduce human errors. Thus, market players can capitalize on these opportunities and gain a competitive advantage in the market.
Market Restraint
Highly fragmented market present in various countries is expected to hamper the global agriculture and farm machinery market growth over the forecast period. The global agriculture and farm machinery market is highly fragmented. This is typically due to intense competition among regional and international market players. Regional players are offering products at competitive prices, which in turn, is hindering revenue generation of international market players. Thus, these factors are expected to hamper the global agriculture and farm machinery market growth over the forecast period.
Market Trends
Growing popularity of precision farming to optimize efficiencies. Advent of novel technologies has revolutionized farming industry. It includes various IT applications combined with high-tech engineering and smart sensors. These technology-enabled systems are mounted either on the machinery or on the field. Precision farming applications guide farmers in identifying the right time to plant and harvest. Variable rate technology (VRT) is one of the major applications of precision farming owing to its multiple applications including measurement of crop characteristics and soil properties and high adoption rate among farmers. Variable rate fertilizer application enables the crop producers to apply different rates of fertilizer at each location across fields. The technology required to achieve variable rate fertilization includes an in-cab software with a field zone application map, the Global Positioning System (GPS), and fertilizer equipment capable of changing rates during operation.
Trends by farm tractor
Farm tractors are among the most comprehensive equipment in agriculture. They are used on farms for a variety of activities including transportation of heavy machinery and the movement of trailers for tilling, plowing, harrowing, and planting. The rising demand for tractors from farmers for cropping has led to the evolution of farm tractors. The technological advancement such as sensors and GPS systems which are being mounted on tractors to keep a check on their movement, is also among the key trends in the market. The companies are focusing on manufacturing a farm tractor that would offer high power at low fuel consumption. Thus, increased government subsidies towards mechanization, coupled with a scarcity of labor are some of the factors driving the use of farm tractors globally.
Impact of Coronavirus (Covid-19) Pandemic
Due to Covid-19 pandemic, many industries witnessed significant shift in their business. The global agriculture and farm machinery market is expected to be impacted by COVID-19, as most of the countries across globe have closed their office premises to contain the COVID-19 and due to this manufacturing operations of agriculture and farm machinery market have been impacted. As, raw material are not getting transported due to travelling and this have slow down the manufacturing operations of agriculture and farm machinery market. This will decrease the demand for agriculture and farm machinery market.