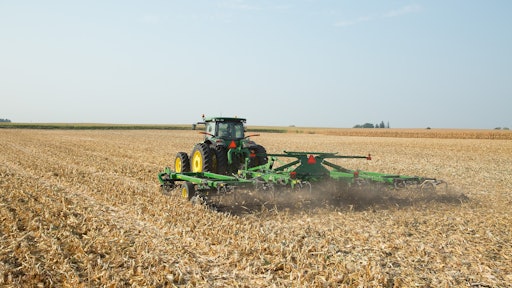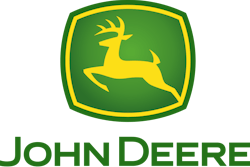 John Deere was presented with six AE50 Awards for outstanding innovations that improve production agriculture. Each year the American Society of Agricultural and Biological Engineers (ASABE) recognizes 50 of the most innovative product-engineering designs in the food and agriculture industry, with its AE50 Awards, as chosen by international engineering experts.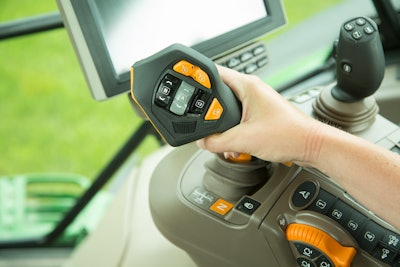 John Deere received AE50 awards for the following innovations:
CommandPro joystick for 6R Tractors
Bale Mobile app
2660VT Variable-Intensity Tillage tool
Tracks for S-Series Combines
A machine performance app that's part of its Generation 4 CommandCenter
700FD HydraFlex Draper
Award winners were recognized for ingenuity in product development, and for saving producers time, costs and labor while improving safety.
"This year's AE50 Awards reaffirms the innovative spirit of our employees and illustrates our company's commitment to bringing those linked to the land the most useful, high-quality products possible. Around the globe, John Deere engineers work tirelessly to create exciting new products and technology to benefit our customers," says Joel Dawson, Director, Production and Precision Ag for John Deere.
CommandPro was released in August 2018 and is a customizable, ergonomic, multi-function control lever that operators can use to control tractor speed, direction and implement functions. CommandPro is available on John Deere 6R Series Tractors.
Introduced last June, the Bale Mobile app helps hay and forage producers get detailed information, improve efficiency, identify bale characteristics and track yields to make decision making easier. Bale Mobile was designed to allow tractor operators to see their information in near real time while it documents the baling process.
A true multi-season machine, the 2660VT features an adjustable gang angle design and all-new frame to place the right amount of weight per blade to handle a wide range of soil, crop residue and field conditions. Introduced last summer, the 2660VT can be operated at speeds up to 10 mph (16 kph) and is versatile enough to meet tillage needs of farmers in the spring or fall.
Three of the 2019 AE50 Awards John Deere received were for harvesting solutions. These included the redesigned suspension track system for S-Series Combines, 700FD HydraFlex Draper and a Machine Performance app.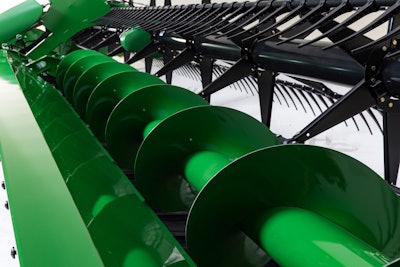 Combines equipped with the new track system can be driven up to nearly 25 mph (40 kph), reducing transport time between fields. The angled, wider and taller tread bar design of the new tracks improve traction, balance and ride comfort while extending tread life.
Customers can use The MyOperations app to view and adjust their John Deere S700 Series Combine from their mobile phone from anywhere at any time, making combine operation more efficient. Possible adjustments include: rotor speed, concave clearance, fan speed, chaffer clearance and sieve clearance. Introduced in May 2018, the Gen 4 CommandCenter Machine Performance app on the S700's display, paired with JDLink Connect, enables this functionality.
The new 700FD HydraFlex Draper now comes standard with a dual-position drum. This allows the operator to select an upper or lower setting, equivalent to a 40.6-cm (16-in.) drum and 35.6-cm (14-in.) drum, respectively. All 700FD Draper Platforms ship from the factory with the drum in the 40.6-cm (16-in.) position, which is the standard position. For bushy crops, such as canola, putting the drum in the upper position will allow a greater throughput.
Companies in this article