New Holland Agriculture

New Holland Agriculture has obtained Origine France Garantie (French Origin Guaranteed) certification for its whole range of self-propelled grape and olive harvesters and straddle tractors designed and manufactured in France, as a recognition of the more than 40 years of manufacturing quality at its New Holland Centre of Excellence in Coëx, in the Vendée region of France.
New Holland initially achieved the certification for its compact range of grape harvesters (8030L and 7030M) in 2017 and then gradually extended the number of models certified. This year the independent certification body, Bureau Veritas, has extended this recognition to the entire range of products manufactured at the Coëx facility.
Richard Mesnil, Coëx Plant Manager and Head of Grape Harvester Production, states, "All of us at the Coëx Centre of Excellence are very proud of this certification. We work every day to deliver the highest manufacturing standards to our customers around the world. This Origine France Garantie label is an important recognition of our unflagging commitment to excellence."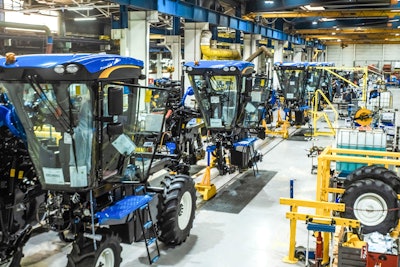 Thierry Le Briquer, Grape, Olive and Coffee Global Product and Platform Manager, adds, "This certification highlights New Holland's strong heritage in serving grape, olive and coffee growers around the world, and its deep roots here in Coëx, the birthplace of our Braud grape harvesters."
The Origine France Garantie certification was created in 2010 by the Pro France association—which brings together manufacturers and professional organizations—to provide customers with clear information on the French origin of their product, promote French industrial know-how in the domestic and international markets, and raise the profile of companies who manufacture in the country.
For customers, the Origine France Garantie label guarantees the product's clear and objective traceability and the assurance that it has been manufactured in compliance with health and safety, social and environmental standards.
Coëx: New Holland Centre of Excellence for Grape Harvesters
New Holland's engineering and manufacturing expertise in grape and olive harvesters and straddle tractors is concentrated at the Coëx Centre of Excellence, which serves customers worldwide. The Engineering and Prototype departments conduct all research and development, design and continuous improvement activities for these product lines to deliver quality equipment with cutting-edge technology to every customer.
All grape and olive harvesters and straddle tractors are manufactured on-site. The entire manufacturing process, from raw materials into finished goods out, is conducted at the advanced Coëx facility. Every single machine, without exception, undergoes a rigorous dynamic quality control protocol on a dedicated test track.
The Coëx Centre of Excellence operates to the highest standards, as shown by the ISO certifications it holds: ISO 9001 - Quality Management System, ISO 45001 - Occupational Health and Safety, ISO 14001 - Environmental Management System and ISO 50001 - Energy Management System.