Winegrowers living in different areas of the world have different climates, landscapes, microorganisms, yield, grape varieties, and they must adapt their growing and harvesting practices to local conditions across different geographies. New Holland is launching a new blue destemmer mesh to extend its existing range and provide every vinegrower across the world with a suitable solution, in every condition.
The on-board destemmer has been part of the New Holland Braud grape harvesters' DNA since their launch in 2002. Available on all grape harvesters, this system detaches grapes from stems and separates the detached stems from the grapes, removing stem fragments, petioles and leaves to ensure only the grapes go into the hoppers. This system improves harvest quality significantly. It can be easily mounted on every grape harvesters' destemmer already produced.
"When sorting grapes, a grape harvester needs to adapt the meshing sizes to achieve the best sorting capacity, removing all unwanted MOG (Material Other than Grape) to keep only the best grapes. By extending the mesh offering, we are effectively giving our customers additional possibilities on their destemmer for targeting the sorting and obtain excellence with their grapes to make the best wines," says Philippe Boisseau, Marketing Specialist for Grape and Olive Harvesters at New Holland Agriculture Global.
The new blue destemmer mesh is the reference for small grapes
Presented at SITEVI 2019, the new, blue-coloured destemmer mesh features smaller holes to improve the harvest quality for small grapes, such as merlot or cabernet. The new mesh improves the sorting of small MOG and delivers premium grape sample quality, especially for the red grapes.
This new destemmer enables a suitable machine throughput with mesh permeability. The blue mesh design, with a higher number of smaller holes, removes more MOG, maintaining a suitably high capacity in average yields.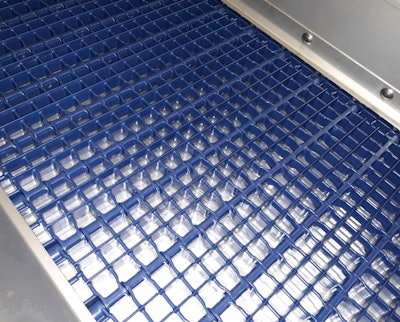 A range of destemmer meshes for every condition
With this latest addition, New Holland extends its current destemmer range for Braud grape harvesters, which now includes:
Pink destemmer: 24 x 24 mm holes. It is the most versatile mesh and can work in all conditions. It is the first destemmer New Holland launched, back in 2002.
White destemmer: 29 x 25 mm holes. It is ideal for high yields or big grapes. This mesh ensures a high capacity and prevents fruit losses in these specific conditions. It was launched in 2018, and since 2020 it is also available for all destemmer widths. It increases the throughput for narrow destemmer frames.
Blue destemmer, 20 x 20 mm holes. It is ideal for small grapes in low or medium yields.
New Holland has also designed a dedicated tool to switch destemmer meshes in less than 10 minutes for more productivity.
The new blue destemmer mesh proves its worth in the vineyard
Etav Chollet is a family run contracting business based in Saint Denis de Pile, in France, that specializes in vineyard work, performing a variety of jobs, including harvesting. The company, run by brothers Pierre and Guillaume Chollet, is a long-time loyal New Holland customer since their father purchased his first Braud grape harvester, an SB36, 30 years ago. Today they operate a fleet of three Braud grape harvesters – a 9070M Destemmer, a 9070M Opti- Grape, and a 7030M Opti-Grape – which are used for harvesting and multipurpose applications, including spraying.
The Chollet brothers tested the new blue mesh during the 2019 harvesting season. They were looking for a solution to meet their customers' demand for higher harvest quality, with attention to the removal of every piece of stem. The experience was extremely positive: "The harvest quality with the blue mesh has significantly improved, with 2 to 3 times less MOG," explains Pierre Chollet.
"We are pleased with the results we have achieved – so much so, that we will equip our three grape harvesters with the blue mesh for the 2020 harvesting season," concludes his brother Guillaume.