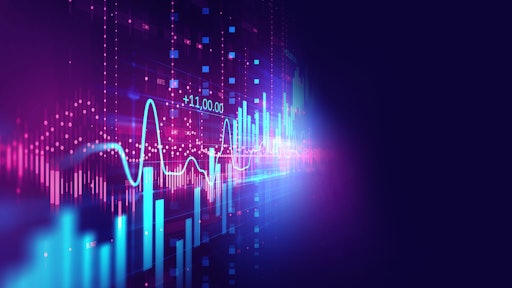 monsitj/iStock/Getty Images
The past year was a relatively strong one for much of the heavy equipment industry, with several companies reporting strong results for the 2018 financial year. Volvo Group, for instance, reported a sales increase of 17%, aided in part by its construction equipment division which reported its strongest year ever.
Whether these gains will translate to 2019, however, is still unclear. Factors including tariffs and trade tensions across global markets have caused uncertainties about the market, as well as the outcome of Brexit and indications of slowdowns in the European and U.S. markets, among others.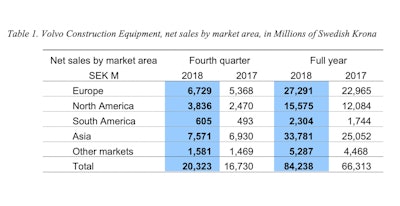 According to the most recent economic data from ITR Economics, slowing growth in World Industrial Production, appreciation of the U.S. dollar and the current tariff environment could hinder the U.S. economy moving forward. The pace of decline in the Europe Leading Indicator continues, as well; ITR recommends planning for a decline in Europe Industrial Production during at least a portion of 2019 because of this. Read more of ITR's economic analysis in our Equipment Market Outlook section at oemoffhighway.com/economics.
Economist Eli Lustgarten of ESL Consultants spoke at the AED Summit in February, at which time he also noted global growth was slowing and Eurozone activity was faltering. China is also likely slowing due to tightening policies amidst slow credit growth, as well as tariff and trade issues with the U.S. He says Europe growth slowed to 1.8% in 2018 and is estimated at 1.6% for 2019.
While growth is down, Lustgarten said it is still above capacity and in the near future the region is expected to grow, just at a slower pace than previously estimated.
He also said tariffs and trade policies will impact U.S. manufacturing operations in 2019. Two-thirds of manufacturing companies surveyed see tariffs having some effect on input costs, Lustgarten said. He went on to say that 70% anticipate change in trade policies will increase input costs, and 50% expect them to place upward pressure on selling price.
In addition, one-third of manufacturing companies see trade policies having a downward effect on sales to foreign customers, but those to domestic customers will mostly be unaffected. Fifty percent of companies see trade policies having a negative effect on profits.
Overall, he said the first half of 2019 will likely remain positive as stimulus from the U.S. government's tax cuts adds to growth, as well as consumer spending remaining robust. How long spending and business investment will last, though, is uncertain. Economic forecasts show growth slowing to about 2.5% as fiscal stimulus begins to fade and potential trade issues persist.
A timely infrastructure bill, he notes, could drive economic growth back toward 3%, and aid the heavy equipment industry, as well, as 4-7% of infrastructure construction spending typically goes toward equipment purchasing. If not, he said a 2% GDP growth is likely.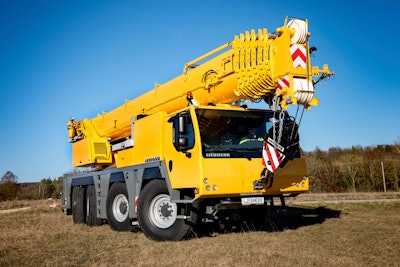 Lustgarten said 2019 orders are likely to be less than 2019 sales in most markets with construction and mining machinery being among those anticipated to have weaker orders, in the range of -3 to -7%. Key drivers of construction equipment spending have been mixed, he said, with housing slowly recovering from the collapse in 2008/09 back to a more normal level; non-residential construction spending recovery has also been slow but is improving. Rental companies are continuing to drive the construction machinery upturn as the percentage of sales to rental companies have reached 55%.
In general, he said construction equipment has potential for good growth into 2019 but will likely soften as the year progresses. Depending on government policies, such as an infrastructure bill, more gains (5-15%) are likely but orders are slowing.
Lustgarten said 2020 could be the start of a correction for equipment demand. Equipment demand is cyclical and rising risks in 2019 set the stage for demand in most sectors to begin softening, and even declining, throughout 2019, he explained. Weakening housing and a sluggish non-residential market could lead to construction equipment orders dipping below sales in the U.S., which would then set the stage for a moderate weakening in 2020.
However, solving trade issues and implementing an infrastructure spending bill could mitigate this and help drive growth through 2020, he said.
Global development and technology investments to be growth drivers
Despite conditions that may be seen in 2019, the positive growth seen in the past year, as well as continuing construction and infrastructure investment around the world–particularly in developing countries—will aid the construction equipment industry in the long term.
According to a study from Fact.MR, a market intelligence firm, the construction industry is expected to hold the largest volume share (72%) for the excavator market by the end of 2019. This is mainly spurred by road and highway projects, says the company, which have increased across the globe. Overall, the excavator market is estimated to achieve 3.2% year-over-year growth in 2019, and will continue growing through 2026.
The study finds the APEJ (Asia Pacific Excluding Japan) region accounted for more than 47% of the excavator market share in 2018. Planned projects within the region will continue to drive the market in coming years, as well.
Rising global infrastructure development is also driving the mobile cranes market, reports Fact.MR. Anticipated to expand at a compound annual growth rate (CAGR) of 3.5% through 2028, the construction sector will account for a large share of the market. Asia-Pacific and the Middle East are among the regions which will help drive the market's growth in the coming years.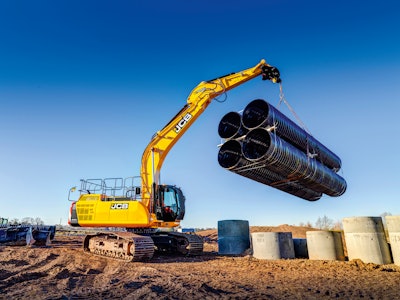 Technology advancements—to help overcome the shortage of skilled labor, improve efficiencies and reduce emissions and more—will help drive the construction equipment market, as well.
The report, "Global Hydraulic Excavator Market 2019-2023", from Research and Markets says the hydraulic excavator market will achieve a CAGR of over 2% by 2023. It will be driven in part by the desire for more environmentally friendly methods of constructing buildings and other infrastructure. Factors such as the growing demand for large-scale project management, which hydraulic excavators are often able to offer through their various integrated technologies, will provide considerable growth opportunities to hydraulic excavator manufacturers, says Research and Markets.
Messe München finds the mood positive for investments worldwide in the construction industry, including the technologies utilized within it. In its recently released "bauma Industry Barometer" it found 44% of respondents to its industry survey said they are planning to increase the investment level for their company in the future.
"During the bauma year 2019, the industry is doing brilliantly. The majority of the respondents assume that investments will remain at a high level. This illustrates the extraordinarily positive mood with regard to the economic development of the construction machinery industry," concluded Klaus Dittrich, Chairman and CEO of Messe München regarding the results of the organization's industry survey. "But it also shows that an above-average willingness to invest is necessary in order to remain competitive in the long term."