Mack Trucks Inc.
The concrete industry is a large one with diverse and complex applications, requiring very rugged and durable equipment, says Roy Horton, Director, Product Strategy at Mack Trucks Inc. "It requires equipment that is customized…[and] not standard off the shelf products."
Horton says the vehicles Mack Trucks develops for the concrete industry are typically designed for a specific task. Mixers and poppers are among the vehicles it creates for this industry, utilizing its Mack Granite and Mack TerraPro models as the base.
To accurately customize the equipment for specific applications, Mack Trucks partners with its dealers and other manufacturers in the concrete industry. Each party involved in the design of the vehicle is able to bring its expertise and ensure the right solution is designed to meet customer requirements.
Vehicle offerings meet durability requirements
The Mack Granite has been the conventional straight truck model used in the concrete industry for several years, says Horton. It has a highly adaptable chassis with multiple packaging configurations available to meet the varied application needs of the industry. He adds that new cab interiors provide all-day comfort for operators, an important aspect since their entire work day is typically spent in the cab.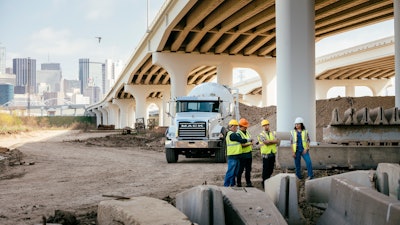 Horton says the Mack TerraPro has been the number one choice for pumper applications for several years. It is the company's toughest cab over model featuring a purpose-built chassis and purpose-built cab. Aspects such as a 120,000 psi (8,273.7 bar) steel frame, formed steel plate cross members and multiple axle options—for steer, drive and auxiliary—ensure durability.
The TerraPro's cab has a 58-in. (1.5 m) BBC and is 82 in. (2.1 m) wide. This helps provide improved visibility as well as comfort for operators.
Mack axles and suspensions, as well as the chassis, are the foundation for the TerraPro, says Horton. "A top-loaded design gives the ground clearance needed for applications such as these [in the concrete industry]."
He also notes the importance of the engines used in order to provide the power necessary for concrete applications. A Mack MP7 offering 325-425 hp (242.4-316.9 kW) or MP8 delivering 415-505 hp (309.5-376.6 kW) is available.
"The brains of the outfit comes in with the Mack transmissions," says Horton. Both the Mack Maxitorque manual transmission and Mack mDRIVE HD AMT (automated manual transmission) are options for the TerraPro. AMTs are becoming more commonplace within heavy-duty applications due to the ease of use they offer—aiding with training of new, unskilled operators. "AMTs are greater than 90% of all we sell overall across all of our five models," he says. "Automation in the industry has been taking over for the last 10 years; it's been steadily growing year over year. And we expect to continue to see that grow.
"We're steadily reaching a point in our industry where manual transmissions will be in either very select applications or a thing of the past."
Horton notes the mDRIVE HD was first introduced in the TerraPro models at World of Concrete 2019 and specifically for pumper applications. The transmission features low ratio creeper gears and a split shaft functionality required by the concrete industry. Ruggedized components are utilized, as well. "This is not a highway AMT that we plug and played into a vocational world," he says. "We had to increase the strength of gears, synchronizers and the life.
"It provides improved driver comfort and safety so the driver is able to focus on operating the equipment in an efficient and productive way," adds Horton.

Partnerships make the difference
Schwing America Inc. is a manufacturer of concrete equipment and one of the many companies which works with Mack Trucks to design customized machines. Its products include concrete pumps and truck mixers that are utilized in demanding construction applications.
Many of the pumps and mixers Schwing designs are placed onto Mack Trucks chassis. The companies work closely together to ensure proper integration of their products. About 85% of Schwing's boom pumps are integrated onto Mack chassis.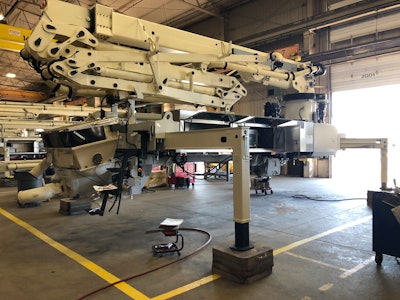 Senior VP of Sales and Marketing Tom O'Malley says most of its smaller pumps—in the range of 17-20 m (55.8-65.6 ft.)—are integrated onto Mack TerraPro three axle configurations. It's a common configuration for the company and doesn't require a lot of changes. Mack's Granite model is gaining popularity with Schwing customers in the concrete pumping industry. O'Malley says owners like the serviceability of the Granite models, as well as the comfort for operators which helps with employee retention.
Bigger concrete boom pumps, those in the 43 m (141.1 ft.) and above range, tend to be integrated onto twin steer TerraPro models. These come from Mack in a single steer axle configuration and Schwing modifies them into twin steer units at its facility to give them more versatility for the applications in which they'll be used.
Highly specialized machines are available from Schwing in addition to more traditional, off-the-shelf solutions. A 61 m (200.1 ft.) boom pump truck from Schwing was developed in tandem with Mack Trucks and dealer Nuss Truck & Equipment. It features a rear axle capable of steering and driving to help improve performance of the machine on work sites, and the turning radius when navigating through urban areas.
The company's latest machine, the S 36 X with Revolution Boom eliminates the need for boom cylinders. Instead it utilizes direct drive knuckles which allows 360 degree articulation. O'Malley says most are limited to 180 degrees articulation, and some up to 230 or 240 degrees. The tip section of the boom pump can articulate a full 360 degrees continuous while the number three section is 330 degrees, as it would otherwise hit the number two boom. Continuous rotation is enabled by hydraulic motors and direct drive technology. Like many of its products, the S 36 X is available on a Mack chassis.
Putzmeister also works closely with Mack Trucks to develop machines for the concrete industry. The company says proper integration between a boom pump and chassis is vital to ensuring the best performance is achieved with a piece of equipment. This is why it partners with Mack Trucks when designing a machine for customers.
How Putzmeister integrates its pump with the Mack chassis is partially dependent upon the type of transmission used. If a manual, then no adjustments are necessary. But if it is an AMT, then Putzmeister must remove the driveshaft and cross members. The driveshaft gearbox is removed, as well and modified so it drives both the truck and the concrete pump. Putzmeister may need to adjust the angle of the driveshaft, as well, depending on the application.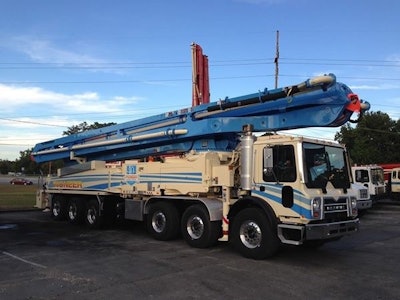 When making these adjustments to the chassis, Putzmeister engineers work closely with those from Mack to ensure all components still function accurately.
Industry partnerships such as these improve manufacturers' ability to create customized solutions to meet the specific needs of their customers.
Companies in this article