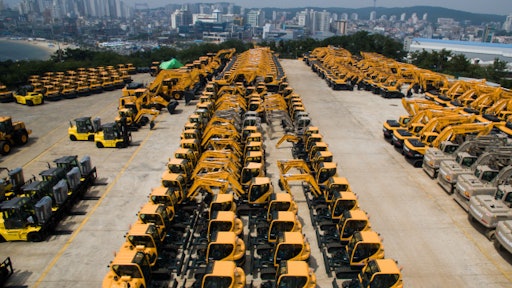 Hyundai Construction Equipment, which announced in April its separation from Hyundai Heavy Industries, has announced a deal with CNH Industrial to produce 2,200 mini-excavators. The company expects to collect 500 billion won ($449 million) by the end of 2021 for the deal.
Producing the excavators is part of the company's efforts to expand its global reach; it says it wants to increase annual sales volumes in advanced markets such as North America by 40% and the Oceania region by 45%.
Hyundai also recently announced an order for 145 excavating and general construction equipment units that will be sent to New Zealand and Australia, as well as 285 forklifts for the U.S. construction firm Oldcastle.
"In an effort to further our technology development sector, as well as further develop our excavator sales lineups and strengthen the reliability of our evaluation centers, we plan to invest 660 billion won by 2021 to ensure that our company's performance, quality and services are recognized as having the highest quality, not only in emerging markets but also in advanced markets," said Hyundai Construction President Kong Ki-young in a press release. "Through this, we will make an effort to become one of the world's top five (construction equipment companies) by having our sales reach 7 trillion won by 2023."
Companies in this article