The 2019 Changsha International Construction Equipment Exhibition (CICEE) is poised to be a new competition stage for global construction machinery enterprises, highlighting the application and development of intelligent manufacturing and internet in the field of construction machinery, and promoting technological innovation in the industry. Exhibits cover construction machinery, mining machinery, marine engineering machinery, aerial work platforms, tunnel engineering machinery, municipal engineering equipment, logistics equipment, special vehicles and other fields. The aim is to build the most authoritative and influential platform for promotion, demonstration and trading in international construction machinery industry. With an indoor pavilion and an outdoor pavilion, more than 1,200 exhibitors from 30 countries and regions and 150,000 visitors from more than 100 countries and regions are expected to visit the Changsha exhibition. Thousands of new products and technologies will be introduced to the global visitors.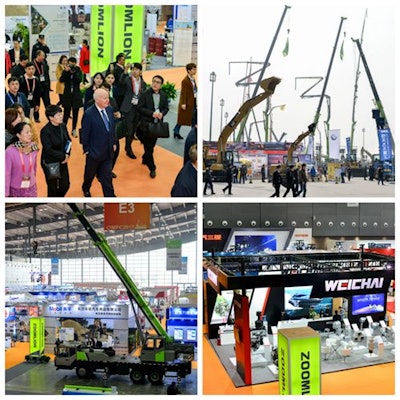 The 2019 Changsha International Construction Equipment Exhibition will be held at Changsha International Convention and Exhibition Center from May 15-18, 2019, according to Song Xiaogang, Vice President of China Machinery Industry Federation, Shi Laide, Honorary Chairman of China Construction Machinery Society, Zheng Xiongwei, Executive Chairman of Asia Pacific CEO Association, Qiu Jixing, Vice Mayor of Changsha Municipal People's Government, and Chen Shuzhong, Director of Changsha Municipal Exhibition Management Office.
The exhibition will focus on the intelligent new generation construction machinery. Nearly 30 events during the exhibition period, including the first 215,279-sq.-ft. simulation competition field, will create a global high-profile construction machinery skills competition. Conferences scheduled include:
Construction Machinery Industry Chain Conference
Global Construction Equipment Industry Leaders Dialogue
Construction Equipment Business Summits between countries along the "Belt and Road"
China Construction Machinery E-commerce Application Development Summit Forum
2019 Underground Engineering Equipment Technology and Industrial Development XiangJian International Forum
Global Aerial Work Safety and Standards Summit
Changsha International Construction Equipment Chief Technology Officers Summit Forum (CTO Summit)
2019 International Construction Equipment Enterprise Procurement Matchmaking Conference
9th Engineering Materials Equipment Procurement Management Forum by China Association of Construction Enterprise Management
2019 Asian International Used Construction Equipment Trading Conference
Changsha International Construction Equipment Olympics Skills Competition
The exhibition will invite 150,000 VIP attendees, professional visitors and buyers, of which overseas exhibitors no less than 20% and overseas professional visitors no less than 5%. Online registration, purchasing matchmaking meeting and negotiation appointments can be made on the exhibition's website. The organizing committee will open a special bus route from exhibition hall to enterprise factories, connecting the exhibition hall and factories, and realize visiting the exhibition and factory production line tour at the same time.
Companies in this article