A tale of two continents.
The Latin American construction industry continues its recovery and will see a modest strengthening in growth in 2019 with the expectation of a more robust expansion in 2020. Despite increasing trade tensions, policy uncertainty and fiscal pressures that are weighing on the Latin American economies, the construction industry will expand by 1.1% in 2019 and on average 2.6% annually between 2020-2023.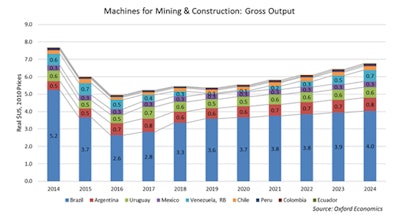 Growth, however, isn't created equal across the continent in terms of GDP or the infrastructure market. A select group of countries is outperforming markets and have the ability to draw on ample private and public capital, partly driven by strong commodity prices from the extraction markets, to support infrastructure investment, while other higher risk markets with more limited opportunities continue to weight down the overall attractiveness of the region. The improving expansion of the industry will be driven by a return to significant growth in several large markets such as Brazil and Colombia and the continued strong growth of other markets including Chile and Peru. (Fitch Solutions)
Infrastructure Risks/Rewards
In order to sketch a larger picture of the region that takes in consideration both economic growth and potential political turbulence, we can use BMI's Country Risk Reward Index. BMI's Country Risk Index provides a country-comparative evaluation of the political, economic and operational risks to stability over a short- and long-term time horizon. The higher the score, the more attractive the market. (Fitch Solutions)
Even though the economic attractiveness of overall region improved slightly, according to Fitch Solutions, Latin America still trails behind the global average. Some countries such as Chile, Colombia and Peru score well as their years of business-friendly policies have created strong access to private investment and large scale infrastructure investment. (Fitch Solutions)
In Chile, strong commodity prices and a strong pipeline of projects drive machinery and equipment purchases. In Colombia, growth is supported by a strong oil and gas sector, driving wages, consumption and business confidence. Investment in public infrastructure and the extractive sectors will continue to develop. (Fitch Solutions)
While Mexico has overtaken Peru as the third most attractive market, Peru remains, the fasted growing country in Latin America, investments into the mining sector and private consumption support economic activity. Naturally, the reliance on commodity prices, whether its mineral or oil creates a downside risk related to international trade. (Fitch Solutions)
As opposed to Mexico, which might be experiencing some downside risk related to a potential shift away from business friendly practices under the new government of President Andres Manuel Lopez Obrador, in Brazil, the second largest infrastructure market in the region, the newly elected President Jair Bolsonaro seems to be pushing towards greater investment. (Fitch Solutions)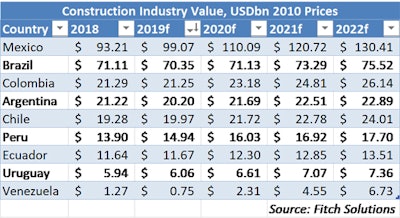 Machinery Demand
A recovering and steadily growing construction industry combined with increased support from extraction services provides the basis for the demand for mining and construction equipment. Gross output for Machines for Mining & Construction declined heavily in 2015 and 2016, but started to rebound in 2017 and 2018. In 2019, the market is expected to remain stable to down slightly, though output in Brazil, the largest market grew about 10%. Forecasts summarized for Brazil, Argentina, Uruguay, Mexico, Venezuela, Chile, Peru, Columbia and Ecuador is expected to grow between 2-4% annually through 2024, slowly recovering to levels pre-crash. It seems the region is recovering from the crash in 2015-2016/7, but is doing so at a moderate pace. (Oxford Economics)
Despite the cyclical challenges our OEMs face time and again in key markets, Latin America continues to provide significant opportunities. The Latin American Infrastructure market continues to rebound and grow. While there remain concerns regarding policy uncertainty, corruption and fiscal pressures, Latin America is a tale of two markets. There is a sharp division between a group of countries that is outperforming not just the region through the ability to draw in private capital, support infrastructure, and ride demand for their countries products, and another group which is dealing with corruption, crime and weak institutional environments which is weighing down the region. From a machinery perspective, disregarding some outliers, annual growth for the region can be found between 3 and 5% annually for the period 2020-23.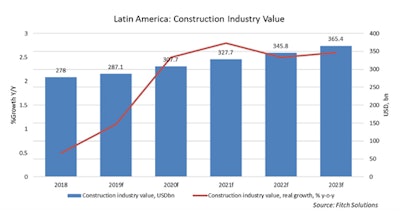 The region has proven to be an attractive field for companies planning to expand and solidify their operations and market outreach. The importance of having a consistent and engaged presence based on long-term growth is often crucial. AEM's objective is to help member companies identify these opportunities through services that assist and serve them in ways best aligned with their strategic business direction.
In 2015, AEM launched a construction equipment-focused trade show, CONEXPO Latin America, to help facilitate business opportunities. The triennial AEM-owned and operated exhibition is a great example of the collaboration between AEM and its members. CONEXPO Latin America was born from the expressed need for a CONEXPO-quality, regional event that would provide manufacturers of heavy construction equipment the professional platform needed to showcase their products and services, a platform to interact with qualified Spanish speaking buyers in Latin America.
CONEXPO Latin America will return to the region October 2-5, 2019 in Santiago, Chile.