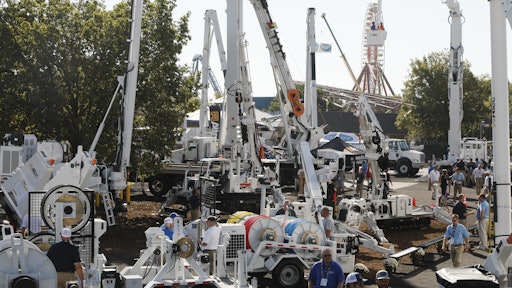 Association of Equipment Manufacturers
The 2019 edition of the International Construction & Utility Equipment Exposition (ICUEE) saw record attendance.
Read more: Exciting Wave of New Construction Equipment Takes Center Stage at ICUEE 2019
Over 19,000 registered attendees from the U.S., Canada and 65 other countries visited the show. "We shattered our attendance record on Tuesday," says John Rozum, ICUEE Show Director. "Our 70 registration kiosks were printing 25 badges per minute between 8 and 10 a.m., so we knew the temperature wasn't the only thing running hot that day and breaking records."
This year's show also had a high number of exhibitors. Over 1,000 companies exhibited, covering 1.34 million sq. ft. of space.
The record-breaking number of attendees and exhibitors demonstrates the strength of the utility and construction markets.
"By all measures, this was an outstanding ICUEE with more to see and experience than ever before, and it was gratifying to see such positive energy among attendees and exhibitors," says Rick Johnson, ICUEE 2019 show chair and CEO Emeritus of Charles Machine Works. "ICUEE is always such a tremendous opportunity to make lasting industry connections that help participants continue to grow and stay competitive."
Aspects which drew crowds to the show included a new demonstration area, expanded education programs and networking opportunities.
The next edition of ICUEE will take place September 28-30, 2021; it will once again be held at the Kentucky Exposition Center in Louisville.