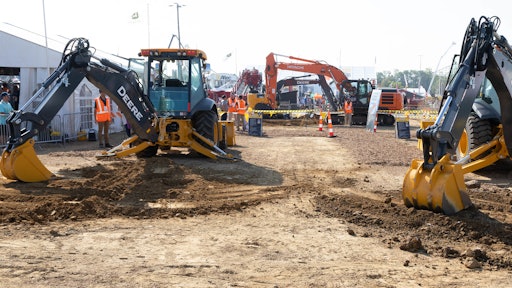 Association of Equipment Manufacturers
The Utility Expo—formerly known as ICUEE—is taking place Sept. 28-30, 2021 in Louisville, KY. Focused on the utility industry, the event will highlight many of the latest technologies and equipment which can aid those working in this application.
Show organizer the Association of Equipment Manufacturers (AEM) indicates the show will feature 7% more exhibit space than the 2019 event, which was a record-breaking show at the time. "We have exceeded 1.4 million sq. ft. of space for the first time in show history, with 1.2 million of that being outdoors," said John Rozum, show director of The Utility Expo, in AEM's press release announcing the expanded size of the show.
This is good news for many in the heavy equipment industries, particularly after much of the world shut down in March 2020 after CONEXPO-CON/AGG due to the coronavirus pandemic. This return to trade shows demonstrates an eagerness to get back out into the industry to see people and equipment face to face. While virtual events held over the past year helped to fill the gap, many still believe in-person events are the best fit for getting business done.
READ MORE: Events Prepare to Bring Heavy Equipment Industry Together Again in 2021
OEM Off-Highway and its fellow AC Business Media colleagues from ForConstructionPros.com will be at this year's event; be sure to follow us on social media for updates throughout the show as well as daily news postings on our website. And if you'll be at the show, you can stop by our booth B1153 to pick up the latest issue or subscribe if you don't already!
AEM says in its press release that with 85% of the exhibit space being outdoors, attendees and exhibitors can be sure they are getting a safe experience. The Kentucky Expo Center is also a GBAC Star Certified facility, and masks are required to be warn when indoors per Kentucky law.
The Utility Expo will include exhibits as well as panel discussions to help attendees ensue they are on top of the latest industry trends. Among the educational sessions will be The Roundtable! presented by Planet Underground. Eight industry topics will be covered during the first 2 days of the show, including:
Effectiveness of state damage prevention laws and enforcement
What the future holds for managing our crowded rights of way
Who and who does not view damage prevention as a public safety issue?
The impact of predictive analysis given the state of late response to 811 tickets
What good is permanent location information without a plan to share?
Artificial intelligence in damage prevention
Construction equipment's role in avoiding damages
When do we get to "Zero damages?"
Discussions will be conducted between contractors, engineers, locators, one-call operators, utility personnel, policy makers, and technicians to provide their industry perspective on these topics.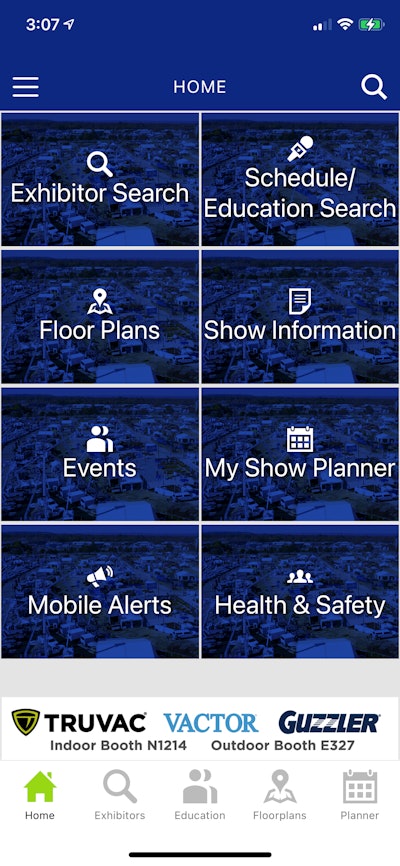 To make getting around the show easier, AEM has developed a mobile app capable of working on both iOS and Android; it is free to download for all attendees. "There are more than 900 exhibitors spread out over 32 acres of space, both indoors and outdoors, and only 3 days to see it all," said Rozum. "That can be a daunting task without an app to help attendees find what they're looking for, how to get there and keep track of all the other activities at the show like events and demonstrations."
According to AEM, the app connects the exhibitor directory with the show floor map, lets attendees make a plan for what they want to see when they get there, and lets them keep notes on what they saw to review when they get home.
There will be a variety of equipment and technology to see at The Utility Expo. Following is just some of the this year's highlights.
*Editor's Note: The below information is from press releases provided by the company's noted.
Volvo CE Electric Machine Operating Experience
Volvo Construction Equipment (Volvo CE) will highlight its electric powered equipment during The Utility Expo. The company intends to host in-person as well as virtual events in tandem with the show so anyone interested in its emobility efforts can learn more.
At the show, attendees will have the chance to operate the ECR25 Electric excavator and L25 Electric wheel loader. Two ECR25 Electric compact excavators and an L25 Electric compact wheel loader will be featured at the Volvo booth, K129.
The company will also have experts available to talk about its technology and advancements in charging technology. Volvo says it is working with Beam on a solar fast charger as part of the Volvo extended offering with the electric compact machines.
Volvo will show its latest concept model, as well, which will demonstrate the company's look at the future of construction equipment and how automation, a hybrid engine and asphalt compaction technologies could look going forward.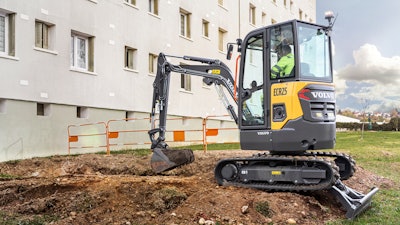 Barko Hydraulics Showcasing Wheeled Tractor and Utility Loader Products
Barko Hydraulics (Barko)— a developer, manufacturer and distributor of heavy equipment solutions for the forestry, vegetation management and material handling industries—will be exhibiting at booth E629 in outdoor Lot E.
"Barko products are an excellent fit for the utility industry, and we're looking forward to exhibiting at The Utility Expo again this year," said Justin Rupar, Barko President. "We'll be showcasing our Industrial Wheeled Tractors and Utility Loaders, both excellent solutions for vegetation management and material handling work, including municipal and storm cleanup applications."
Barko Industrial Wheeled Tractors deliver maximized attachment performance for increased productivity with the ability to tear through the toughest vegetation management work. Available in two models, the 930B and 937B feature powerful, durable, and fuel-efficient Cummins QSL9 Tier 4 Final diesel engines.
The spacious operator cab provides excellent visibility and comfort that operators appreciate, including an ergonomic control layout, heated and vented seat with air-ride suspension, ample legroom, and built-in storage space. Operator safety is paramount; the machine cab is fully certified and comes standard with polycarbonate windows to protect from flying debris during operation. A wide variety of attachment brands and types are available from the factory for customers to choose from to provide them with machines that are ready to go to work.
Barko Utility Loaders deliver high-lift capacity and consistent multi-function hydraulic performance for increased productivity at a lower total cost of operation. An excellent power-to-weight ratio provides the ability to maximize payloads. The XLE models feature telescoping booms that provide operators with up to 3 ft. of additional reach. Barko Utility Loaders are designed to last longer and ship from the factory fully assembled and tested. Customers can be sure they are ready to install on their preferred truck chassis or trailer and live up to the "Built Tough and Built to Last" reputation.
International Truck Launches New MV Series
International Truck has launched the new International MV Series, the next generation of its medium-duty vehicles. The truck has been reimagined from the ground up to advance performance, safety and uptime. International will provide the first public look at the truck during The Utility Expo at its booth, N1135.
"The new International MV Series features thoughtful design that includes premier safety features, head-turning styling, simplified TEM integration and uptime enhancements," said Debbie Shust, vice president, Medium-Duty Truck. "We listened to customers feedback and developed a medium-duty vehicle that is custom built for all their needs."
Enhanced Safety and Styling
The new MV Series was purposely designed for increased maneuverability, visibility and safety. It is designed to stand out among International's product line. An aerodynamic hood and smartly designed breakaway mirrors provide superior visibility for drivers and the restyled bumper and black, molded-in-color grille with optional chrome surround deliver attention grabbing looks. The MV Series includes standard halogen headlights, with newly introduced, optional LED headlights to provide longer life and improved visibility.
Several optional collision mitigation enhancements are also available. The Bendix Wingman Fusion System technology includes adaptive cruise, enhanced collision mitigation, multilane vehicle braking, stationary object alert, lane departure warning, and front radar and cameras. The Bendix BlindSpotter Collision Warning System is equipped with side object detection alert.
Ultimate Capability and Body Integration
The new International MV Series features numerous enhancements that increase the performance capability of the vehicle. The high efficiency cooling module eliminates mega-brackets enabling integrated front frame extensions and an improved snowplow upfit offering. Hood mounted splash panels and on-engine air cleaner provide improved under-hood access while an optional under-hood work light is available for improved visibility during daily maintenance checks. Smart chassis packaging changes allow for improved body integration and improved operating costs for a wide variety of applications.
The Diamond Logic electrical system comes standard, allowing for customized programming for driver and equipment protection, ease of body integration and greater uptime. Hundreds of off the shelf features exist today for improved safety, examples of which include: driver safety with the inclusion of pre-trip light inspection, safety on the jobsite with external regen warning, and equipment protection with hydraulic oil power take-off (PTO) shutdown and an outrigger stowed interlock.
The MV Series offers two engine options, the Cummins B6.7 and L9, with increased fuel efficiency as well as extended and aligned maintenance intervals.
Corrosion protection is also improved with InterCoat ChemGuard standard on the cab floor as well as optional LINE-X offering for particularly tough environments.
Connectivity to Maximize Uptime
The new MV Series is supported through OnCommand Connection, Navistar's remote diagnostics system, offering the industry's most comprehensive portfolio of connected vehicle services. Customers have the option to receive real time information to protect their assets through GPS and geofencing capabilities as well as easy to understand and actionable vehicle health reports.
The new MV Series includes the option for customers to add International 360 – the service communications platform that makes it easier than ever to seamlessly communicate with the International service network and streamline the repair process.
"This is an evolution, rather than a departure, from our existing strategy," said Diane Hames, vice president, Marketing. "The new MV moves the International brand forward and is equipped with the features and technology to be an excellent fit for every customer."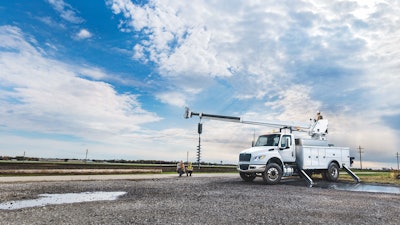 Manitowoc Showcasing New Products
Manitowoc will display three of its strongest new offerings for the utilities market at The Utility Expo this year: the National Crane NBT60XL boom truck; the NBT45-2, a compact 45-ton model from its new NBT40-2 Series; and the Grove GHC110 telescoping crawler crane that just launched in July. It's the first time the public will have a chance to see these cranes at an in-person trade show.
Manitowoc will occupy outdoor booth number E843.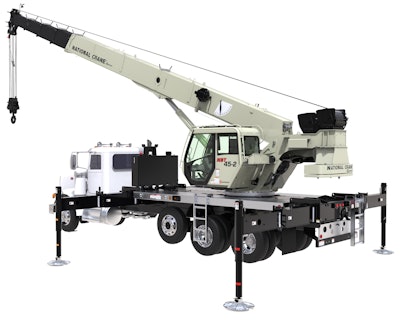 The three cranes on display are a testament to The Manitowoc Way of listening to its customers in the utilities sector and putting their needs into the manufacturing practice. This feedback is evidenced in the new machines' fast setup, easy roading and jobsite maneuverability.
"We're proud to have earned the trust and confidence of hundreds of utility customers over the years," said Michael Heinrich, vice president of sales for boom truck cranes at Manitowoc. "For over 50 years, our boom trucks have led the way with flexible setup, class-leading features and comfort for operators. This is thanks to direct feedback from our customers that's incorporated into our engineering processes."
National Crane NBT60XL boom truck
Show visitors will have a chance to check out the National Crane NBT60XL boom truck at Manitowoc's booth for the first time since its launch in late 2020. This versatile crane is particularly well-suited for the utility sector, boasting a 151-ft. main boom with class-leading load charts and practical transportability.
"The NBT60XL is taking on all competitors in the 60 USt market," Heinrich said. "This machine features the best combination of boom length and load chart capacity and its short wheelbase, just under 45 ft., makes for convenient and less-costly roading."
The NBT60XL features 16,000 lbs. of hydraulically removable truck crane-style counterweights. This trayless design allows for the counterweight slabs to be stacked in any order quickly and efficiently. The NBT60XL also comes standard with a host of operator-centric features, such as the deluxe tilting cab (up to 20 degrees) with heated seat and a Bluetooth/AM/FM radio and speakers.
National Crane NBT40-2 Series boom truck
Also on display at the company's booth will be the new NBT45-2 boom truck, one of two models in the NBT40-2 Series. The crane is also offered in a 40-ton version. Both the 40 and 45-ton configurations offer 127-ft. and 142-ft., five-section boom options with load charts boasting double digit percentage increases over predecessor models, with no change in gross vehicle weight (GVW).
The NBT40-2 Series is ideal for work in utility sectors, due to its versatile boom lengths and excellence in close charts or capacity at reach. The tree service industry will find the crane suitable for its rugged design and when needing 200 ft. plus of platform height.
The NBT60XL and NBT40-2 Series can be factory-fitted with the NTC Performance Package that includes four (100, 75, 50 and 0% span) position outriggers, wireless windspeed indicator, two-camera system, and wireless outrigger controls. National Crane boom trucks are proudly American made, engineered and built in Shady Grove, Pennsylvania.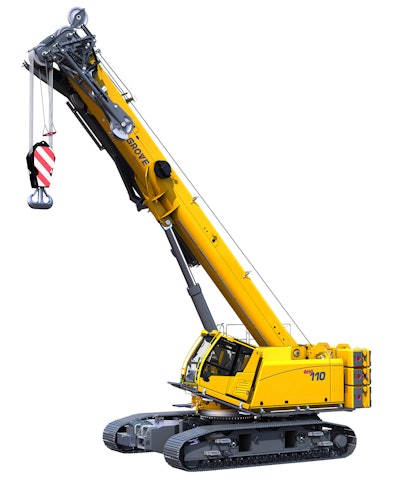 Grove GHC110 telescoping crawler crane
Also making its debut is the new Grove GHC110, a machine just added to the upper size range of Manitowoc's growing telescoping crawler product line. Featuring an impressive 110 USt capacity, the GHC110 joins the larger GHC140 to bring another robust option to the utility market.
"The GHC110's compact design, excellent gradeability and high maneuverability are ideal for the challenging jobsites typical in the utility sector," said Mark Hooper, vice president of sales for mobile hydraulic and crawler cranes at Manitowoc. "Telecrawlers provide clear benefits over traditional excavators and other types of mobile hydraulic cranes, particularly for utility infrastructure work, due to their stability and strong out of level load charts."
The GHC110 is fully self-rigging so it can get to work quickly after being unloaded. Its undercarriage offers several advantages in terms of reducing the need for site prep. The 36-inch triple bar grouser shoes are standard with the option to choose flat tracks. The wide stance produces enhanced stability, with the hydraulically tracks offering a choice of three spans in symmetrical or asymmetrical positions without pinning the tracks.
Peterbilt Highlighting Newest Medium-Duty Trucks
Peterbilt Motors Company will display its lineup of medium-duty work trucks at The Utility Expo, booth #E956.
Peterbilt's booth will feature several trucks including: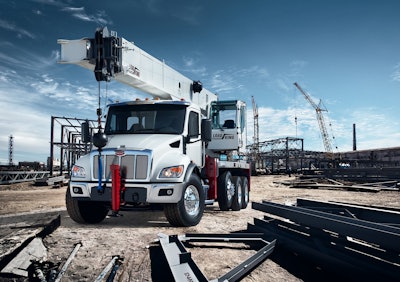 a Model 536 with a 26 ft. stake bed configuration, suited for hauling building materials and equipment
a Model 536 water tanker by Curry Supply with a capacity of 2,000 gal. and short wheelbase for easy job site navigation
a Model 537 outfitted with the Terex Hi-Ranger Aerial Bucket for electric utility jobs and
a Model 548 with a Load King Singer 40-127RS crane, featuring a 127-ft. boom, 55-ft. jib, with a max tip height of 192 ft.
The versatility of the new medium-duty lineup is built upon a brand-new, customizable chassis and robust multiplex electrical architecture. The trucks deliver seamless body integration allowing customers the ability to spec their truck to fit their exact needs, which is critical in utility applications. The new 2.1 m cab is 8 in. wider inside than the previous generation cab and has room for three adults to seat comfortably. Stair-style steps and knurled grab handles make getting into and out of the truck easy. The best-in-class interior features 6.1 cu. ft. of storage space, three cup holders and a dash layout with available space for optional gauges, switches and ram mounts.
Additionally, an all-new instrument cluster, featuring a high-resolution 7-in.h digital display, relays key information at a glance. Drivers can toggle through menu cards on the digital display utilizing the new multi-function steering wheel or the display navigation knob. The digital display is fully integrated into the electronics of the truck with key information like system check, trip summary, PTO functions, ADAS and TPMS all clearly displayed through the menu cards.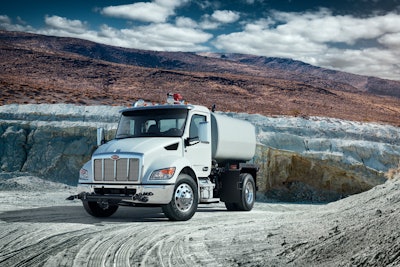 CM Labs Demonstrating Simulators and Training Packs
During The Utility Expo, CM Labs Simulations will demonstrate its new Boom Truck Simulator Training Pack. This will be one of many technologies the company features at its booth, #N2008.
The Boom Truck Simulator Training Pack allows operators to train with a digger derrick attachment, and features a certification exercise as well as a virtual replica of the CCO course.
"This is an industry first," says Julien Richer-Lanciault, Product Manager at CM Labs. "Attendees who visit our booth will experience a solution they can use to safely assess and improve the skill level of operators who often have little or no prior experience operating heavy equipment."
In addition to the boom truck training solution, the company will be showcasing its full fleet of earthmoving and lifting equipment training packs on the portable desktop Vortex Edge Plus as well as the immersive, motion-enabled Vortex Advantage simulator.
Portable Vortex Edge Plus
The newly released Vortex Edge Plus features a lightweight design, making it easily transported in carrying cases and set up in minutes. This makes it ideal for classroom or on-the-go training.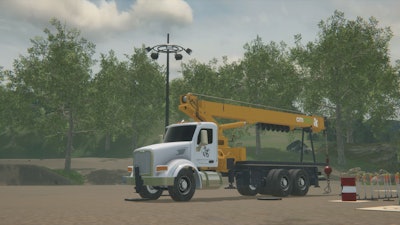 The Vortex Edge Plus runs CM Labs' full fleet of earthmoving, lifting and forestry equipment training packs including the Excavator, Backhoe, Dozer, Wheel Loader, Motor Grader, Luffing Tower Crane, Flat-top Tower Crane, Mobile Crane, Crawler Crane, Forwarder and Harvester. Its ease of transport makes the Vortex Edge Plus an optimal hands-on tool for attracting talent at job fairs and career development events. It can also be used to quickly assess the skill level of new operators. Hardware includes a laptop, monitor, industrial-grade joysticks and pedals, as well as a steering wheel to support specific earthmoving equipment.
"This really is the latest technology of simple, portable, accessible simulation training," said Julien Richer-Lanciault, CM Labs' Construction and Forestry Product Manager. "With the construction industry doing absolutely everything it can to eliminate barriers to training, this is an ideal solution to getting the next generation of skilled labor exposed to the challenges and rewards of a construction career."
The Vortex Edge Plus runs on the same engineering-grade software that powers CM Labs' fully immersive Vortex Advantage simulators, used by training schools and fleet owners internationally. This means that all simulated machine components behave as they do in the real world, whether operators are digging a trench, delimbing a tree or catching a swing.
In addition, the Vortex Edge Plus can be paired with an optional Instructor Operating Station (IOS) for instructor-led training. With the IOS, instructors can control the training right from their seat and do everything from launching exercises and manipulating the weather, to injecting machine faults, providing hand signals as well as customizing scores and generating reports. The Vortex Edge Plus can also connect to other Vortex simulators, for collaborative crew training. It complements classroom theory by simply making learning more engaging and efficient.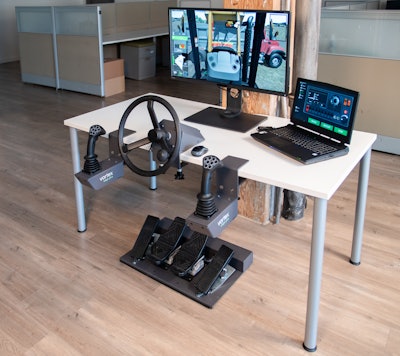 Companies in this article