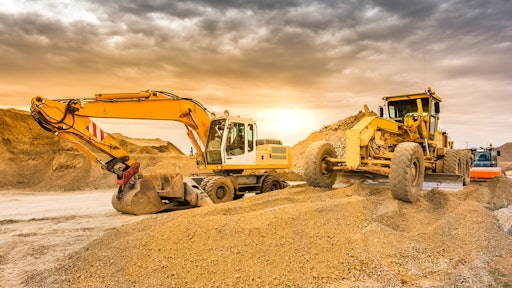 ©Enrique del Barrio – stock.adobe.com
New research from Graphical Research shows the Asia Pacific construction equipment market is predicted to be worth $75 billion through 2026. In 2019 the market achieved a value of $60 billion. As such, the research firm predicts market growth of 4.5% between 2020 and 2026.
Graphical Research says that while the COVID-19 pandemic caused a slowdown for the construction industry in Asia Pacific, World Bank predictions indicate he sector will return to some normalcy in 2021 as the pandemic stabilizes.
According to Graphical Research, there are three trends which are accelerating construction industry growth in Asia Pacific:
government funded power grid projects
improvements to transportation networks
mega-scale construction projects
Government funded projects
According to Graphical Research, a surge in the number of power generation projects and plants has been fueling the demand for construction equipment. This has required the use of an array of machinery, including mobile and automated cranes. Many governments have also announced plans to improve existing utility infrastructure and initiate new projects which will help drive demand for construction equipment.
An increased need to use equipment for these projects will equate to increased demand to rent and buy equipment, which will benefit rental companies as well as OEMs and their dealers.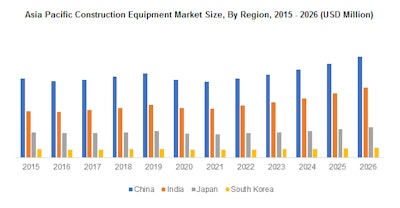 Infrastructure to increase demand for concrete equipment
Investments in infrastructure projects such as reconstructing roadways, airports and railways will be a big driver for the construction equipment, market, and for concrete equipment particularly says Graphical Research. It says governments in China, Japan, Indonesia, Malaysia, Australia and others have been putting large amounts of money toward funding infrastructure projects.
Doing so benefits both citizens and the construction equipment industry in Asia Pacific.
Graphical Research also notes increased investments in connectivity—i.e. Smart Cities—and other similar initiatives will further aid the positive growth trajectory of the market.
READ MORE: Cities of the Future will be Smarter, More Connected

India to lead mega-scale project investments
Graphical Research says progressive government projects has lead to rapid industrial and infrastructural growth in India. Two major priorities for the government are residential and transport infrastructure, which has lead to the initiation of several new projects.
With these projects, use of various types of construction equipment will be required, once again aiding rental companies and OEMs.
Graphical Research also notes a growing number of pipeline construction projects and further infrastructure investments in emerging economies will drive growth for the Asia Pacific construction equipment market over the next decade.
*Content based on information provided by Graphical Research.