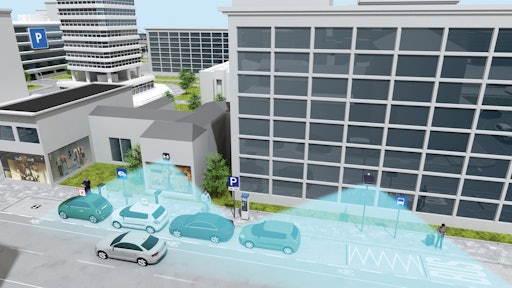 Siemens AG
With the world's urban populations anticipated to continue growing in the coming decades, the need for safer, more efficient and sustainable mobility solutions will increase.
Many envision this will be achieved by using the Internet of Things (IoT) and other digital technologies to create connected, or smart, cities. People, vehicles and infrastructure will all be able to interact with one another to help better manage a city's assets—including transportation systems, community and government services—through the use of technology, with the ultimate goal of improving efficiency and quality of life for its citizens.
Data collection and analytics will play a key role, as well, enabling transport operators, for instance, to monitor when modes of transport are most used to better plan routes and arrival times to meet travel needs.
Siemens is one of many companies currently researching vehicle-to-infrastructure (V2I) technology. In 2016, it announced a partnership with the Tampa-Hillsborough Expressway Authority (THEA) to provide V2I technology for a Connected Vehicle pilot project funded by the U.S. Dept. of Transportation (DOT). Siemens' V2I technology will allow vehicles and pedestrians to communicate with traffic infrastructure—such as intersections and traffic lights—in real time to help reduce congestion.
The THEA project will use Dedicated Short Range Communication (DSRC) to enable transmissions between about 1,600 cars, 10 buses, 10 trolleys and 500 pedestrians with smartphone applications along its test route. THEA will work with various partners to create a region-wide Connected Vehicle Task Force to support uniform deployment of connected vehicle infrastructure in the region. The project's aim is to use both vehicle-to-vehicle (V2V) and V2I to relieve congestion, reduce collisions and prevent wrong-way entry on freeway exits; technologies to be used include End of Ramp Deceleration Warning, Intersection Movement Assist and more. It also hopes to use these technologies to enhance pedestrian safety, speed up bus operations and reduce conflicts between street cars, pedestrians and passenger cars in areas where there is a high volume of mixed traffic.
On July 18, the company introduced its SEPAC "Peer-to-Peer" traffic software which allows controllers located at intersections to share information with one another on traffic and pedestrian conditions, enabling the on-street network of controllers to adaptively respond to changing traffic conditions in real-time; this technology further adds to its connected city solutions.
Creating a smart city
In cities of the future, everything from vehicles to buildings to streetlights will have the potential to be connected via digital technologies such as sensors, Wi-Fi and IoT. By doing so, vast amounts of data can be collected and analyzed in real time to see how various functions of the city are operating, and what improvements can be made to create more efficiency.
In addition, this digitization could be used to provide more services throughout the city to citizens such as free Wi-Fi connection and charging points for mobile devices. Smartphone apps will also be able to connect to these digital technologies to ease movement around the city by providing improved information on various transportation services, assistance in finding available parking, and more.
Smart mobility will be a large part of smart city development in order to make travel more efficient. Cameras and sensors on traffic lights will provide real-time monitoring of traffic flow, and adjust the timing of light changes to help keep it moving as best as possible. Further digitization and connectivity of buses, trains and other modes of public transport will be an aspect, as well, to optimize travel routes and times.
The trends of automation, connectivity and electromobility will contribute to the creation of smart and sustainable cities, says Helena Lind, responsible for media relations at Volvo Buses and corporate communications for Volvo's involvement in the ElectriCity project.
Automation, she says, will lead to increased efficiency and safety, among other things. One way it will be used for future public transport is high capacity buses running on dedicated lanes in Bus Rapid Transit (BRT) systems. In a BRT system, there may be bus-only lanes, and the bus given priority at intersections where it will potentially interact with other traffic. In addition, it may include features to help reduce delays caused by passengers boarding the bus or purchasing fares. The ultimate goal of the system is to provide faster travel and reduce delays.
"These vehicles can use platooning technology for increased efficiency and capacity of the bus system," she says. "We see automation will take place first in controlled environments such as terminals or bus depots. Large scale introduction of fully automated commercial vehicles without a driver on public roads and city traffic is further into the future."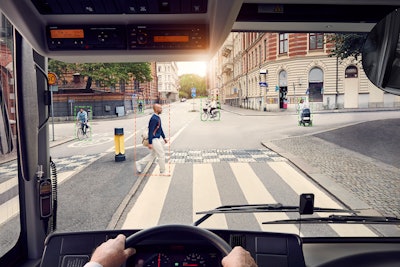 One of the connectivity solutions she says is available today in Volvo's city buses is its Zone Management System in which vehicles comply with restrictions and specific requirements depending on geographical positioning, or geofencing. Map boundaries are set and downloaded to a vehicle's fleet management software to create zones to apply recommendations, rules and restrictions to vehicles entering a zone. With this system, an electric hybrid bus, for instance, can be programmed to run at low speed and in electric mode in city centers.
The company also offers a pedestrian and cyclist detection system which detects unprotected road users near an electric bus. A sound is transmitted to warn them that the bus is approaching, while sound and light signals within the bus are used to alert the driver of the other road users.
Barry Einsig, Global Automotive and Transportation Executive, Cisco Systems, stated during the recent sustainable mobility summit Movin'On by Michelin that now is the most exciting time in mobility and transportation. He said this is because there are two big industries moving toward one another at lightning speed; one is the vehicle manufacturing industry which is focused on automated systems, while the other is the public sector and the infrastructure associated with it.
Bringing these two industries together and further digitizing them may sound difficult and complex, he said, but lessons can be learned from other industries in which similar changes have taken place, such as retail and banking. Technology will be a key element, particularly to enable fast data transfer; it's likely implementation of 5G internet speeds will be necessary to achieve this.
"If you look at all the things that have to happen in an automated vehicle once there's no human being involved—[looking] at traffic lights, digital signs, sensors—all this information that your eyes and ears are collecting in order to make these decisions, that all has to be digitized and published into the vehicle in real time so the vehicle can make those decisions without human interaction," explained Einsig. "There are things that need to be developed, there absolutely are, but there's a lot of fundamentals we can focus on and get started with [today]."
As digital information transfer between vehicles, buildings and critical pieces of infrastructure progresses, concerns about cybersecurity have grown, as well. Einsig said much of the framework for protecting critical infrastructure is already in place—security best practices, information security—and the vehicle manufacturers are in the process of working with their associations to create cybersecurity standards.
"I think ultimately we can borrow from the other industries we've already worked in," to ensure cybersecurity in both sectors, he said. What will be unique, though, is the public and private aspect. "Public and private, as we move into multiple connectivities, will have to merge and be secure as one system, and share data between systems," he said.
Creating harmonized, or common data languages will be of importance, particularly as connectivity between modes of transport evolve. Einsig noted that multiple modes of transport are often necessary to get to a final destination, and so it will be necessary to create data systems which can move between the various transportation methods to ease the experience for the user on all fronts—trip planning, scheduling and payment. "If I have to do a fare payment transaction today for taking a car share to an airplane, to potentially a mass transit system on the other end, that's three scheduling systems, three planning tools, three route optimizations, three payment systems," he said, all of which has to merge together to create a truly smart mobility system.
The role of electric vehicles
"Smart cities are about sustainability," says Lind. "Changes to the transport sector are essential if we are to create next-generation cities."
Due to the massive trend toward urbanization, there will be more people in cities increasing the need for transportation. "In order to solve the problems of congestion, air quality and noise we need to develop more sustainable transport systems," she explains. "Electric vehicles have an important role to play here, since they are silent and emissions-free (when run on renewable energy), and allow us to plan and use our cities in entirely new ways."
Because they're silent and emissions-free, electric vehicles can operate in parts of a city that conventional vehicles cannot such as sensitive city areas and inside buildings. They can also operate at night without disturbing people. "Imagine, for example, an autonomous [electric] refuse truck picking up garbage in the city at night, contributing to the city road space being more efficiently used," says Lind.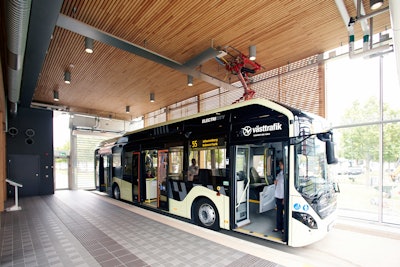 The ElectriCity project, she says, provides an opportunity to show in real life the benefits of electromobility and how it can transform cities into more attractive places. "By testing in real conditions and real traffic we can learn a lot," she adds.
"Electrification is on the march within the global transport sector, and the next challenge is to integrate electrification with investments in future smart and sustainable cities," said Erik Brandsma, the Swedish Energy Agency's Director General, in a press release announcing Volvo's expansion of its ElectriCity research project in Gothenburg.
The trial period for ElectriCity has been extended to 2020, and will see the addition of two electrically powered high-capacity buses to route 16 in Gothenburg. Charging infrastructure and bus stop facilities for electrified high-capacity traffic will be added to the route. The demo area will also include other electrically powered, emissions-free heavy-duty vehicles. Volvo and its project partners will test automation solutions, such as automatic bus stop docking, and bus platooning, as well.
"Changes to the transport sector are essential if we are to create a sustainable society and next-generation cities," said Niklas Gustafsson, Chief Sustainability Officer for Volvo Group, in the press release. "We need to implement sustainable transportation of both people and goods in our cities. That's why it feels particularly gratifying that we are now expanding the ElectriCity demo arena and beginning to examine solutions for automation that can help make electrified vehicles even more efficient."
As the shift toward urbanization increases, the number of people who own a car will most likely decrease as people will live within closer proximity to necessary services and public transportation. This will help give further rise to Transportation as a Service (Taas)—also referred to Mobility as a Service (MaaS)—the use of vehicles on an as-needed basis. Current examples of this include Uber, Lyft, and car and bicycle sharing services.
According to the report "Rethinking Transportation 2020-2030" published by RethinkX—an independent think tank which analyzes and forecasts technology-driven disruption and its societal effects—this shift will also help lead to the further growth of the electric vehicle market. In the report, author Tony Seba says "cost per passenger-mile" will be an important metric as value is shifted to the TaaS provider from vehicle manufacturers (particularly automakers). As such, they will want to utilize long-lasting, maintenance-free vehicles—e.g. electric vehicles, and eventually autonomous vehicles
Younger generations will also be influential on this shift as they are more environmentally conscious and service oriented. When moving around a city, they want to know if there's a traffic jam and how to get around it, what other modes of transport are available, and to have that information provided quickly and easily, which the further growth of TaaS and connectivity within cities will provide.
Mark Boyajian, President, Canada Operations, CGI Group Inc.— a Canadian global information technology consulting, systems integration, outsourcing, and solutions company—said during his presentation at Movin'On by Michelin the main technology categories which will enable the growth of TaaS include:
Defining an open architecture and set of standards to broadly share information
IoT and the sensors it uses to share information device to device, car to car and car to infrastructure
Analytics to enable and improve artificial intelligence (AI), deep learning and machine learning
Consumer friendliness is another key factor, he said. "If we don't make it [the technology] easy to consume, it won't be adopted and we won't really get the behavior change and benefits we're looking for."
Making the user experience more game-like has been the most successful way thus far to engage consumers, he said, noting examples such as the mobile app used as part of the STREETLIFE project. A partnership between three cities in Germany, Italy and Finland, as well as other industry organizations, the project's goal was to reduce carbon emissions in cities by using mobility solutions to minimize personal vehicle use. It employed the latest Information and Communication Technologies (ICT) to create multimodal mobility information systems to monitor traffic flow and various means of transportation.
A mobile app was created for each of the participating cities which consumers could access to receive real-time information about all available transportation modes to help them make the best decision on which to use. According to the project's website, the app interface was based on 3D virtual environments and Augmented Reality techniques, as well as gamification and incentives to encourage users to choose sustainable means of transport. With the app, users could gain points for traveling via a more sustainable means of transport, such as a bike or the subway, and for each sustainable trip they made.
Traffic managers benefited, as well, by having the ability to analyze traffic situations in real-time, and make adjustments—such as changing a traffic light pattern to help get a city bus route back on schedule—as needed. Simulation services available through the project also enabled evaluation of different traffic management strategies, and aided planning of any future changes.
Boyajian said this example demonstrates that the technology for smarter cities and mobility is here today. "It will certainly get faster, cheaper, more powerful…but there's nothing in our way today from taking some of these types of steps," he said.
One of the biggest challenges, though, will be collaboration between cities, countries and the various companies developing the necessary technologies. "If we're going to pull this off in a massive way, it's going to require extreme collaboration and undoubtedly a set of standards and architectures that everyone can subscribe to," said Boyajian.
The STREETLIFE project and others similar to it provide good examples of how various entities can work together to develop smarter, more efficient city operations. Boyajian said the bottom line is that it's going to take time to achieve all of the potential benefits and that it will be necessary to be patient and persevere. "The price is too large, and I'm confident we will find our way there."
"I think from a technology perspective, we are on the way," said Guillaume Gerondeau, Senior Director Transportation & Mobility Asia, Dassault Systemes, during a panel on smart mobility at Movin'On by Michelin. What will be a challenge is data protection and the difference between the various countries.
"If every city, every state, every municipal government wants to have a role in this [smart] mobility, but if we all create separate rules on a city or regional or national basis, then all the opportunity associated with this will be destroyed," added Einsig. Instead, it will be necessary to create scalable systems around regions and countries so manufacturers will not struggle to cost-efficiently build vehicles which can be used in various parts of the world.
Public policy has role, he said, and it needs to be harmonized as broadly as possible. "It may not be 100% harmonized around the world," he said. "Our [Cisco Systems] service providers are not harmonized, but still work on common platforms. I think that's really key for governments to have in mind to have a significant role in connected, highly automated systems and the whole mobility platform."
"All big cities in the world have started this journey; there is not one city that does not think mobility needs to be taken seriously…I think it's irreversible," concluded Gerondeau. "The speed is going to be different [at which they achieve it], but it has started everywhere. Cities have understood that taking the leadership is absolutely necessary."
Companies in this article