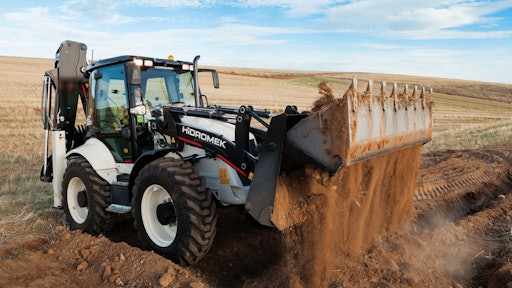 HİDROMEK, whose more than 45,000 machines work in more than 100 countries on five continents, continues its overseas publicity at full steam. HİDROMEK, which took part in bauma Munich 2019, one of the biggest fairs of the Sector in April and attracted great attention with its innovative machines, has been getting ready for bauma CTT Russia 2019 fair without slowing down.
bauma CTT Russia 2019 will take place June 4-7, 2019 in Moscow, Russia. HİDROMEK will exhibit its backhoe loaders and mini backhoe loaders as well as design awarded wheel and crawler excavators, motor graders and wheel loaders at stand F-1/20.
HİDROMEK, which gives great importance to Russia among its export markets, meets the demands of its customer in Russia through HİDROMEK RUS International Sales and After Sales Service Center, established in 2013, for after sales services, spare parts, maintenance and repairs. Besides, HİDROMEK carries out the managment of its dealers in Russia through this center located in the city of Krasnodar.
586 COMPANIES FROM 26 COUNTRIES PARTICIPATED IN THE FAIR IN 2018
The fair has been organized yearly since 1999 in Moscow, Russia. In 2018, 586 firms from 26 countries took place in the fair, and around 23,000 people from 59 countries visited Bauma CTT. Construction equipment, products of building materials, crushing and screening equipment, spare parts and related services, will be exhibited in the fair.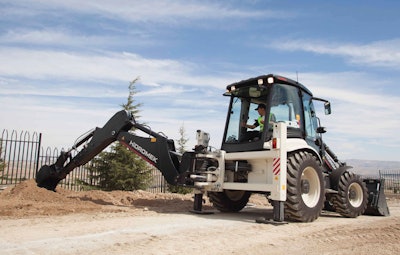 HİDROMEK will exhibit its products of HMK 62 SS mini backhoe loader, HMK 102 B Alpha and HMK 102 S Alpha backhoe loaders, HMK 140 W wheel excavator, HMK 220 LC crawler excavator, HMK 640 WL wheel loader and HMK 600 MG motor grader at Bauma CTT Russia.
HIGH EFFICIENCY AND LOW FUEL CONSUMPTION WITH BACKHOE LOADERS
HİDROMEK backhoe loaders, produced with advanced technology and having a strong breakout force, increase the efficiency with its high performance by providing less fuel consumption. HİDROMEK backhoe loaders, provide easy operation and high level comfort with their wide rear view and ergonomic working environment, due to its heavy-duty axles to increase both load carrying capacity and durability.
MAXIMUM PERFORMANCE AND HIGH COMFORT WITH HYDRAULIC EXCAVATORS
HMK 140 W wheel excavator and HMK 220 LC crawler excavator design awarded Gen Series, stand out with their comfortable cab that fully meets the operator's needs. HİDROMEK excavators provide high performance even in severe field conditions with their reinforced heavy-duty construction produced with high-technology.
MORE LOAD IN SHORT TIME WITH HMK 640 WL
HMK 640 WL, which has 26.3 tons operating weight and 4.2 m3 bucket capacity, with its Mercedes engine having 324 hp and 1,600 Nm torque provides its user with high loading capacity at low fuel consumption in a short cycle time. HMK 640 WL heavy-duty loader provides high breakout force and excellent control capability. It offers durability and efficiency for many years with its axles and components specifically used for demanding working conditions. With its ergonomic operator cabin with ROPS/FOPS certificates, comfort and high security are prioritize. Furthermore; it provides easy serviceability with its 35 degree tilting feature. HMK 640 WL wheel loader, which has won international design awards such as Reddot Award, German Design Award, Good Design and Automotive Brand Contest, is frequently used in mining and quarry operations, concrete plants and industrial applications.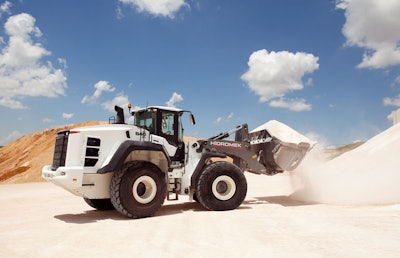 EASY OPERATION AND MAXIMUM PERFORMANCE WITH HMK 600 MG
HMK 600 MG motor grader, manufactured in 18 ton class, provides high traction even at low torques and offers low fuel consumption through its Mercedes (MTU) engine. HMK 600 MG, whose thin front chassis allows the operator to have a wide view of the blade and the front wheels, enables safe and easy operation by being controlled both by the steering wheel and by the joystick and wide viewing angle of the hexagonal cab. HMK 600 MG motor grader, which has won international awards such as Reddot Award, German Design Award and Good Design Award, is preferred for many applications ranging from levelling and digging to bank cutting, trenching, and snow plowing.