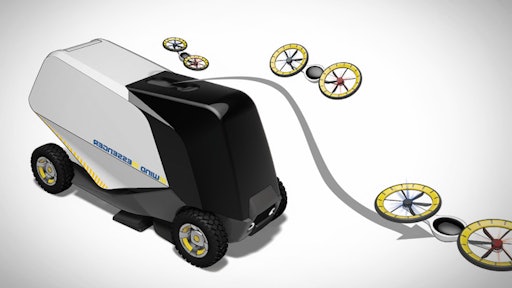 Red Dot
Innovation is at the heart of what engineering is about. Every day new ideas and designs are being developed which bring about changes—whether big or small—that can have impacts on the intended industry, typically geared towards bringing about further efficiency and optimization.
While some may never make it to market, and are purely conceptual, design innovations can lend insight into the needs of an industry and the direction manufacturers are taking to provide a solution to those requirements, as well as inspiration for other product designs. There are several design competitions and efforts at manufacturers to foster innovation within the engineering community, a sampling of which follows.
Red Dot awards
Since the 1950s, the Red Dot Design Award has been celebrating good design in a variety of areas, and has become one of the largest and most prestigious design awards in the world. The award is divided into three disciplines—the Red Dot Award: Product Design, Red Dot Award: Communication Design, and Red Dot Award: Design Concept.
The jury evaluates entries "blindly," wherein information of the participant is hidden to prevent any potential bias, and the winners are chosen on the merit of their design alone. Entries are accepted from all levels of the design profession, from companies to design students.
Thousands of applications are submitted each year; following is a compilation of the most recent winners related to the heavy-duty equipment industry.
Red Dot Award: Design Concept
Product: Wind Messenger
Designer: Professor Cheng Xufeng, Zhang Zhanshuo
The Wind Messenger is an innovative sweeper with an inbuilt Unmanned Aerial Vehicle (UAV) to better program its routes and techniques with a more cost-efficient blowing and suction mechanism.
Traditional automated sweepers have a slow operating speed, high wear rate due to contact with the ground, causing friction on the brushed disc, and high fuel consumption. The Wind Messenger tackles these problems by avoiding direct contact with the ground, increasing the efficiency of the fan system to reduce fuel consumption and improves the effectiveness of cleaning by using a wind sweep technique.
The chassis and suspension system adapts quickly to changing terrain. It is able to sweep ores, cement blocks and bricks of 2-3 cm (0.79-1.2 in.) in diameter and clean objects of 3-8 cm (1.2-3.1 in.) in diameter. Both the cleaning device and the blowing and suction sweeping mechanism are patented.
Product: Fuelcell Towing Tractor
Designer: Toyota Industries Corporation, Yakushi Tadayuki
Fuelcell Towing Tractor is a concept model designed for the future of transporting airport cargo.
Fuelcell Towing Tractor is a concept model that shows the future of towing tractors that are becoming increasingly vital at airports, especially in the face of advancing internationalization and increasing air cargo volumes. Hydrogen fuel is used to generate the electricity required to drive the vehicle with motors. Only water is emitted, making this an incredibly environmentally-friendly truck. Filling time is minimal, facilitating efficient operation.
Harnessing the features of fuel cells not only benefits the environment but also leads to a more streamlined process by enabling long periods of operation with minimal filling time. Furthermore, the use of information technology allows appropriate information to be displayed. This facilitates automation, which in turn reduces the operator load, resulting in further streamlining. The result is a reduction in operator load and improved efficiency and safety, helping paint a brighter future for the logistics business.
An advanced fuel cell unit is enclosed in a thick plate capable of withstanding heavy-duty operating environments, and its design helps the operator anticipate vehicle movements. This simple design that takes operator workability into consideration has been applied to the vehicle interior.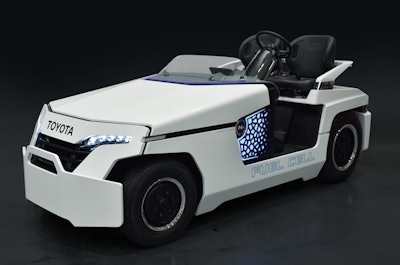 Red Dot Award: Product Design
Product: RM 120GO! mobile impact crusher
Manufacturer: Rubble Master HMH GmbH
The mobile impact crusher RM 120GO! crushes construction and demolition waste, asphalt, concrete and natural stone. Its compact external dimensions enable easy transport even in urban areas. Weighing in at only 35 tonnes while producing an output of up to 350 tonnes per hour, the machine is the most compact impact crusher of its kind. A diesel-electric drive concept enables the direct drive of the crusher. High efficiency is achieved through optimized crusher geometry. The drive and crush functions are operated securely via remote control.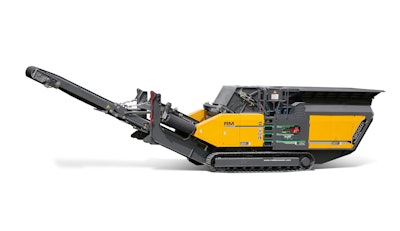 Product: Easy & Safe industrial plug and connector
Manufacturer: ABB
The Easy & Safe industrial plug and connector meet high standards of reliability and safety. They are IP67-certified, which guarantees that electrical contacts are protected from dust and water. This reduces downtime and maintenance costs. The contact components of the connectors are manufactured from solid brass. The innovative design enables the contacts to self-clean and protects the contact areas from arcing.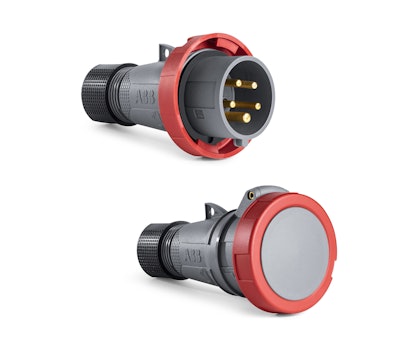 Product: Brava Actra Plus armrest
Manufacturer: Gebruder Frei
The Brava armrest is designed as equipment for mobile working devices. The product consists of three elements: operating unit, armrest and height adjustment unit. Thanks to this modularity, OEMs can configure the armrest accurately; allocation and shape of the operating elements are variable. The design is based on an ergonomic analysis of the operating sequences. Characteristic for the design is the combination of clear lines, facetted surfaces and soft forms. The coloring and the formal language emphasize the industrial character of the armrest.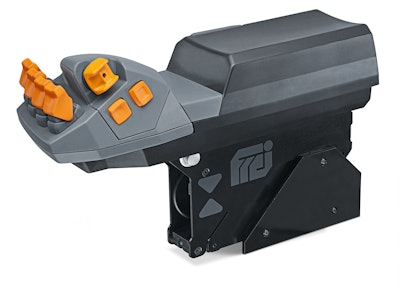 Product: Valtra Smart Touch multifunctional control armrest
Manufacturer: Valtra Inc., AGCO Corp.
The multifunctional control armrest Valtra Smart Touch combines digital and physical interfaces, which makes the operation of a modern tractor significantly easier. All important controls are easily accessible. The tractor plus multiple implements can be controlled from the same location, namely the ergonomically positioned drive lever. This means less stress and strain on the driver's arm. Individual components in the armrest can be quickly exchanged in field conditions without damaging the electronics inside.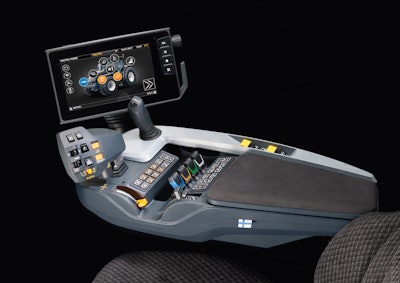 Product: TopTurn X4500 compost turner
Manufacturer: Komptech GmbH
The Topturn X4500 is a compost turner for triangular windrows which turns and aerates while driving by means of a centrally located, generously dimensioned rotor and assures high performance in all work situations. Particular design features are the robust, triangular frame and the centrally located cabin which can be lowered hydraulically for transport and maintenance. The cabin is spacious; operation of the information system is intuitive, thanks to a large color display.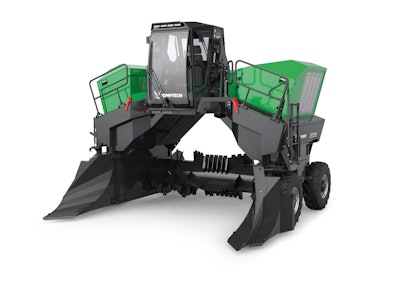 Product: VDL Citea SLFA Electric fully electric articulated bus
Manufacturer: VDL Bus & Coach
When designing this bus, great importance was laid on its social acceptability while at the same time its innovative, futuristic character was meant to be visible. The result is an elegant, friendly-looking bus with covered wheels and soft, flowing forms. Large glass surfaces give the driver good visibility, while the TFT monitor screen on the dashboard provides the prioritized necessary information. The passenger flow was analyzed exactly and optimized.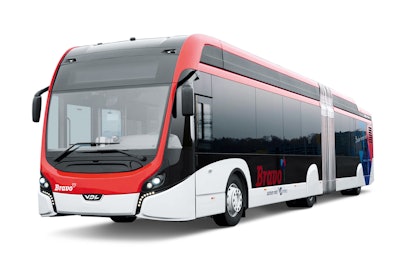 Product: Jungheinrich EKX 516 high-rack stacker
Manufacturer: Jungheinrich AG
Clarity of forms and defined surfaces characterize the appearance of the EKX 516. For high productivity, it combines new technology and intelligent solutions. Newly developed drive technologies provide great energy efficiency, while an innovative vibration damping technology ensures good driving properties and safety. In addition, the vehicle is fitted with RFID technology for easy system integration. From an ergonomic aspect, the EKX 516 offers more room in the cabin, intelligent assistance systems and a specially developed operating system.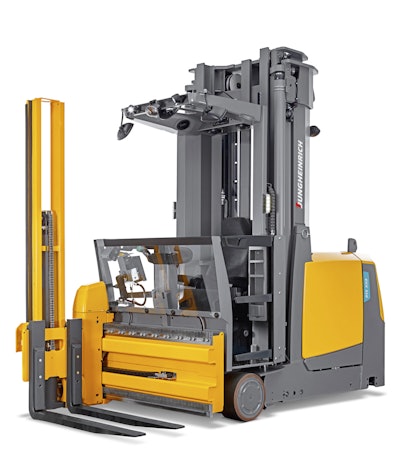 Product: ARBOS 5130 tractor
Manufacturer: Lovol Arbos Group S.p.A.
A distinctive feature of the Arbos 5130 is its monolithic bonnet with integrated headlight strips which, together with the pearlescent white side panels, form a successful contrast to the green bodywork. Lateral "shark gill" slits emphasize the aggressive overall look and also optimize ventilation. The bonnet lines extend without a break as far as the cabin. The cabin design is based on an innovative engineering approach which distributes the stress over all surfaces, making the cabin even safer.
Product: Hidromek HMK 640 WL wheel loader
Manufacturer: Hidromek
Recipient of the Red Dot: Best of the Best award
Wheel loaders are often at the center of action on building sites since they have to move around heavy loads like soil or stones. The Hidromek HMK 640 WL is based on a careful evaluation of the extreme working conditions in mines and quarries, also taking into account the demands of the site operators. This innovative wheel loader has been designed with balanced lines that go beyond the classic forms. Its powerful appearance is mainly characterized by the bold design of the bonnet. This was implemented in the form of a mono-block engine hood, since it facilitates better service and maintenance. The spaciously designed driver's cabin offers a high degree of comfort as well as sophisticated ergonomics. The cabin is equipped with fully electronic joysticks and allows intuitive navigation from within a pleasant work environment. The console also allows easy adjustment to meet individual user needs. In addition, all settings and information can be displayed on an LED screen, which is conducive to a smooth operation. The search for a new design identity for a vehicle of this type has made the Hidromek HMK 640 WL emerge as a wheel loader with an impressively dynamic style – it aestheticizes the work environment by setting new standards.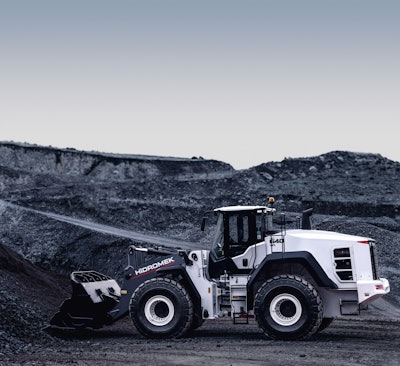 Product: Hidromek HMK 600 MG motor grader
Manufacturer: Hidromek
HMK 600 MG is an 18-tonne motor grader with a blade 4.3 m (14.1 ft.) long and a powerful turbo-diesel engine. The engine, electro-hydraulic control valve, joysticks and the automatic transmission are connected via a CANbus system and provide high efficiency for all working operations. The motor grader has fully electronic joysticks, with which all work operations are easily controlled; however, control of the vehicle by using the steering wheel is possible if necessary. Thanks to the design of the cabin with specially calculated angles, the driver has a good view of the blade.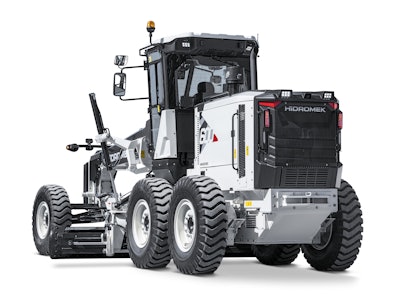 Product: MAP III sprayer
Manufacturer: PLA
Recipient of the Red Dot: Best of the Best award
Sprayers are used regularly in agriculture, where both the vehicles and drivers are often confronted with difficult work conditions. The MAP III is a self-propelled sprayer that merges a highly advanced functionality with a new aesthetic. It captivates users with its balanced proportions as well as a futuristic look. All components were designed according to the maxim of a new design language called "Dynamic Force", which redefines the robustness and dynamism of the company's entire product portfolio. The driver's cab incorporates a key design element and was well integrated into the overall shape. Perfectly matched in ergonomics for the work area, it offers the user an excellent panoramic view. All user controls were integrated coherently into a multifunctional armrest console and are intuitive to operate. The MAP III boasts a huge capacity range from 2,900-4,100 L (766.1-1,083.1 gal.). In addition, it features several design innovations such as modular solution tanks as well as walkable fuel and oil tanks. Featuring durable carbon fiber booms, this sprayer is a versatile, agile and fuel-efficient representative of its product group – a highly inspired design lends it a new identity.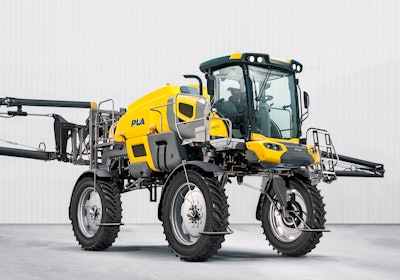 Product: T46-7 telescopic handlers
Manufacturer: Liebherr-Werk Telfs GmbH
The new telescopic handlers impress with their stability during loading and lifting. High performing working hydraulics and the trusted hydrostatic travel drive on the telescopic handlers facilitate purposeful and fast operations. The generously dimensioned cabin is characterized by high comfort and safety. Large window panes, an uninterrupted windscreen, the new design with falling edges, a sloping bonnet following the line of site, and a low articulation point of the boom guarantee very good all-round visibility.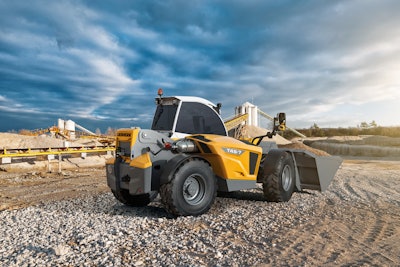 Product: L 580 LogHandler XPower wheel loader
Manufacturer: Liebherr-Werk Bischofshofen GmbH
The L 580 LogHandler XPower is a specialized machine for timber handling, whereby the design and technology are correspondingly optimized. With its distinctive lines, compact silhouette and powerful lift arm it conveys strength and dynamic driving performance. The tapered engine cowling and large windows of the cab offer good visibility and increase the safety. Productivity is increased thanks to a special lift arm with major reinforcements and optimized timber grabs that can be adjusted in size.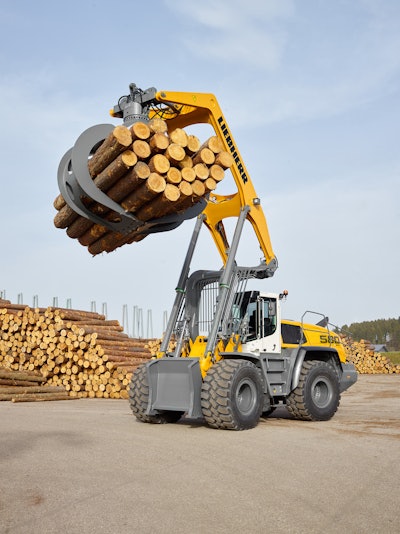 Product: Valtra N4 tractor interior
Manufacturer: Valtra Inc., AGCO Corporation
Honorable Mention award recipient
When designing the interior of the Valtra N4, a high-performance tractor capable of autonomic driving, great importance was attached to ergonomics, comfort and panoramic vision. The convex-formed cabin thus offers more room and a good overview with almost 7 sq. m (75.3 sq. ft.) of window surface. Furthermore, a well-conceived layout and design of the operating elements make the interior quiet and pleasant for the driver. The possibility of visual distraction in the cabin has been reduced so that the driver can easily concentrate on his work.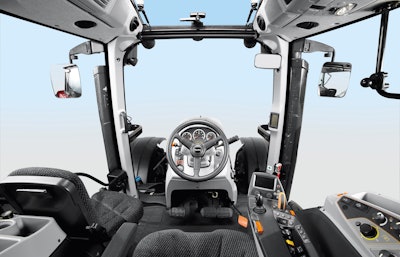 Product: ERE 120/125/225 electric pallet truck
Manufacturer: Jungheinrich Landsberg AG & Co. KG
The ERE is designed as a modular system with over 4,000 configuration options. The ergonomic user interfaces as well as the access and storage systems are always located in the same place. A large, foldable stand-on platform and a restraint system allow for a wide spectrum of applications. Thanks to the sturdy construction with exposed fin, the interior is well protected. Optional features such as curveCONTROL and daytime running lights increase safety. New engine and drive components assure long-lasting and energy-saving handling operation.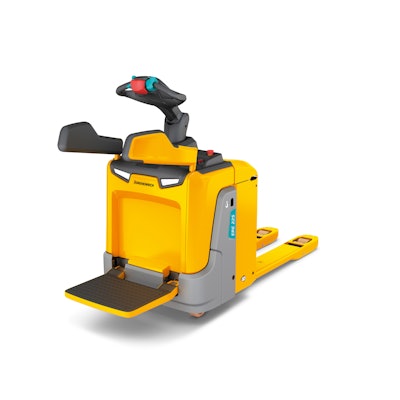 Product: CSSE shotcrete machine
Manufacturer: CIFA S.p.A.
CSSE is a shotcrete machine for use underground and belongs to the Energya series of the manufacturer, whereby the utility vehicles are equipped with new hybrid drive technology. For the CSSE tunnel machine, all electrical and electronic components have been specifically chosen for their efficiency. In electro mode, it can be driven for all operations emissions-free and without fuel consumption, and with a simultaneous increase in efficiency. From an aesthetic aspect, the CSSE features a streamlined design.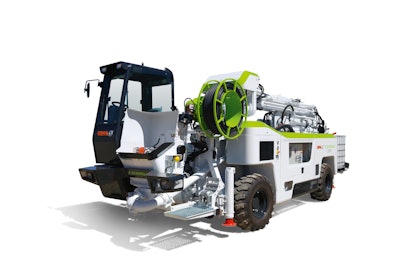 Product: E800 | E1200 road sweeper
Manufacturer: Kugelmann Maschinenbau e.K.
The E 800 | E 1200 is an adaptive brush and suction combination which makes an advantage of the supposed disadvantages of a not fully integrated but laterally running suction hose: the hose is easily accessible and thereby makes it possible for use also as a powerful, hand-held suction tool. The front consists of a broom and an aerodynamically optimized suction mouth, asymmetrically mounted and directed to the right. The intuitive steering is integrated into the existing vehicle joystick.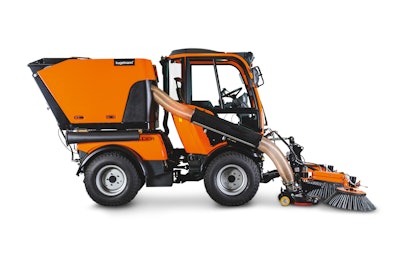 Product: Tornado Pro 9118 XWS 4WD lawn tractor
Manufacturer: Global Garden Products Italy S.p.A.
The lawn tractor Tornado Pro 9118 XWS 4WD is versatile, robust and powerful. Due to its four-wheel drive, it is suitable for demanding gardens and for difficult terrain. Thanks to a lateral eject function, it mows high grass quickly and easily. The cutting deck is equipped with three blades and six wheels. The 15-L (3.9 gal.) tank and a 2-cylinder 725 cc Kawasaki motor ensure high performance. The large wheels offer secure grip. A display shows all important data. Charger, mulch kit and tow coupling are included.
Promoting student innovation
On May 10, CNH Industrial held a joint event with the Royal College of Art to award students participating in a project to design innovative and sustainable machinery for emerging markets. Students were challenged to develop innovative industrial products and services to match local needs and existing infrastructure in developing nations, with the aim of creating a concept that would succeed in low capital, low income and low skills environments.
CNH is involved with the project as a means of promoting growth and development opportunities for young talent and investing in product innovation, and research and development projects to work towards a sustainable future.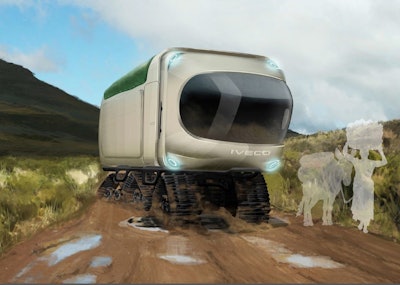 Designs competed in four categories:
Automark - identifying a commercial need and designing a vehicle that is easy to make, maintain and operate, that will generate brand value
Inside Out - isolating rescue priorities, and designing a vehicle that is simple to understand, operate and apply, that will harness local materials
Urban Flow - explore basic passenger and goods journey needs, and design a vehicle that will improve the quality of life for local people
Service Design - recognize opportunities to enhance efficiency within the markets and develop an easy and sustainable solution to help users
A winner was selected for each of the four categories, as well as an overall winner among all the designs. The overall winner was Austin Dewees for his wet and dry season transport vehicle.
See images of the other winners.
Nurturing innovation in the UK
In October, Bosch Rexroth launched its Innovation Award in an effort to nurture innovation within the UK engineering sector.
The competition is focused on mobile applications, and requires the company's BODAS control system to be implemented into the design. Entries will be evaluated on creativity, practicality and complexity. The winner will receive a complete BODAS control system and 100 hours of design support to help turn the design into reality. Hardware, software and product training for up to five people will also be provided to the winner. Prizes will be given for second and third place winners, as well.
The Innovation Award is open to engineers aged 18 and over and resident in the United Kingdom or the Republic of Ireland who are working for manufacturers of, or suppliers to, the construction, agricultural, materials handling or on/off-highway vehicles industry.
All entries must be submitted before the closing date on December 22, 2017 and the winners will be announced in January 2018.
Agricultural advancements
Winners of this year's Agritechnica Innovation Awards were announced in September, with many of them focusing on the industry trends of Big Data, connectivity and digitization, as well as making the operator's job easier. Two innovations received the Agritechnica Gold Innovation Award 2017, while 29 others received the Silver Innovation Award 2017.
The award winners are chosen by an independent expert committee appointed by the DLG (German Agricultural Society)—organizers of Agritechnica; this year 320 applications were submitted.
Gold Innovation Award winners
Cemos Auto Threshing - the autonomous threshing system for CLAAS straw-walker and hybrid combine harvesters developed by Claas-Vertriebsgesellschaft mbH, Germany
The Cemos Auto Threshing system automatically sets the tangential threshing system, optimizing the quality of work and performance of the machine. Based on input entered by the operator, the system sets the drum speed and concave gap to ensure optimal results in current harvest conditions, eliminating the need for operators to do so manually which could often be complex and not achieve the desired results.
StalkBuster developed jointly by Kemper Maschinenfabrik GmbH & Co. KG and John Deere GmbH & Co. KG
The StalkBuster is a stubble-destroying technology designed as part of a maize header. It destroys all the maize (corn) stubble before it is driven over by a piece of equipment, which is necessary to prevent the spread of corn borer.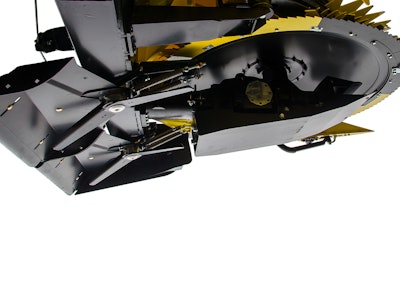 Testing Technologies of the Future, Today
During this year's CONEXPO-CON/AGG, Volvo Construction Equipment debuted its HX2 concept battery-electric, fully autonomous load carrier. It was developed as part of an electric site research project the company has been conducting to demonstrate potential efficiency and emissions-reduction technologies.
The HX2 is one of several electric vehicles operating on the site, and communicates autonomously with the other vehicles. Knowledge gained from the project will be transferred to future development projects.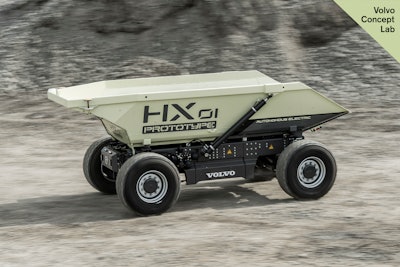 Combined Machine Platforms Improve Equipment Utilization
CASE Construction Equipment also introduced a concept vehicle at CONEXPO-CON/AGG 2017, the DL450 Compact Dozer Loader. It is a combination of a large-frame compact track loader and a bulldozer. The goal of the machine design was to provide contractors with the ability to get more out of their equipment.
The DL450 provides the power and performance of a small dozer in a platform which also serves as a loader, and is able to run all attachments contractors might own for their skid steer and compact track loaders. Though not yet available in the market, CASE has been getting feedback on the concept machine from contractors, and believes there could be a place for it in its product lineup.