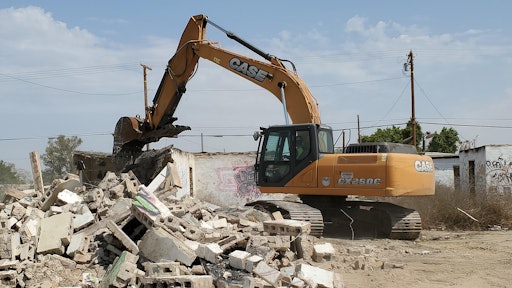 CASE Construction Equipment

CASE Construction Equipment dealer Sequoia Equipment supported Team Rubicon with equipment in a recent heavy equipment operation clearing sites and debris from a wildfire that swept through Niland, CA, on June 28, 2020. Team Rubicon volunteers braved scorching temperatures that averaged 112 degrees to remove more than 5,000 tons of material to help local residents on their path to recovery. 
Sequoia Equipment provided an excavator and compact track loader for the operation. CASE and Team Rubicon have partnered on training volunteers and supplying equipment for disaster response and community service since 2015.
"Wildfires are a reality here in California, and we all rally together to support one another and help in any way we can," says Dennis Monahan, President, Sequoia Equipment. "Team Rubicon does an excellent job of helping people even in the most challenging times, and we're proud to help them lift up our neighbors here in California and take some of that burden off their shoulders."
"Even in the global pandemic we're experiencing now, it's critical that we remain engaged in communities and help rebuild where we can," says Leandro Lecheta, Head of Construction Equipment — North America, CASE. "Team Rubicon's dedicated volunteers matched with the equipment provided by Sequoia Equipment serve as an example of the good works people can do when they come together to help others."